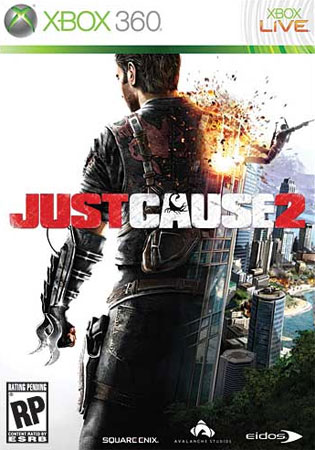 Game: Just Cause 2
Platform: Xbox 360, Playstation 3, PC
Developers: Eidos Interactive, Avalanche Studios
Publisher: Square Enix
Release Date: March 23, 2010
Rated: M – for Mature
A head of state has been murdered and replaced by his insanely dictatorial offspring, and an island nation needs toppling. Sounds like the perfect opportunity for the return of Rico Rodriguez, the plane-jumping, barrel-blasting, parachuting hero of Eidos's 2006 noncommittally-named action game, Just Cause.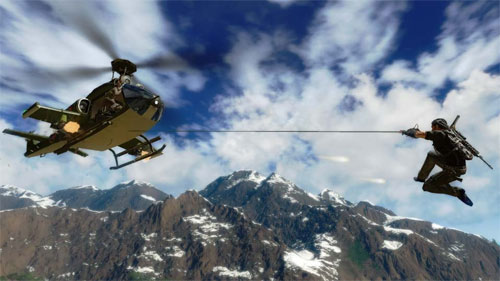 Just Cause 2 picks up some time after the end of the first game, with Rico being literally dropped into the unstable southeastern Asian country of Panau. He's tasked with taking down said dictatorial heir, Baby Panay, while searching for Tom Sheldon, Rico's mentor and mission vending machine from the first outing. It seems that Sheldon has dropped off the grid, and the Agency suspects that he's gone rogue, never a good thing in the spy biz. Shortly after making landfall on Panau, Rico finds himself forming numerous alliances with all manner of shady folk, all in the name of la libertad (or however that would translate into the native Panauan tongue).
The island of Panau is a massive open world, and you can go anywhere right from the beginning of the game. It takes a long, long time to eventually scour the entirety of this tropical paradise, and every bit of it looks amazingly real and breathtakingly beautiful. With the geography stretching horizontally and vertically, you'll encounter beaches, oil rigs, deserts, waterfalls, urban cities, and even snowy mountains on your adventure. All manner of vehicles and modes of transport are available to you, from hoofing it on foot to cars and bikes to boats to planes and choppers to even slingshotting yourself around the island with an ingenious combination of Rico's parachute and grappling hook.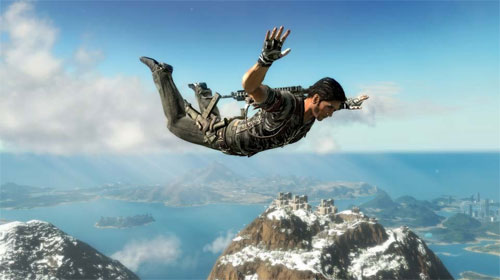 The grappling hook is a new addition to the Just Cause series that really makes a huge amount of positive difference in the gameplay. There's no question that it's a blatant gameplay gimmick, but it's a gimmick that works well. You can fire the grapple line a surprisingly long way, and you can use it for a wide range of anarchy inspiring applications. You'll find yourself scaling walls, shooting across horizontal paths to get places faster, yanking bad guys out of sniper positions, and pulling explosive oil barrels into the line of fire. The grappling hook takes only a few minutes to become second nature, and it's now hard to remember what this kind of gaming is like without it.
Aside from the grappling hook, the other star of this show is the explosive nature of most things in Panau. Everywhere you go, you'll be blowing the crap out of anything and everything. Using a combination of firearms, explosives, and vehicle-mounted weaponry is immensely satisfying when you're dispatching Rico style justice. You'll also be earning Chaos points for everything you blow up, as well as for completing missions and doing various other tasks. Chaos adds up as you progress through the game, and it opens new opportunities for you, including new Agency missions, faction (side) missions, and new black market gear.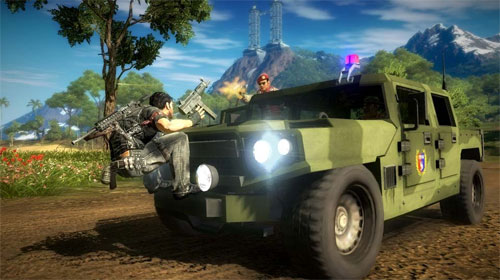 The black market is Just Cause 2's version of an in-game vendor. Instead of having to run to town and visit a physical store, however, you can just drop a beacon nearly anywhere and summon the black marker dealer to come to you. The black market will sell and airdrop to you a wide assortment of weapons and vehicles, all of which you can upgrade through weapons and vehicle parts you'll find all over the island. As you add parts to the gear, you'll see significant increases in quality. Guns will hold more ammo and punch harder, and vehicles gain speed, armor, and even additional weapons. In addition to buying and upgrading gear, you also can use the black market for extractions. Once you've discovered a location on the map, you can return to it at any time via the black market airdrop. This is a great feature that eliminates a lot of wasted time retracing your steps.
The structure of the game will make you want to uncover all the locations you can, as you will be traveling all over the island and frequently revisiting the same general areas, if not the same exact towns. Each location you find has a number of things you'll need to do there in order to "complete" that place. These things include collecting all the weapons, armor, and vehicle parts, as well as blowing up all the government installations. Finding collectibles is remarkably doable in this game, as Rico comes equipped with a radar that detects the items' locations. So hunting for stuff is a minigame of "warmer / colder" instead of a frustrating random search. A percentage statistic appears in the upper left corner when you enter a location with tasks to complete. Having anything other than 100% in that stat will glaringly bug you, so you'll actually want to make the effort to find and do everything you can.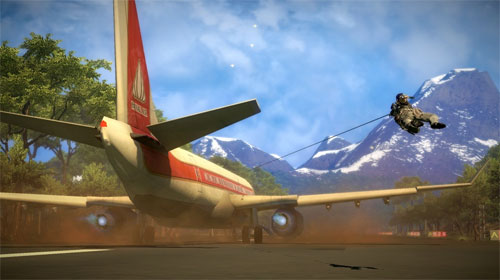 The finding and doing do get a little repetitious after a while, but you're repeating things that are genuinely fun. You're collecting things that make you stronger, and you're blowing up things with wild abandon. Knocking Just Cause 2 for being repetitious is like saying eating a bag of M&Ms is boring because you just do the same thing over and over. My only complaint with the destruction angle is that there's not enough stuff to blow up. I've been spoiled recently with games like Red Faction: Guerrilla and Battlefield: Bad Company 2, in which you literally can level the entire game map with explosives if you so choose. Just Cause 2 does allow for a lot of destruction, but you can't really bring down buildings or permanent structures. The mayhem would be just a little more satisfying with that addition, which hopefully will show up in the inevitable third game.
My complaints with Just Cause 2 are few, but while I'm on the negative path I really need to bring up the cutscenes and the voice acting. While the vast majority of the game looks gorgeous, the cutscenes look a little lackluster. That's surprising, because prerendered cutscenes usually are where game graphics shine, while the visuals during the actual gameplay usually are a little less stellar. That's flipped around here, and I'm not at all sure why. Even the characters themselves look better in the gameplay than in the cutscenes.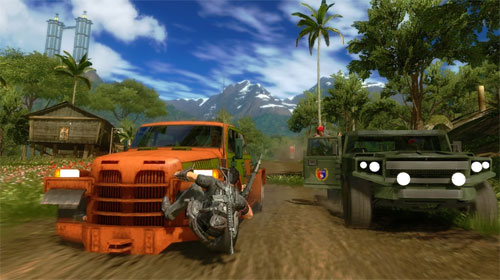 They all sound universally ridiculous, though. I'm not sure whether the sound folks were going for over-the-top acting or whether they were legitimately trying to invent a new dialect for Panau, but the end result is terrible voice work across the board. The people of Panau lack any sort of cohesive accent, changing from character to character to sound Chinese, Jamaican, German, American, and international drunk. One particular offender is the leader of the Reapers, Bolo Santosi. She looks like she might be either Asian or Hispanic, but her voice sounds 100% Jamaican. I saw an interview with the voice actress, a native of Singapore, who claimed her game accent was a highly exaggerated version of a Singapore accent. Okay, mon.
My complaints are few, and my praises are many. Just Cause 2 is a game that will have you saying you'll play for five more minutes before it finally lets go of its addictive grip three hours later. It prioritizes fun over storytelling, and that's exactly what an open world sandbox game like this should do. If you're a fan of the previous Just Cause, the Saint's Row games, or of blowing things up in spectacular fashion, this is a game worth checking out.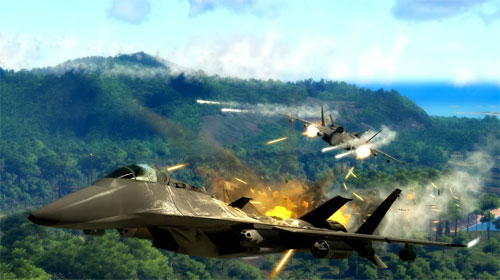 The Good:
Easily addictive gameplay
The grappling hook and parachute work extremely well
Gorgeous in-game visuals
Ridiculous voice acting
The Bad:
Ridiculous voice acting
Comparably spotty graphics in cut scenes
Lack of fully destructible environments
Rating: 4 / 5 Stars