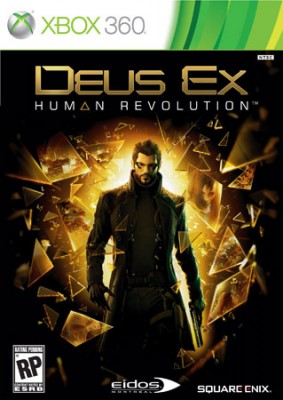 In 2000, we were in the midst of a cyberpunk heyday. The Matrix had released the previous year to inspire a huge fandom alongside David Cronenberg's equally cyber but less popular eXistenZ. William Gibson's novels were seeing a resurgence in readership as we barreled headlong into a Y2K fearful millennium, unsure of how the future would treat us. 9-11 was still a year away, but future-looking science fiction already painted a bleak view of a dark and technologically infested tomorrow. That's the world into which Ion Storm's Deus Ex was born, allowing gamers to step into the midst of a cyberpunk adventure that shattered many preconceived notions about gaming and easily straddled multiple genres.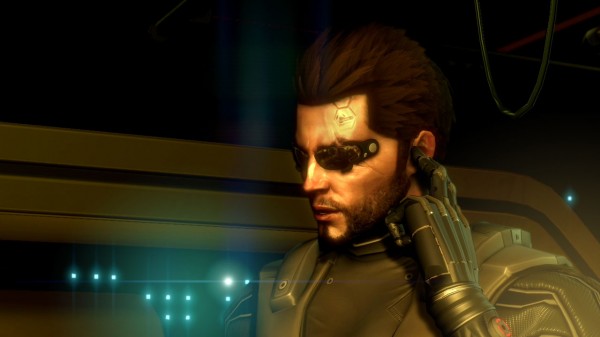 The original Deus Ex brought us to the near-future world of 2052, where anarchy reigned, economies teetered on the brink of collapse, and drugs and pollution poisoned the world. That doesn't sound all that removed from our 2011 reality, but we're still a little ways off from the human-enhancing augmentations and globe threatening conspiracies that gave Deus Ex its engaging positioning in an already popular genre. Deus Ex: Invisible War followed as the 2003 sequel, hitting bit sales but failing to recapture the essence of the original.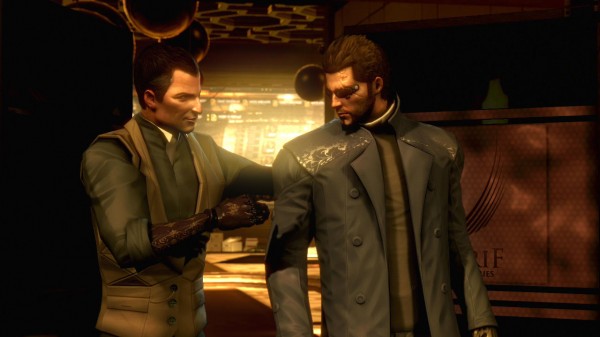 It now has been more than a decade since Deus Ex showed up on store shelves. Cyberpunk has given way to steampunk, and the world itself is in a very different place. Could a new Deus Ex game find an audience and regain the cult following the original inspired? Oh yes, and how. Deus Ex: Human Revolution released a couple of weeks ago from Square Enix, and it's not just a great game in the sea of modern releases; I dare to say that it makes cyberpunk relevant again.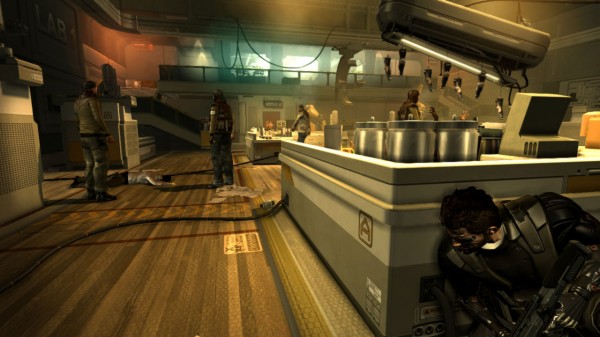 Rather than dragging out the complex backstory established by the previous two games, Deus Ex: Human Revolution dials the clock back to 2027 as a prequel to the originals. This makes a great jumping on point for newcomers to the franchise, as it requires absolutely no foreknowledge of the Deus Ex universe. It still provides great continuity for longtime fans, providing plenty of subtle and overt narrative hooks into the events we know will be coming later in the series' established timeline.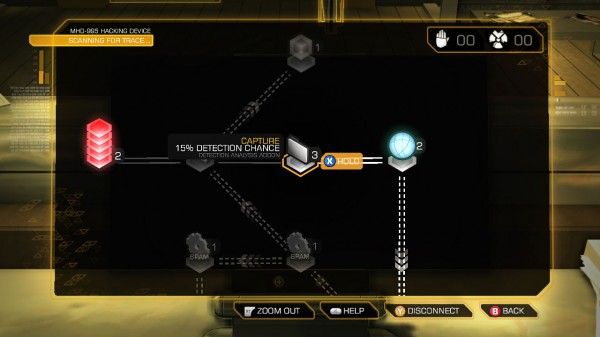 The even nearer future of Human Revolution is a recognizable world that is a believably inevitable waypoint on the dark path along which our current social and world problems may lead us. Societal and economic divisions are widening, and urban sprawl has eaten enough humanity to give us a glimpse of the teched-out underground that will arise. Billion dollar corporations have grown around a new industry of human upgrades that combine biological and technological sciences to enhance our natural abilities through implanted robot eyes, synthetic muscles, and more. Natural human advocates protest this new industry through discrimination and outright acts of terrorism. Human Revolution's protagonist, Adam Jensen, finds himself squarely in the middle of this controversy at the start of the game.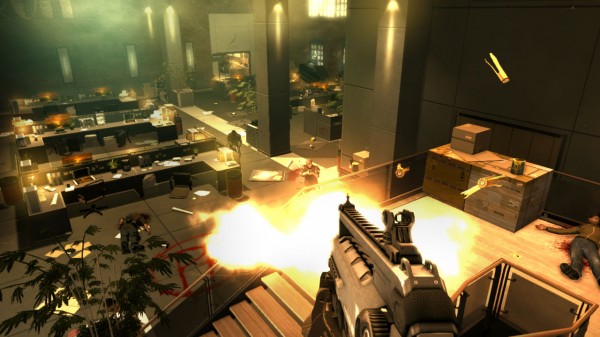 Jensen is the head of security at Sarif Industries, one of the leading bio augmentation companies. The game's prologue throws him into a black-ops assault on the Sarif labs, with soldiers blasting their way into the skyscraper where he works and slaughtering the doctors and researchers. After a tutorial mission that introduces you to most of the basic gameplay and interface concepts, Adam ends up in deep trouble that leaves him unwillingly implanted with augmentations that will serve as the basis for his nigh-superhuman abilities for the rest of the game. It is then that Human Revolution jumps forward a couple of months and dips you into the edge of the vast and fascinating conspiracies that hide beneath its stealth-action surface.
You'll spend the majority of the game taking Adam from place to place to complete missions that push forward his character progression and also that gradually peel back the layers of the conspiracy. Human Revolution does missions the right way by providing some real motivation, context, and variety. You'll rarely feel like you're doing a generic fetch quest, because the game's level of immersion makes you care about every task it sets before you. You'll also care about how you go about accomplishing these tasks since the Deus Ex franchise is all about repercussions based on your choices. Will you talk your way past the guard? Will you sneak past him through an air duct? Will you use your augs to render yourself invisible as you go by? Will you just outright butcher him? These sorts of choices are ever present, and the world pushes back when you push on it.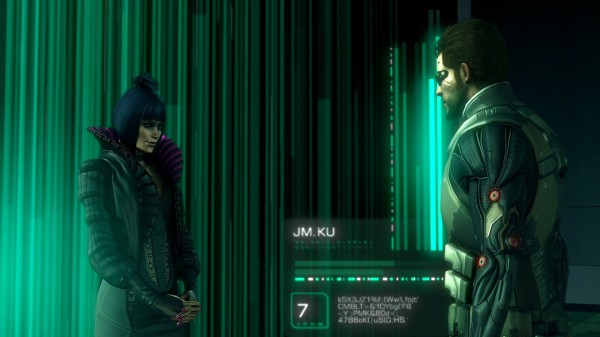 Flexibility in game path is a hallmark of Deus Ex, going back to the very first game, and Square Enix kept this cornerstone in designing Human Revolution. In their press documentation they go so far as to define the four core components of gameplay as the "pillars" that hold up the overall game. Each pillar provides a unique path through obstacles, and you almost always can choose to pursue one particular path over the others, leading to some awesomely unique situations through multiple playthroughs. The four pillars comprise combat, stealth, social, and hacking. Each pillar has specific augmentations you can purchase to help you perfect that path, and each has a specific playstyle that will get you through various circumstances.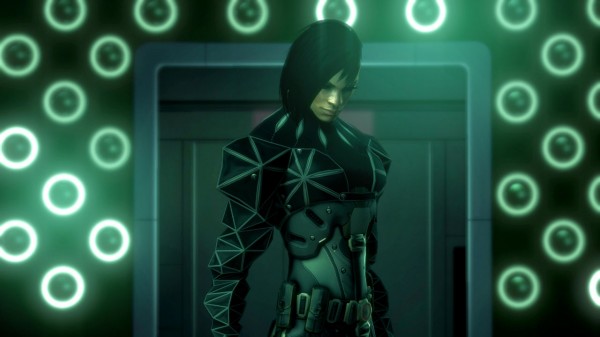 The most straightforward path for a first person shooter game like Deus Ex is combat. If you want to load Adam up with a bunch of guns and run him through every building as a murder machine, you totally can do that. There are plenty of augs for enhancing his fighting abilities, and there are lots and lots of gun upgrades that will increase his stopping power. I'd argue that combat is the least interesting of the pillars, however. A combination of stealth, hacking, and playing the social game make for a much subtler and more intense experience. In such a technologically steeped society, there are opportunities to hack around nearly every corner. If you upgrade Adam's hacking skills, he'll eventually be able to glide through computer and security systems with ease, even taking control of turrets and robots to use against their owners.
Stealth works particularly well in Human Revolution, too. There is a cover system, but it works somewhat differently here than it does in cover-based shooters like Gears of War. Putting Adam into cover is more about letting him sneak and peek around corners, as opposed to giving him a safe point from which to unload a bunch of bullets at his enemies. Sure, you can aim or blindfire from cover, but I always prefer to see how long I can go undetected before I eventually am discovered and have to rush or fight my way out.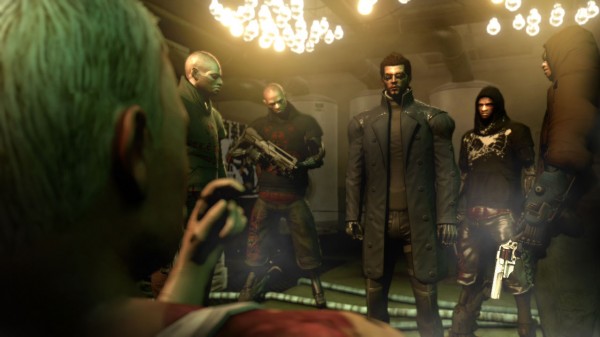 The augmentation system is a deep and rewarding upgrade system that carries the RPG character progression part of the game. When Adam gets his augmentations at the beginning of the game, he is given access to only a few of the core implants. The theory is that his body will adapt to the upgrades more readily if he has them turned on one by one and gradually, as opposed to all at once. Nearly everything in the game rewards you with experience points, which then will unlock Praxis points, Human Revolution's version of leveling up. You can use the Praxis points to turn on augmentations that previously were inaccessible, allowing you to better your fighting, traversing, sneaking, talking, and hacking over time. Praxis points also can be bought from vendors if you want to speed up your progression, but the store bought points are very costly. It all works out to a very accessible and rewarding growth system.
All the pieces of Deus Ex: Human Revolution come together to create an intensely immersive world and and utterly addictive game. This is the kind of thing you can easily lose a weekend playing, and it is a suitable and entirely satisfying relaunch of a worthy and influential gaming franchise.