For the past couple months I've raved about some of the most talented and drop dead delicious men who not only populate our DVD collections, but every aspect of our lives. Yes, Liam Hemsworth was the reason most of us watched The Hunger Games, John Krasinski on and off screen makes us wish for an office romance, and if we could be Zooey Deschanel, that'd be peachy because hanging out with Joseph Gordon-Levitt is a lifetime goal. But I realized that as fangirls, we don't just worship guys, we have girl crushes and heroes as well.
So of course Tina Fey had to be the first woman I ever fangirled on in this weekly series. It's not because I'm a huge fan, as you'll later read, but because I respect my fellow fangirls and their love of Tina Fey and all that she touches. Seriously, it's like she's King Midas to her fans and I love it.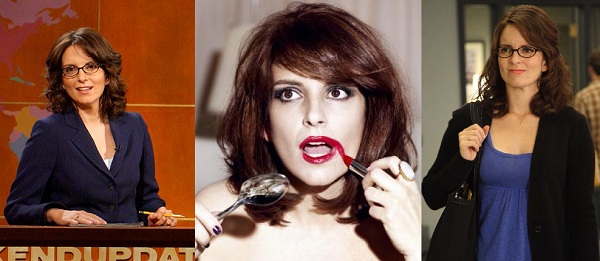 Name: Elizabeth Stamatina "Tina" Fey
Birthday: May 18, 1970
Place of Birth: Upper Darby, PA
Fangirl Fan Site Shout Out: tinafeyfan.com
Best Known For
There are three places you know Tina Fey from. It has to be SNL, movies, or 30 Rock… because if not, what have you been up to for the past decade? Who doesn't know Tina Fey from Saturday Night Live, most famously for her co-anchor duties on "Weekend Update" with Jimmy Fallon, and her Sarah Palin impression? Maybe you don't stay up past 11pm on  Saturday because you're really into "beauty rest." If that's the case, then you know Fey for her movie roles that might've landed on your screen via TBS. Movies like Baby Mama (most likely not), Date Night (most definitely yes), and Mean Girls (if you haven't seen it, just go away now). No SNL? No movies? Then you have to know Fey from 30 Rock. It seems like it's been in syndication for years now. Basically if you don't know Tina Fey, I want you to exit out of this tab and get back to your lair. They miss you there.
5 Quick Tina Fey Facts
In 1999 she became the first female head writer at SNL… ever. What's one of the best sayings from the '90s? Girl Power, that's right!
First female head writer and the youngest recipient of the Mark Twain Prize. She's the chick version of Buddy Holly: a rock star in thick framed specs.
Something was in the water in Upper Darby, PA where Tina was born because she not only went on to do big things on SNL, but Cheri Oteri did as well.
When Fey first headed to Chicago to be a part of Second City, she worked the front desk of a YMCA to earn a living.
Fey lost her virginity at 24 to Jeff Richmond. Did she ever see that guy again? Well yeah, they dated, married in 2001 and now have two kids together.
Reasons You Love Tina Fey
Comic, writer, actor, super hero. Those are the words that will be etched in Tina Fey's tombstone one day. She falls somewhere on almost every geek girl's "lady crush" list, and because of those librarian looks, lands on most guys "I have to tap that" bucket list as well. Besides her teacher-next-door aesthetic that renders you defenseless in her presence, you love Tina Fey because she's downright awesome. Is that too vague? Allow me to elaborate.
You're a screenwriter and you have SNL sketches written by Tina on your wall as inspiration. If someone walked into your house they wouldn't know if you were just a fan, or trying to plot an attack. It verges on creepy, but that's okay. You're an up and coming comedian and you love the way Tina isn't afraid to look ugly or stupid for the sake of comedy. You take in her every move as you watch everything she's ever done, from Baby Mama to 30 Rock's finale. Plus, you've already purchased tickets to her next theater endeavor, Admission, co-starring Paul Rudd. Maybe you're not a budding anything, you're just a girl who fell hard for Tina Fey and she's your real life hero. You think that when you grow up you'll be like Liz Lemon, if you're not already because of the way you don't understand whether a guy's hitting on you or just legit asking for directions. No matter where you fall on this cascade of scenarios, you have three copies of Bossypants: one by your bed side, one in your purse, and one in your living room so people know that in your life, Tina Fey is your Jesus and she turns awkward into awesome on a daily basis.
You love Tina Fey because she's not only your comical muse, but she's proof that smart gals can and will finish first and can make it look good.
Reasons I Love Tina Fey
If you asked me to list my favorite Saturday Night Live characters, none of Tina's would land in my top 5. I mean Bill Hader probably owns at least three of those spots anyway. So her run on SNL isn't the reason. 30 Rock? The only thing I truly love about that show is Jack McBrayer. So when you pull away the layers, what do I love about the woman who seems to be 1 out of 3 girls' hero? I love Tina Fey for writing the screenplay to the last amazing teen movie, Mean Girls. Now before anyone attacks me over Perks of Being a Wallflower, let me rephrase. Mean Girls was the last perfect teen comedy. Easy A, you were horrible and I'll say that forever. You can't touch Mean Girls and in 2024, if Lindsay Lohan is still alive, I'd love to see a part two involving the OG Mean Girls and their daughters. Of course, only if Tina writes it. Another thing I love about Tina is that she was a virgin a long time, and when I found out about that, it made me feel less like a freak. So Tina, much love and thanks for Mean Girls and making it cool to be "untouched" for so long.