The reason Chris Pratt was last week and not the week Jurassic World stormed into theaters is that this week belongs to Orange is the New Black. I love dinosaurs, that's no lie. My hometown is the one those huge dinos from Pee-wee's Big Adventure are in, so it's kind of in my blood BUT I'm not sure it compares to how much I love television – especially when it's a show that you can't help but finish in a day or two. Dang you Netflix and your addicting ways. So this weekend you know where you can find me: at my boyfriend's using his account so I can watch it on an actual TV. In the meantime let's get to the nitty gritty of why we're all a little obsessed with a show about a women's prison.



Name: Orange Is the New Black
Birthday: July 11, 2013
Place of Birth: Netflix
Twitter: @OITNB
Best Known For
Shows focused around jailbirds have always been about men. Occasionally an episode of one of the many CSI's will toss you one about some woman who murdered her husband's lover or something, but there wasn't a show about ladies in prison. There also wasn't a show that had ever been so female heavy with such a variety when it came to age, race, and class until Netflix picked up Orange is the New Black. Based on a real life woman's memoir, but straying far from it at the same time, Orange changed the face of TV – literally – and people loved it. It went on to be a huge success and really paved the way for other shows on the streaming site, as well as Hulu and Amazon. Not only that, but it has been celebrated for showcasing real women and not hiding their differences, but celebrating them. Orange is the New Black gives the prisoners life and makes us all think twice about those who are sentenced behind bars.
5 Quick Orange Is the New Black Facts
Laura Prepon originally auditioned for the role of Piper.
Yoga Jones was the voice of Patty Mayonnaise on Doug. We knew she sounded familiar!
Natasha Lyonne has the most in common with her character Nicky. She really did battle drug addiction after her American Pie fame.
Kate Mulgrew, the woman behind Red, has a cult following for her time on Star Trek: Voyager.
Samira Wiley, who plays Poussey, once freaked out on Twitter when Regina King commented on the show. Turns out King is her idol, so we totally get why she freaked out.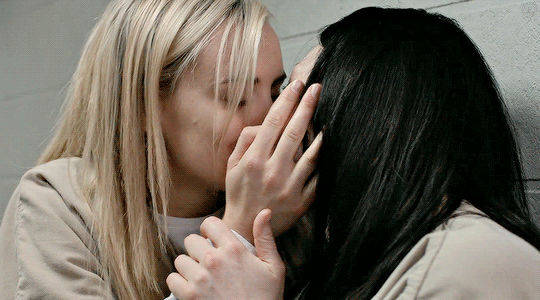 Reasons You Love Orange Is the New Black
We're a society that has become self-obsessed and it's not a new thing. MySpace wasn't even the start of it all. For the most part we tend to gravitate towards shows that have at least one character that reminds us of ourselves. How many girls think they're the carbon copy of Jess from New Girl? See my point? Well, that's what makes Orange so great – there are a ton of characters to choose from and whether you're the track star who made a mistake, the shy girl who likes to draw anime or the smart mouth who never fails to say what's on her mind – you're in this cast and that's why you have binged every June for the past couple of years. Another reason you've continued to tune is happens to be the relationships that occur, whether they're romantic or platonic.
There are three that have torn your heart in two over and over again; Officer Bennett and Daya, Alex and Piper, and Taystee and Poussey. Two showcase forbidden love, although on the outside of lock up Bennett and Daya would be just fine, while Alex and Piper may always be toxic for one another. You can't help but love both though. You swoon every time Daya draws Bennett as someone who could train a Pokemon, and your heart and mind battle it out when it comes to the other two – you want Alex and Piper together one episode and can't stand either the next. Then there's Taystee and Poussey. You may or may not ship them, but at the end of the day all you can ask is that they never fail to be friends. Out of all the girls – they are your squad goal.
You've seen yourself in one of the characters (hopefully not lame Larry), you adore the relationships on all levels, and then there's your love and appreciation for Laverne Cox. The breakout star of the cast, she has become this icon in her own right and you hang on every word whether in interviews or in print because she delivers herself with such an elegance that you can't help but follow her journey from an actress on the brink of quitting to a star on a Netflix series to a hero among many.
Whether you've identified with one of the girls, love Taystee and Poussey, or have the utmost respect for Laverne Cox – these are just a few of the reasons you absolutely love Orange is the New Black.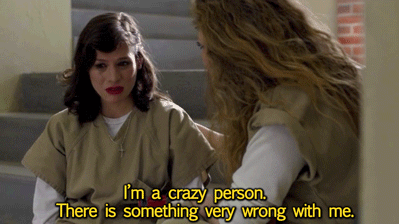 Reasons I Love Orange Is the New Black
What really hooked me when it came to this show was first and foremost the backstories of each woman, and while as a fan I'm peeved that we still don't know everyone's – I respect their choice not to spoil us all at once. Side note, the other day I was really upset that we hadn't gotten Boo's yet. Anyways, that's the first reason behind my love of Orange. The rest sits with a delusional girl, her best friend and the star herself.
Everyone has that part (or two) of their life that they'd love to erase from the history books and last year around this time is one of mine. I wasn't happy with any facet of my life – most of that was due to the man I was working for treating me like a piece of crap on a daily basis. I felt powerless and sought it out in unsafe ways. That led me to becoming this Morello-type; delusional and distraught over someone who'd never care for me, but I was at my lowest and had mentally checked out. Thankfully though, I had a Nicky in my back pocket and my best friend, like Nicky, says whatever is on her mind and doesn't sugarcoat a damn thing. Through all that and thanks to my Nicky, I went from this helpless being to what I believe Piper becomes at the end of season two; a woman who realizes she has to stand tall despite her circumstances because it's a cruel world out there and one if you show just an ounce of weakness, it'll tear you apart.
The stories behind the bars of Litchfield and the connection felt at a rough patch in my own tale, those are the reasons I'll continue to binge on Orange is the New Black every year.