Next week one of the best movies ever will turn 10 years old. To get a head start on celebrating Fever Pitch and all its glory (I'm pretty sure I'll be one of the few doing so) I wanted to talk about Jimmy Fallon. While Conan is my absolute favorite when it comes to late night hosts, I can't deny that Fallon does things during that time that work with today better than ever. From the lip-sync battles to the "Housewives of Late Night," everything he puts on that show is golden — and the proof? He's a viral sensation. You don't see Letterman clips making waves, do you?
Late night isn't the only reason Fallon is a name that can't be beat. He has movies that only superfans appreciate, his run on Saturday Night Live, his relationship with a former boy band member and, of course, that positive personality.


Name: James Thomas Fallon
Birthday: September 19, 1974
Place of Birth: Bay Ridge, NY
Twitter: @jimmyfallon
Best Known For
Before he was the king of late night, Jimmy was taking pictures on Spin City and giving us hope in movies like Almost Famous. He also did a movie that I'm sure only my roommate and best friend own a copy of thanks to a closing Blockbuster called The $cheme. He also did a little movie with Queen Latifah called Taxi and was adorable with Drew Barrymore in Fever Pitch. Of course while all of that is good and fun, most know him for his time on Saturday Night Live and now The Tonight Show which he took over from Conan… Leno? I'm still not sure what Leno did with that whole fiasco.
5 Quick Jimmy Fallon Facts
He was always a funny kid, but back then he wanted to be a priest for some time.
Jimmy is a Grammy-nominated artist. His comedy album The Bathroom Wall got a nod back in 2003.
He and his wife tied the knot on an island in the Caribbean.
They have a daughter named Winnie who was named after Lake Winnipesaukee. It's where he proposed — how romantic!
He's got not one, but two Ben & Jerry's ice cream flavors.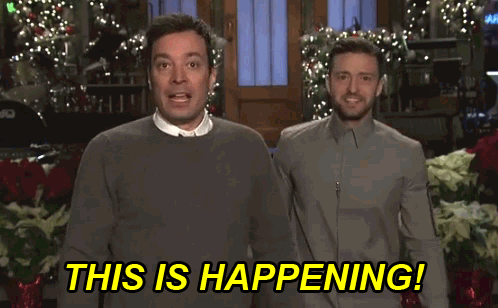 Reasons You Love Jimmy Fallon
No matter what, the biggest reason Fallon fans are fanatics is that he's likely to win "Nicest Guy On Earth" every year from now until the day he dies. His positive attitude towards everything in life is addictive. It's why you tune into The Tonight Show night after night — or for most, watch it the next day online because that's just how we all do things today. Before he was a nightly staple, those who love Fallon fell hard for him years ago when he was best served on Saturday night.
Every time you watch Fallon interview someone, you can't help but have some jealousy. You want to be on the receiving end of all that praise. Because no matter who's on his couch, he loves them, what they do, and who they are as a whole. Who wouldn't want to be praised in an interview? It's really hard to be down after watching him talk to anyone from Chris Hemsworth to his lifemate, Justin Timberlake.
Speaking of his interviews and Timberlake, they are just two parts of The Tonight Show. Interviews have been a staple on late night for decades, but Fallon really made his show one to watch and that's very much talked about the next day. He's the only one out there making people like Julia Roberts get hit the face and love it. You love that Fallon has taken the platform that's been the same for a little too long and took it back to the idea of variety and fun — not just stuffy interviews with forced laughs from an audience of tourists, not fans. Plus, his friendship with Timberlake is something that one can only hope to mirror with another human being in their lifetime.
Again, before he was taking over your weekly nights, he had hold of just one on Saturday Night Live. To you he was the cutest thing that had ever come across that stage. No offense to any of the men who'd been on before him, but come on, he's as cute as a button on Elmo. He wasn't just a pretty face though and proved that he had what it takes to be a memorable cast member, and not just one of those who you look back and say, "They were on SNL?" You loved everything, including his countless celebrity impressions like Barry Gibb and David Bowie, and could barely contain yourself when he was The Leather Man or one half of the best couple from Boston.
His boy next door ways, his new meets old school way with The Tonight Show, and his time on Saturday Night Live — those are the reason Jimmy Fallon is your one and only.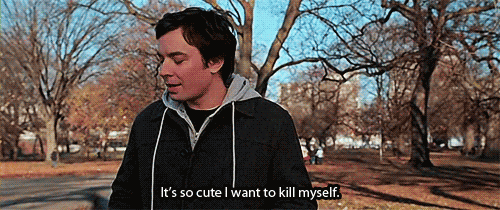 Reasons I Love Jimmy Fallon
It's been said here and there before, but my family were Fox watchers for such a long time that Saturday Night Live was not the show I grew up on. I was more an In Living Color kind of kid. It wasn't until middle school when my best friend made me watch to see this dude she was in love with that I actually saw my first episode. That love of her adolescent life was Jimmy Fallon and while I didn't fall for him like I did Maya Rudolph and Rachel Dratch, I did appreciate him when he was around.
His skits once a week aren't the reason I love Jimmy Fallon though and I actually am not a fan of his uber-positive interview style. I will say that his "Housewives" skit on The Tonight Show is one of the best things to ever grace a television screen, and it's a small reason I will applaud him. However, when it comes to Fallon, my heart will always sit next to a rerun of Fever Pitch on TBS.
About a month ago I talked about Drew Barrymore in this very spot and said that I loved her character in Fever Pitch because she taught us that it's okay to love something, but it's a little insane to think that as an adult, you still have a chance with your middle school celebrity crush. There was more to it and you can click her name to read it, but while I love her realistic take on fandom more than anything, I love Fallon's Ben's addiction to the Red Sox just as much.
Ben was more than obsessed with that team. His world was engulfed by it and I'm sure if I'd lived my life right up to this point, I would have at least one room in a house dedicated to Backstreet Boys. Why? That's my ultimate and I can't shake that. However, like Ben, I know that there are more important things because when have they ever loved me back? Yes, my boy band is appreciative of my mom and dad's money, as well as my own, and my time — but at the same time, their love can't beat that of an actual person in my life.
That's the beauty in Ben. He realizes while he loved the Sox with all his heart, they likely don't return the sentiment as much, but Drew's Lindsey does. In the end, you have to know when and where to draw the line with fandom and not let it consume your every being because that's not love — it's a bit cuckoo. Learn to balance and you can have the best of both worlds: reality and your obsession.