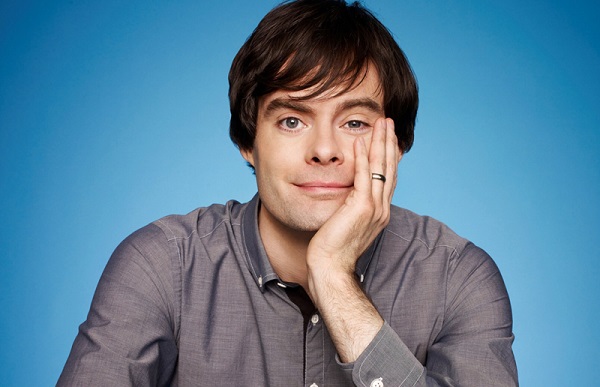 It's currently 2:30pm on September 22, 2013. Tonight the last Dexter will air and no matter what, it'll be a sad one to endure. To me, and other TV addicts, shows aren't just these forms of entertainment, they're a world of characters we encounter on a weekly basis that become more like friends and family rather than fictional ideas.  You're probably like, why the hell did she just go on and on about that? Well, I usually write these things Sunday nights but I'm pretty sure after tonight's finale I won't be able to give my lover, Bill Hader, the full attention he deserves. Hader is like Michael C. Hall's Dexter in that every week on SNL he turned his multitude of characters into what seemed like everyday pals.
From Lindsey Buckingham to of course Stefon, Bill created a niche of characters that will forever be stored and admired in SNL's legacy. People don't just love Bill because of sketch comedy; we also adore him for his movie roles both in front of the camera and behind the voices of many animated favorites. There's some other random reasons tossed in the mix, but we'll get to those in a minute.
Name: William "Bill" Hader
Birthday: June 7, 1978
Place of Birth: Tulsa, OK
Fangirl Fansite Shout Out: fuckyeahbillhader.com
Best Known For
Those who don't know his name right away can recognize his face from SNL. Bill Hader is one of those actors who will always trace his roots back to NBC and that's not really a bad thing. Since we're all aware of the genius that's Hader and SNL, we'll move on. If you so happened to be one of the few who don't watch that show but frequent movies, then you might know Bill from that medium. The officer who wasn't Seth Rogen in Superbad, that other guy in Knocked Up that had to deal with Katherine Heigl who wasn't Seth Rogen and, wait, Private Miller in Pineapple Express. Okay, just so we're clear — Bill Hader isn't Seth Rogen. You can tell that from not only their physiques, but their voices, even though both have done many voiceover roles. Bill's lent his voice to The Venture Bros., Bob's Burgers and, of course, the hit Cloudy with a Chance of Meatballs in which he stars as Flint Lockwood and reprises this week in its sequel. Next up — Other than the numerous T-Mobile commercials, Bill will continue to take on life after SNL and has already had a hit with this year's The To Do List. Coming soon are a pair of Disney flicks: The Good Dinosaur and Inside Out.
5 Quick Bill Hader Facts
Before making it, he was a PA on films like The Scorpion King and Collateral Damage.
We have Will & Grace's Megan Mullally to thank for Bill's big break. She saw his comedy troupe and called Lorne Michaels about him.
He was the first SNL actor to receive a Primetime Emmy Award Nomination for Outstanding Supporting Actor in a Comedy Series since Eddie Murphy in 1983, so technically the second one to do so.
He's the proud dad of two little girls: Hannah and Harper.
Bill doesn't have a lot of clothes according to this hilarious, yet informative Tumblr.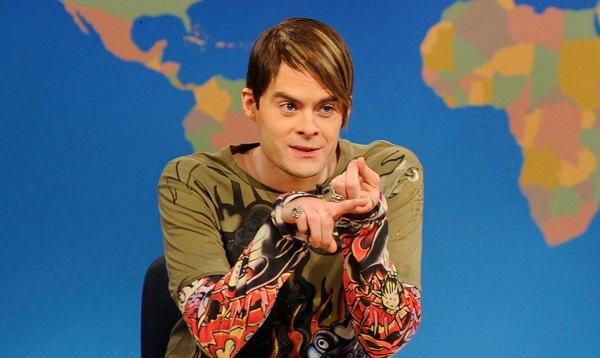 Reasons You Love Bill Hader
This part is always hard to write when I actually have my own reasons I love the person too. I fear repeating the sentiments because most are shared. So I am going to say that you love Bill Hader because of SNL and his work beyond NBC, his peculiar take on sexy, and his ability to make you laugh with his imperfections.
So let's start with his body of work first because anyone who's a fan of Bill loves him for SNL, that's just a proven fact. His impressions are some of the best the show's had in years and every week you tuned in to see him repeat the skits you grew to love and to see if he'd put anything new on the menu. You were rarely disappointed, if ever, and that's why you gladly followed him to other TV shows and movies. You own any and everything he's been in, even 2006's You, Me and Dupree and 2007's Hot Rod. That's love if I've ever seen it.
Now for his actual body — you know he's no Ryan Reynolds but you don't want a chiseled, tan six-pack. You love Bill for his average, everyday kind of guy look. He wears a lot of flannel, possibly the same flannel five days a week in most cases, too many New Balance shoes which you wouldn't know him without, and that mop on top of his head that you've dreamt many nights about. To run your fingers through his hair would be a fantasy turned reality.
Lastly, anyone with Bill's background is full of laughter and radiates humor. He radiates so much so that he broke character more often than not during his time on SNL. That just made you love him more because it proved that he is perfectly flawed. That, along with his ability to poke fun at himself are reasons you love him. He's aware of that lazy eye and doesn't try to hide it like some would in Hollywood.
Characters who are more like friends, a style and demeanor that's laid back but so attractive, and the ability to make you laugh thanks to his faults. Those are the reasons you love Bill Hader.
Reasons I Love Bill Hader
The only reason I ever started watching SNL when I was younger was because my best friend told me I had to see her boyfriend Jimmy Fallon. From that point on I'd watch every now and then, when I liked the host or musical guest, or when I was home on a Saturday night (which was often). Jimmy, along with Rachel Dratch and Maya Rudolph, were the ones I'd look forward to on an entertainment level. This was until the night I saw Bill Hader and little hearts danced around my head like a love struck anime character. I take a lot of flak from friends for loving him, but I don't care because I love the way he acts, the way he cracks up, the way he dresses (for the most part) and the fact that it seems like he doesn't have a care in the world.
When SNL comes back, I'm not sure I can watch knowing Bill won't be there. I would look at this one blog every week to see how many skits he was in and get excited about it. What will I do with my Saturday nights now? Go out to the club — oh god no. All I have now is Drunk Uncle to rely on. Farewell to the man on the show who made me laugh more when he messed up rather than when he nailed it, but hello to a new era for him. I've already collected a sea of gifs from his role as Tom on The Mindy Project and as Will in The To Do List, and I'm sure my favorites on Tumblr will continue to grow as he gets lands more jobs.
Bill dresses pretty okay and I love the fact that we could share flannels because it's possible we have the same amount. I swear I'm not Aunt Jackie from Roseanne, just a girl who'd rather cover all the space her body takes up in a nice print that screams either Midwest or grunge depending on who's screaming it. The only thing about Bill that I'd change (no, it's not that wonky eye) is his affection for New Balance shoes. They aren't worse than Crocs or mandals, but come on Bill, buy some Chucks and call it a day.
No one thinks those shoes are cool, only dads who are 40+ who check the mail with their robes half open. That's the last reason Bill owns my heart though. He just doesn't care what you, I, or anyone else really thinks; at least, that's the impression I get from him. 97% of the time he makes an appearance on a red carpet or talk show, he's dressed like someone who doesn't realize there'll be cameras around.
Before I sink down into a Dexter coma from tonight's finale, I want to end with this — I love Bill Hader because he's talented (plus, he's associated with South Park), hot as hell (come at me haters!) and doesn't care what you think about it.