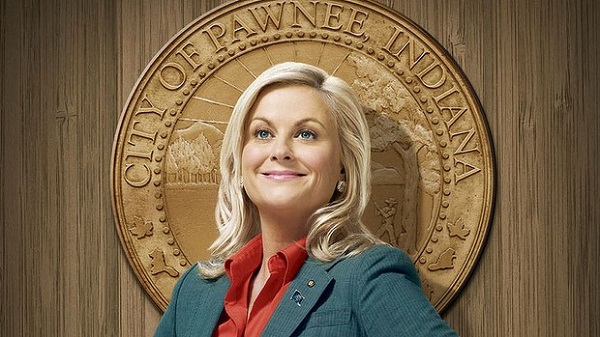 If it fit the overall theme, I'd write volumes about why I and so many love Backstreet Boys since that's who I spent the last week of my life seeing. I won't though because it'd take the attention away from the very special lady I've had placed on this calendar date for a long time: Amy Poehler.
Like Fey and Wiig, she dominated most of our lives thanks to SNL, and has luckily seen great success after leaving sketch comedy behind. So from the halls of Undeclared to the podiums of Parks and Recreation, let's discuss why she and Will Arnett broke fans' hearts — I mean, why we love her.


Name: Amy Meredith Poehler
Birthday: September 16, 1971
Place of Birth: Newton, MA
Twitter: @smrtgrls
Best Known For
Amy got her foot in the door thanks to Conan. She started to appear in little skits on his show back in the mid-'90s. During that time she landed the Upright Citizens Brigade show on Comedy Central in 1998. You might not remember that, and that's fine. But let's not forget she played the RA in Undeclared alongside Seth Rogen. Fox, why'd that have to die?! After that she ended up on SNL in 2001 and that pretty much turned her career around. She no longer had to take parts like Beth in Deuce Bigalow: Male Gigolo, although she later did Baby Mama. The stupid things you do with friends; memories. While on SNL, she dabbled in other TV ventures and movies. Amy lent her voice to The Simpsons and Spongebob, and had a recurring role playing her then-husband's TV bride on Arrested Development in 2004. Then there's Mean Girls — more on that later. Of course after SNL she became known as Leslie Knope on Parks and Recreation in 2009 and is still going strong there.
5 Quick Amy Poehler Facts
Amy played the "cool mom" in Mean Girls, but really is only seven years older than her onscreen daughter Rachel McAdams.
She's a gangsta and likes a little Bone Thugs-n-Harmony in her life.
Amy's never taken a lot of time off work post-pregnancy.
Loving anyone other than the Boston Red Sox would be against so many rules for Amy.
She actually took home an award for Baby Mama: an MTV Movie Award for "Best WTF Moment."

Reasons You Love Amy Poehler
Let's get down to business here. When it comes to Amy, your love for her is split right down the middle between her reality and the life she's created on screens big and small.
The obvious reasons for loving Amy Poehler are within the confines of NBC with SNL and Parks and Recreation. With one she played endless unforgettable characters and the other is in a league of its own for those who tune in on a weekly basis to a show about possibly one of the most uninteresting sectors of government. She makes you interested though, right? So back to SNL — while the sketches were priceless, it was her time on Weekend Update that really cemented her on the show. You were worried there was NO way anyone could replace Jimmy Fallon and sit by Tina Fey. You worried for absolutely nothing. With Tina, Amy flew high, but with Seth Meyers, she soared to new heights and that's why you love her. She was able to swoop into a regular routine and make it her own. Oh yeah, you love Amy as Leslie because while she might not always get things right, her never-ending optimism gets you through your darker days.
That optimism spills over into real life more often than not thanks to the videos Amy posts on her Smart Girls YouTube channel. There she breaks down life and sets the record straight on everything from jealousy to exams and spreads positivity through "Operation Nice." You tell almost everyone you meet that your permanent smile is all thanks to Amy and when they fail to believe you, you forward one of those videos along and change lives.
Amy's a good representative for girls and guys out there because she's not some over the top actress who preaches normalcy but is a Maxim centerfold. You love Amy because she looks more or less like you and your friends: average.
Lastly, you love Amy because she at one time was married to a person who was all too perfect for her: Will Arnett. You giggled when they got married, swore no one else's Gap ad could compare to theirs and then stopped believing in love when she and Will split. That tested your love, and it proved strong because while their relationship didn't last, yours with Amy marched on.
Amy is forever in your heart of hearts because of her time on the Peacock network, her positivity that's paired with an average face, and the fact that her relationship ultimately tested your love.
Reasons I Love Amy Poehler
Amy isn't someone I necessarily follow, so there aren't a whole lot of reasons to lay out in front of you. I will say that there are three, though: rodents, advice, and sarcasm.
I love Amy Poehler for the same reason I love Zachary Levi. They were both in Alvin and the Chipmunks, except we never saw Amy, only heard her as Eleanor. Since 2009, she's voiced the chubby Chipette and that's something I can't deny appreciating.
Another thing I will always appreciate about Amy is her advice on crushes. She said to just go ahead and tell the person you're crushing on, what's there to lose? I have yet to take the advice, but I did manage to ask him to something once and got blown off. What's there to lose? How about the little bit of self-esteem I have left, Amy — did you think about that? I mean really, really!
Just kidding, that last part is the last reason I love Amy. That whole "Really!?! With Seth and Amy" segment on SNL is by far the best thing to me that she did on that show — really?! Yes, yes it is.