When Chris Hardwick looks back on his life he'll note September 2015 as pretty stellar. He not only took home an Emmy but also got engaged. It was within the same week so maybe he'll be like, well — that one week in September 2015 was pretty awesome. If I were some sort of psychic I would've seen this all coming and it would've been kind of perfect timing for this piece. Instead, I just placed him here because when it comes to fandoms, this guy may have us all beat. The leader of Nerdist, Hardwick took his geek ways and transformed them into an insanely popular business, but that's not the only reason you all love this guy so much.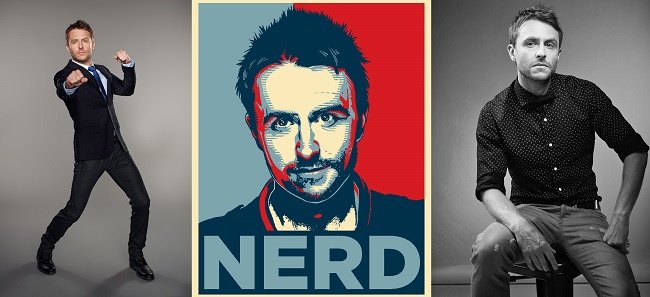 Name: Christopher Ryan Hardwick
Birthday: November 23, 1971
Place of Birth: Louisville, KY
Twitter: @nerdist
Best Known For
Before Carson Daly and Jesse Camp, Chris Hardwick was one of the prime guys on MTV. Hosting Singled Out and later doing things on the VMAs and on Spring Break, Hardwick was one of the mainstays of the network. Moving on from here he tried his hand at acting, not stretching too far appearing as himself on Boy Meets World, but later playing a real part in short-lived series like Guys Like Us. He even lent his voice to Oliver Queen in The Batman back in 2007 for a minute, and later got vocal as Craig in Sanjay and Craig. While voice over work and acting is great, you can't beat being yourself. Going back to his roots, he's a host at his best and did it with Web Soup and most recently Talking Dead and @midnight.
5 Quick Chris Hardwick Facts
He voiced Sokka in The Legend of Korra.
Onions are his kryptonite.
He just got engaged to fashion blogger and heiress Lydia Hearst with a candy ring that she plans on framing.
Sober for 12 years, he's very open about his struggle with alcohol in the past.
His late father was a professional bowler.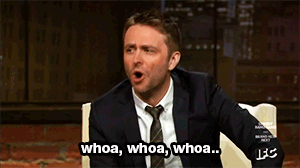 Reasons You Love Chris Hardwick
Back in the day when nerds were portrayed like Saved by the Bell's Screech, times were hard. It wasn't cool to be into Iron Man or play card games like Magic. Now it's the norm because Hollywood finally realized the cash cow superheroes are and people seemed to stop caring what others think when it came to being a geek. That's why you proudly wear your Star Wars tees now, and why you love people like Chris Hardwick. He isn't just a guy making a buck with Nerdist, he's an actual, bonafide dork.
He isn't a cool guy someone took into a studio and made have a podcast. When he talks, he talks with fervor and passion and you can tell he truly cares about every syllable that escapes his lips. It's not only why you love him, but admire him. Covering everything from music to movies to television to video games, Nerdist is a mecca for fandoms. Hmm, sounds similar to a site you happen to be on. It's a place not only nerds but super fans can go and be engulfed in a world that respects what they love to the fullest.
Also, Nerdist aside, he lets that fanboy flag higher than most when he takes to the couch every week on Talking Dead. Going off the success of AMC's The Walking Dead, Hardwick and the network came together and created a space to talk about the show every week. Often times Talking Dead can be more entertaining than the actual show because it opens up a discussion about it. What did it mean when Rick looked at Daryl that way, why was Carl defiant this week, when will Glenn and Maggie screw up and end up pregnant? These are the questions you sit and have by your lonesome, but because of Talking Dead you can widely interact with others who feel as strongly about the show as you and you love Hardwick for that.
TBS has crowned a few King of the Nerds, but in your eyes Chris Hardwick may deserve that crown for his diehard dedication to all things worthy of geeking out over — whether it's with Nerdist or on AMC.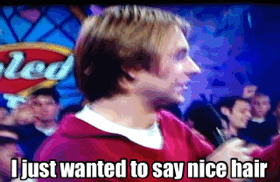 Reasons I Love Chris Hardwick
Screech was just mentioned above and I don't know why I went there because I can't stand the man. Don't knock what got you started. That's one of the reasons I kind of can't stand Chris Hardwick. While MTV is a place for desolate talent today, he got to be on when it mattered. He should be proud of that. Yes, Singled Out wasn't Emmy worthy but come on — it was still entertaining. Nevertheless, I can't hate on him too much. We all have things in our past we're embarrassed of, but when it got you started on a stellar career?
Anyways, when it comes to why I have a little love for this guy it all sits with this one time on Talking Dead when he showcased the true meaning of "The show must go on." He popped up on camera like usual when he starts the show but instead of giving a quick quip, he simply and soberly stated that his father had passed but he was going to do the show. While most of us would've been a hot mess, he was composed and didn't want to let his fans down. That's praiseworthy right there.