It seems like everyone and their mom loves Breaking Bad — well, in the last year or so anyway. I didn't even know about "the best show on TV" until a couple years ago when it seemed to be the only thing anyone could talk about. Why was "Hal" from Malcolm in the Middle in his undies, and was that young guy his kid? These are questions I've found out the answers to without even tuning in. Well, at least one answer. That young guy was Aaron Paul and he wasn't Malcolm's long lost brother, but a former student enlisted to help Ha — I mean, Walter.
Aaron Paul was essentially just some guy you may or may not have known before 2008 when he stepped into the role of Jesse Pinkman on Breaking Bad, but now he's an actor you can't ignore. In just five short years, Aaron's become one of TV's most adored characters on one of the most revered shows, but why? Well, let's find out.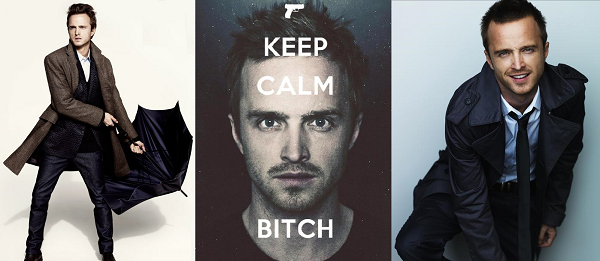 Name: Aaron Michael Paul
Birthday: August 27, 1979
Place of Birth: Emmett, ID
Twitter: @aaronpaul_8
Best Known For
Aaron Paul might be winning accolades today, but back in 1999 he was just taking up space as a background actor in Fox hits like Beverly Hills, 90210 and Melrose Place. That led to Aaron being in Whatever It Takes with James Franco and Shane West. Two out of three of those guys are doing very well and, well, one's doing whatever on a CW show that airs on Friday nights (TV dead zone). It was a slow and steady race to the top with bit parts on crime shows CSI and NYPD Blue. Then, a year before Jesse came to be, he was cast as Amanda Seyfried's love interest on Big Love. Aaron had a recurring role as Scott Quittman on the HBO series until the end in 2011. Then of course we all know Aaron Paul for, wait, what show? Oh yes, Breaking Bad.
5 Quick Aaron Paul Facts
Aaron was everything from a frog mascot for a radio station to an usher at a movie theater before he made it in acting.
Fraggle Rock was Aaron's first TV love.
Coachella is for more than hipsters and heat. That's where Aaron met his now wife, Lauren Corrine Parsekian.
He might've won some Emmys, but do they compare to the desk he took home on The Price Is Right?
Ever get a yearning to watch music videos from more than a decade ago? You might see Aaron in Korn's "Thoughtless" and Everlast's "White Trash Beautiful."

Reasons You Love Aaron Paul
I'm going to go out on a limb and guess that you didn't see Aaron Paul as frat boy #2 in Melrose Place and keep track of his career. That's just big assumption that's probably right. Those filler roles were just keeping him fed and his rent paid until he fell into your sight on Big Love and later on Breaking Bad, but it's the man behind the characters that you love most.
With Big Love you thought, damn, why is this not one of those polygamist relationships? You wouldn't have minded sharing him with Sarah. Then you followed him to AMC and were there from the first meth batch or fell into Breaking Bad after word of mouth — either way, from that point on this guy was no longer Aaron, he was Jesse.
Jesse Pinkman was that guy in school you may've never had the balls to talk to because he was rarely in class. He was all sorts of wrong for you and you knew it, but now you have this sort of pass to like him. He doesn't really do all those drugs so it's okay, right? That's how I see it anyways. You love Jesse because in reality he's that guy your parents would likely ban from the dinner table, but since everyone watches the show — they'd bend the rules for Jesse because you can't help but love that little dealer.
Then there's Aaron Paul himself, from his acceptance speeches to his Twitter feed — there's nothing that guy can't do that fangirls don't flock to and hyperventilate over. Just this week my world was bombarded with a video showcasing Aaron heading outside him home, and greeting tour groups. That's yet another thing to add to the list of why guys and gals can't get enough of that guy. I'm sure as I write these words he's doing something else that will have gif makers scrambling like elves on Christmas Eve.
Aaron Paul may not have the longest resume in Hollywood, but that doesn't mean you love him any less. With just a couple of roles, he's managed to make his mark on your heart as the guy you would never have in real life, and he's won you over just as much being himself.
Reasons I Love Aaron Paul
To me TV is a natural thing; you can't force yourself to like something. I was told I'd like Dexter, so I watched and I did. I didn't sit there and say, I am really into serial killers so I MUST WATCH THIS SHOW. The same goes with The Office, I moved into Scranton after it was in syndication. So that's why Breaking Bad was never something I started, I didn't get into it naturally. I appreciate it's a great piece of television and it doesn't seem like a show that's a waste of acclaim, but it's not for me. Maybe one day in reruns we'll find one another, or maybe we won't.
Oh yeah, Aaron Paul. Breaking Bad is not the reason I love that guy. I could lie and say his background work on Melrose and 90210 were stunning performances drilled into my mind, but I won't and they weren't. The only reason I continue to get any satisfaction from that guy lies in the following gif from his appearance on The Price is Right. Anyone with that kind of reaction gets my nod of approval.