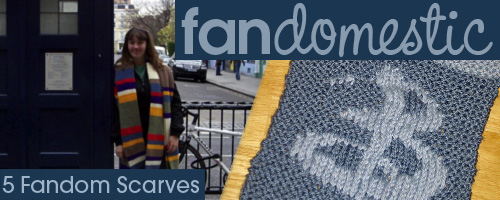 It's been in the 70s here in Orlando, but around much of the Northern Hemisphere, it's pretty chilly. To warm up, take a tip from Tom Baker and the Hogwarts kids and bundle up with a scarf — fandom-style.
1. Dark Mark Illusion Scarf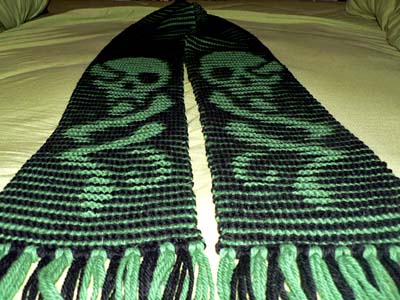 Undoubtedly, when you think of Harry Potter scarves, it's the Hogwarts house scarves that come to mind. And indeed, there are hundreds of fantastic handmade versions all over the Internet. But for something a little more unique, Lindsay at Storm Moon Knits created this design featuring the symbol of He-Who-Must-Not-Be-Named.. the Dark Mark.
2. Buffy Monogram Scarf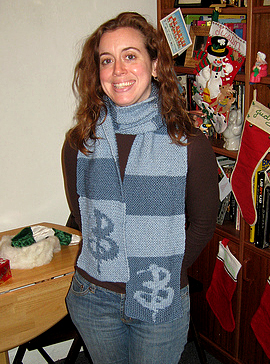 Made by Craftster user overmama as a Christmas gift for her "pseudo sister-in-law," this scarf features the "B" of the Buffy The Vampire Slayer logo. Perfect for those late-night demon fights at the skating rink.
3. Star Wars Imperial Insignia Scarf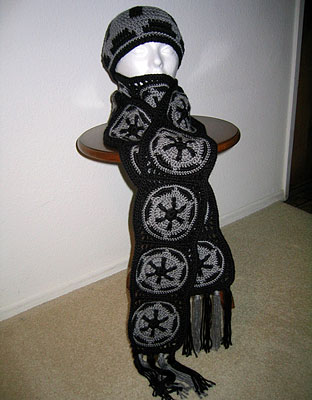 If you're planning a holiday to Hoth, you might want to pack this cozy scarf (with matching hat!) by Flickr user Overweight glob of grease. But not if you're one of those Rebel Scum, because that would just be silly.
4. Pippin's Scarf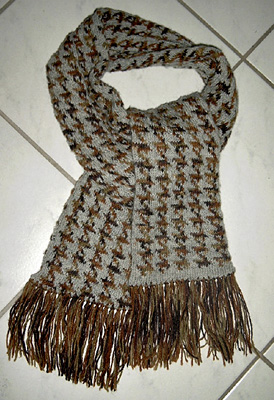 From the Shire to Mordor, The Lord of the Rings trilogy's Peregrin "Pippin" Took wears a classic houndstooth scarf. This reproduction was made by Sapphire at Dunedain of the North.
5. Fourth Doctor Scarf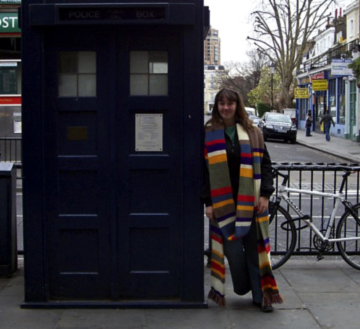 Naturally, no fandom scarf list would be complete without a nod to Tom Baker's famous Doctor Who scarf. As the fourth Doctor, Baker wore the scarf (or, one of five versions of it) throughout his seven seasons on the show. Unsurprisingly, there are many, many fan-made versions of the scarf, but I liked this one by LiveJournal member lessien_c.