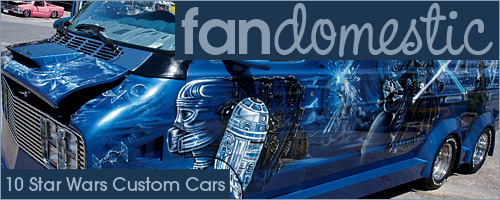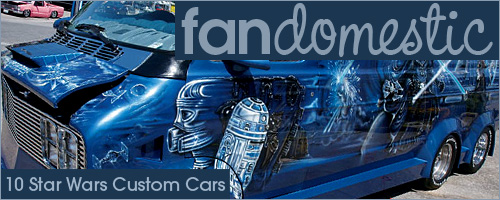 For most geeks, the act of customizing cars is relegated to video games like GTA and Burnout. But there are some industrious fans who use their cars as another way to show their loyalty to a particular fandom. One of the most popular subjects for "art cars" is the Star Wars universe. Here are ten of the most interesting Star Wars custom cars.
1. H-Wing Carfighter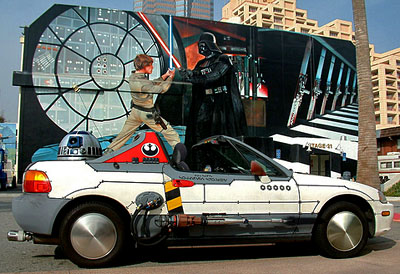 Shawn Crosby first started customizing motorcycles with Star Wars designs, but in 2000 he moved on to a full-size car. His friend Brian Reynolds took a gallery's worth of photos of the car showing the details, including the vanity license plate not shown here: OBISHWN.
2. Jedi Cruiser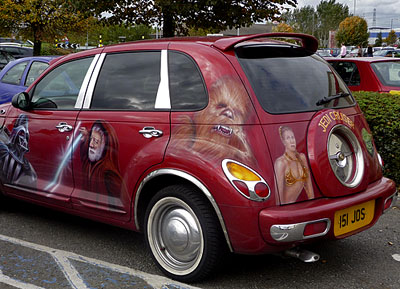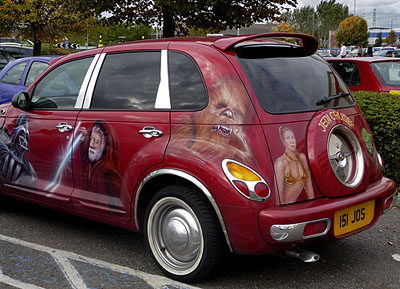 This PT Cruiser in Thurrock, Essex, England, definitely has the Force on its side. The photo is by Flickr user paulmonkeypaul.
3. Landspeeder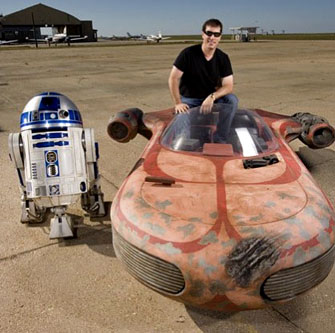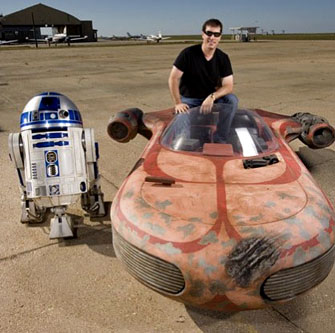 Unlike most of the cars on this list, which began as regular old vehicles and were customized, this Landspeeder by Daniel Deutsch was built completely from scratch using fiberglass and a custom chassis. Deutsch's other creations include a DeLorean and a whole bunch of droids and animatronics for companies including LucasFilm and Disney.
4. Red 5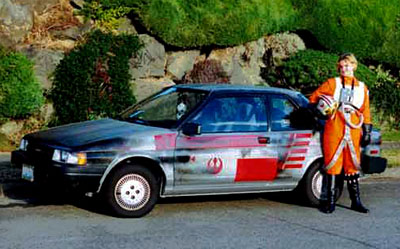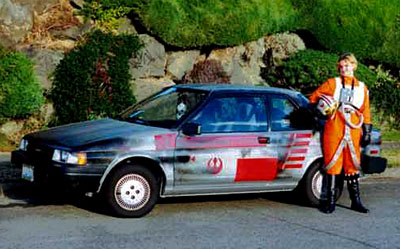 This "Red 5" by Katie Horn was painted and dirtied up just like a real X-Wing. Her site shows pictures of the whole process.
5. Airbrushed 6-Wheel Van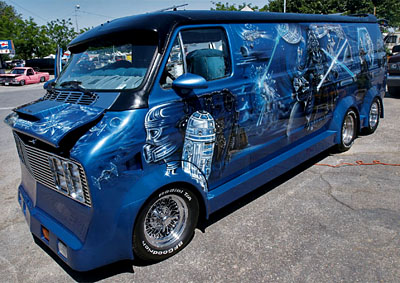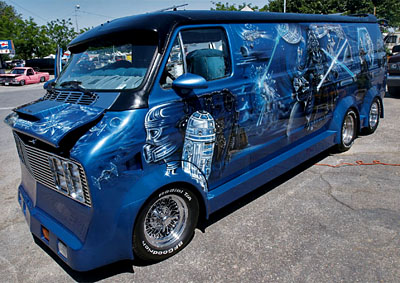 In June 2008, this gorgeously airbrushed six-wheel van was shown at the Summer Madness Uprising 21 Custom Truck Show in Bakersfield, CA.
6. Millennium Falcon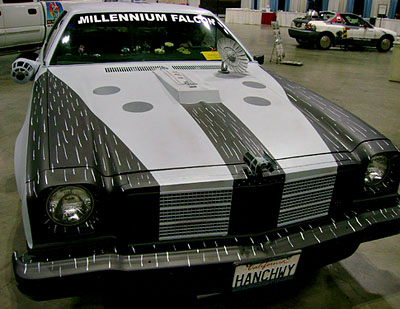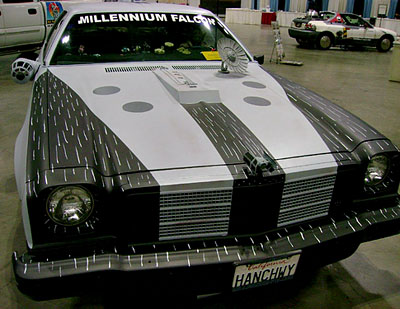 From the simulated lightspeed to the sensor dish to the appropriate license plate, this Millennium Falcon car doesn't lack for details. This photo from Star Wars Celebration IV, taken by cbake76, also features Shawn Crosby's car in the background.
7. Airbrushed Chevy Cobalt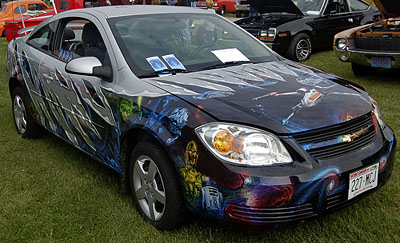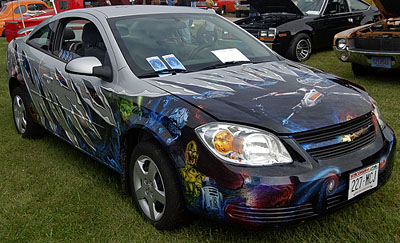 It's hard to appreciate the detail on this photo of an airbrushed 2007 Chevy Cobalt, shown at the 2008 Grand Larsony Car Show in Wisconsin. Click through to xsv phtgrphy's Flickr gallery for closeups.
8. Van-tom Menace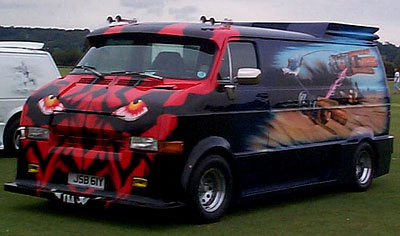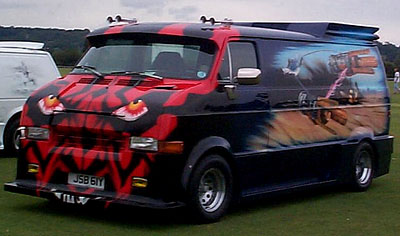 Another car show exhibit, this van at the 2000 NSVA Van Nationals features a giant Darth Maul face on its front and an action shot of Anakin's pod racer on the side. I hope I never glance up at my rear-view mirror to see such a terrifying sight!
9. Rebel Alliance Car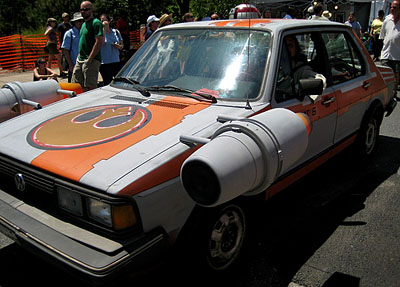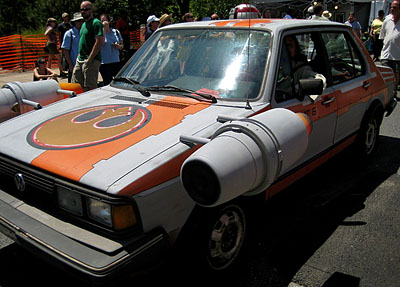 Featured at Baltimore's Artscape 2007, this car doesn't seem to be inspired by any one particular vehicle, but rather aspects of the series as a whole. Landspeeder-esque engines flank the giant rebel insignia, and an R2 unit on top completes the look.
10. MINI Cooper X-Wing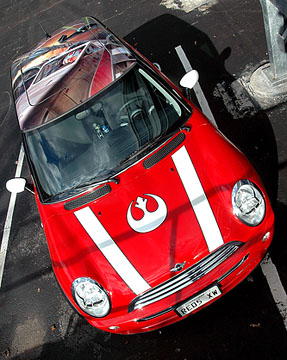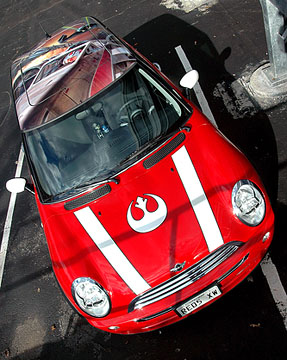 From Will Burnham comes this X-Wing inspired MINI Cooper, featuring an airbrushed mural of Luke & R2-D2 in battle on its roof.
Bonus: Buffy's Geek Trio Van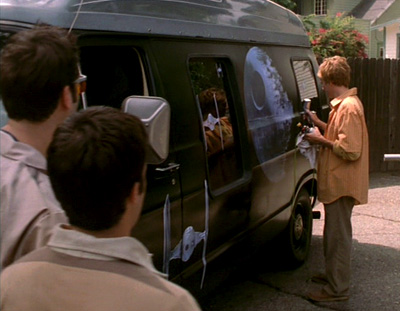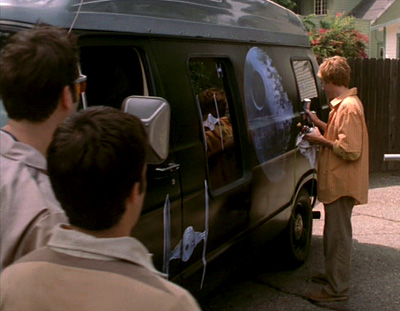 OK, so this is a fictional car. But I couldn't resist including the surveillance van of the deceptively lovable geek Trio from the sixth season of Buffy the Vampire Slayer. It not only features TIE fighters and a giant Death Star (lovingly airbrushed by Andrew using the Empire's revised designs from Return of the Jedi), but a horn that plays the Star Wars theme.