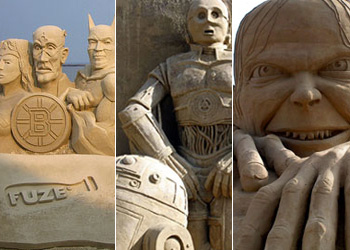 We're in the midst of summer, and while geeks typically are an indoor breed, we too occasionally flock to the beaches. While there, some of us even leave crop circle-like monuments to our visit, as evidenced by these five awesomely geeky sand sculptures.
1. Pac-Man Sand Sculpture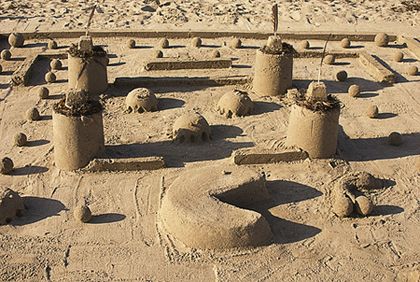 This photo by Damian Gadal shows a sand version of the famous Pac-Man game screen.
2. R2-D2 and C-3PO Sand Sculpture
The lovable Star Wars droids were immortalized in sand and photographed by redronafets.
3. Marvel & DC Superheroes Sand Sculpture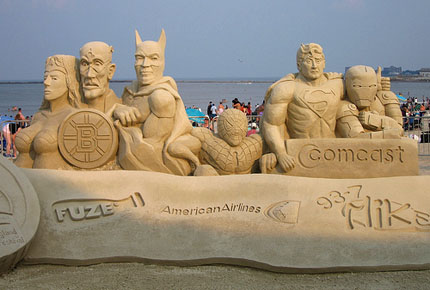 Wonder Woman, Captain America, Batman, Spider-Man, Superman, and Iron Man set aside their publisher rivalry to pose together in this sand sculpture photographed by The Eggplant at The New England Sand Sculpting Festival.
4. TARDIS Sand Sculpture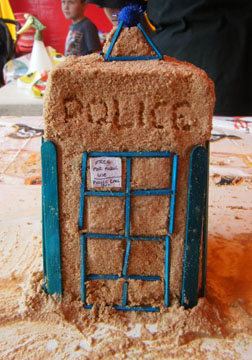 Eireinn in crafty_tardis made this familiar Police Box out of sand at a local fair.
5. Gollum Sand Sculpture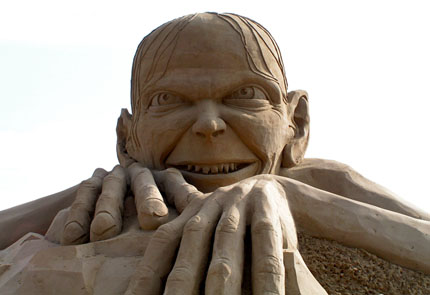 This creepy sculpture of The Lord of the Rings's Gollum was photographed by Quink in Belgium.