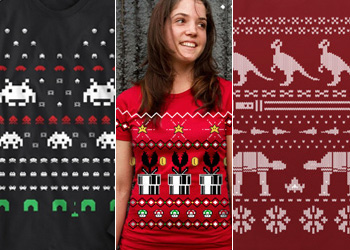 It's getting to be that time of year again, and maybe you want to show your holiday spirit. But you don't have to sacrifice flaunting your geekiness at the same time — just wear one of these geeky tees fashioned after the classic Christmas sweater!
1. Happy Hoth-idays Tee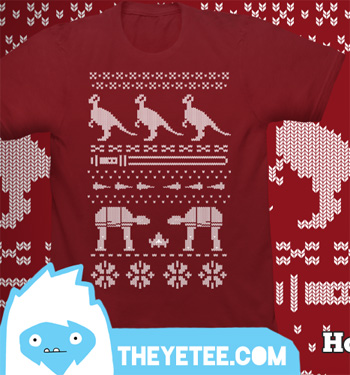 The snowy landscape of Hoth is the perfect setting for daydreams of the holidays — just imagine the jingle bells on a tauntaun-drawn sleigh and using your lightsaber to sculpt ice AT-ATs. Or just wear it while watching The Star Wars Holiday Special. From The Yetee.
2. Holiday Invaders Tee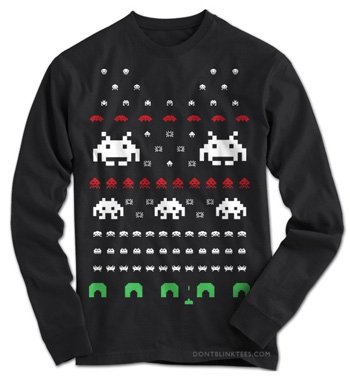 The gamers were nestled all snug in their beds / While visions of space invaders danced in their heads. Available as both a t-shirt and a sweatshirt from Don't Blink Tees.
3. 8Bit Christmas Tee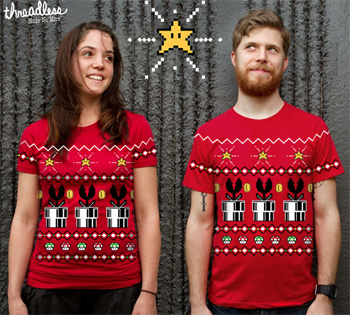 This Mario-inspired tee is up for voting at Threadless, so if you want one, better let 'em know.
4. Portal Christmas Tee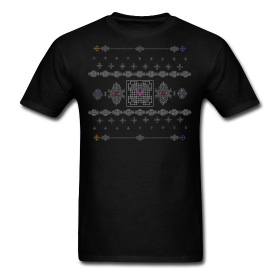 GLaDOS tidings to you, and a happy new year of testing. Now you're celebrating — with portals. Available as a tee or hoodie from Much Needed Merch.
5. Skulls X-Mas Tee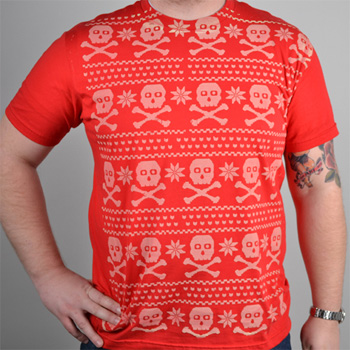 Perfect for the pirate (or punk rocker) in your life, this skull and crossbones design comes from 8/7 Central.