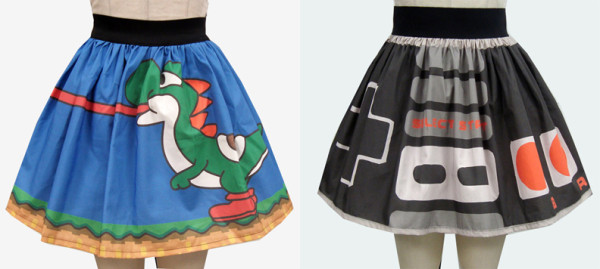 When the hell are we going to get to a month where I consider myself an "expert?" That's a good question and the answer is: not yet, but it's coming. I'd like to think I can put together an outfit if I tried and I really can dress others, but I would never call myself a top notch person on the subject or a fashion geek. To me, fashion geeks range from the ones who live for what's on the runways to the people who watch TV and movies and drool over the costume designs. You love Game of Thrones, but you love what they're wearing just a little bit more.
So this month we're going to take a look at all the different sides of fashion geekdom from those who are fashion freaks, like an old friend of mine, to talking to someone who used to work at the wonderful world of Threadless (I may've fangirled that too hard). I'll also tell you about my deep appreciation for the simplicity of the t-shirt, and break down another top 10.
Fashion Finds:
Fan Focus: The Passionate Fashionable Punk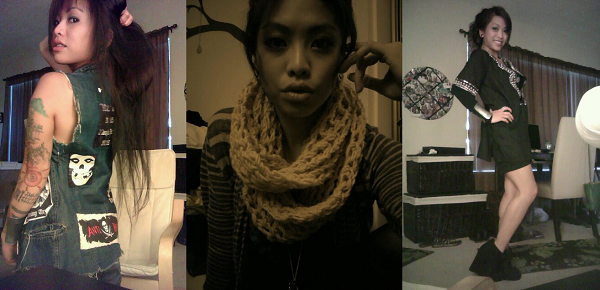 It's strange realizing my first day of 6th grade was almost 15 years ago, and even weirder to think I'm still friends with many of those kids who are now way better adults than I am at this point — one of them being Queena Phommasene. Even in a school full of mandatory uniforms, she managed to stand out from the start, whether it was cutting her hair differently, adding accessories, or decorating her backpack in a way that took her JanSport to a new level. Then we left uniforms and she was free to do whatever she wanted in high school and that's where she really shined. I remember her constructing her own homecoming dress and always looking way more awesome than the average teen. Now and then, I could never measure up to her essence of cool punk style that's grown into a fierce fashionista with an edge.
That's just my take on Queena though and while punk has always been what I've seen on the outside, she herself will tell you it was Barbie who first piqued her interest in fashion. Later it was the matriarchs of her family, her mom and grandma, who really shaped her sense of style. Oh, and of course icons like Gwen Stefani. Today you'll find her managing Elie Tahari and dreaming about starting her own fashion line — when she acquires the funds for that. For now she's happy she's doing something in the field she loves with a passion.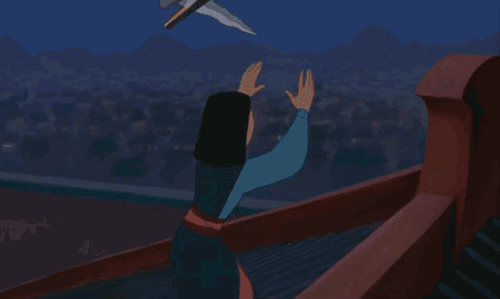 Kendra: When did you start stitching together your own clothes?
Queena: My grandma had this old school sewing machine and a bunch of really nice Thai silk. I started stitching up handbags in the 3rd grade. Clothes took awhile, I had no idea what I was doing but I made my first jacket in the 8th grade. Freshman year of high school, people asked me what the heck was I wearing… a tablecloth? No — it was a curtain!
Kendra: Are there any fictional characters you admire for their style choices?
Queena: Mulan… she was expected to be ladylike — dressed up in a geisha outfit, but she traded that for some armor! That's badass.

Kendra: Are you the kind of person who watches trends for your job or for pure enjoyment?
Queena: Both — working retail you have to be up with the trends, it's part of the job. You can't feed customers the wrong information! I enjoy seeing what the trends are, but it always changes. The best thing about fashion is that you make it your own.
Kendra: What's some advice for those who are too afraid to step out of their comfort zone and wear something that's a little crazy?
Queena: Explore! Fashion is limitless — play with it, have fun! There's so many different silhouettes, texture, fabrics, colors, wear something a little crazy! Clothes should be fun!
Kendra: Most importantly, what's fashion mean to you?
Queena: Fashion is definitely a passion. I love that fashion is what you make of it. You create your own style. if you look good, you feel good and this is all based on your perception, not any one else's!
Fashion Icon: Felicity Smoak, Arrow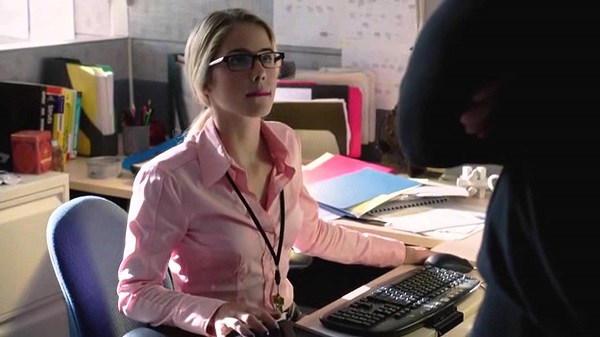 There were a lot of ladies and gents to choose from inside the Rolodex in my mind and while I would've loved to gab about New Girl's Jess, I have to give it up to Felicity Smoak of Arrow. She's always dressed in her office assistant best — even when she's down in their secret lair and could really just be in sweatpants because who does she need to impress? Oh, right — Diggle and Oliver. She's rarely dressed down and even though he'll never appreciate it, we do. Her bold color choices are always met with a lip that makes a statement and of course the look is always topped off by her signature rims.
---
Next week I get to go inside the mind of a guy who used to work at Threadless, AKA one of the main suppliers of my tee addiction.