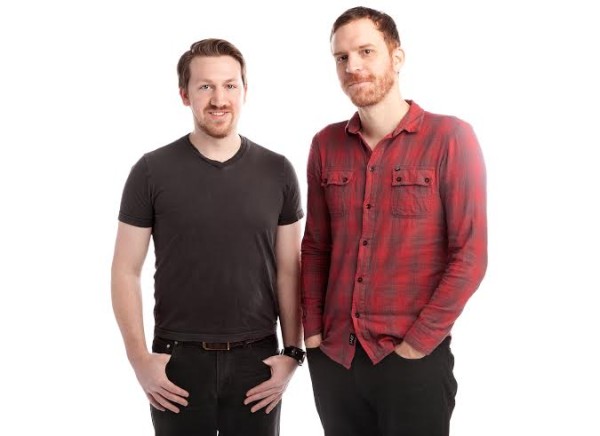 If you're unaware, I don't just put words down for Fandomania, but for a handful of sites. One of them is my music-centric one, Golden Mixtape. That's where I came to know Bob Nanna (the lovely fellow on the right above). Our musical interview focused on his new songwriting business venture, Downwrite. At that point I only knew his music side. I later learned where he'd once worked and fangirled too hard.
I saw he'd worked at Threadless and instantly had to reach out to talk to him again about his time at one of my safe havens. You'll have to wait till next week to find out why I'm a t-shirt fanatic, because right now we're focusing on Bob's Threadless time.
Bob didn't grow up with a huge interest in fashion, but was kickass enough to spend nine years at Threadless as the marketing manager. While he may not be a big fashion guy personally, he does appreciate a good tee and like almost everyone, has one he can't fathom tossing out. He'll never part with a Pele band tee, even though it's almost 15 years old. Hey, when you love a shirt — it's true love. So let's get to know more about Bob, those shirt-a-day sites, what moved the most units at Threadless while he was there, and more.
Kendra: Marketing at Threadless and being in a band, did you notice any clear similarities between the two worlds?
Bob Nanna: Yes, definitely. I thought of Threadless more like a band as opposed to thinking of my band more like a brand, if that makes any sense. Being a successful "marketer" I believe requires total immersion into the company's message & philosophy — so you'd better be on board!
Kendra: My biggest reason for ever going to Chicago was the Threadless store that I heard is no more. Did you ever feel like the store took the novelty of the tees away?
Bob: No, I think it did a good job of getting the art in front of folks who didn't engage with us online. We could have maybe used the space better but in reality I think the reason they had to let the store go was no one really knew how to run a store. It's super tough and requires way, way, way more effort and expertise than a website.
Kendra: What were some of the most popular designs when you were at Threadless?
Bob: Mister Mittens' Big Adventure, The Communist Party, Funkalicious — those were all very consistent sellers.


Kendra: What do you think about those one-a-day t-shirt sites that have been gaining popularity over the past couple of years?
Bob: I'm not a fan. It's a very Snapchatty thing, and that's becoming more popular these days but I'm a person that values art (and artists) in a way that it should live on and be appreciated for a long, long time. It's a little uncomfortable to see certain work fall into that disposable quick-fix-and-what's-next system.
Kendra: I've seen specials where people have hundreds of tees and it's this sort of subculture turned obsession. Why do you think t-shirts have such a… we'll call it, a fan base?
Bob: They are a cheap, easy way to help express yourself. The more shirts you own, the more options you have to do it when you wake up every day.
Kendra: Are you the type of person to judge someone by the shirt they're wearing?
Bob: Generally no, unless the shirt is offensive. Then I reserve the right to judge.
Kendra: Today you're heading a songwriting company Downwrite, but do you think you'll ever head back into any sort of fashion?
Bob: Not by choice. Maybe we can figure out a way for people to "wear" a song, though. I'll get right on that.
---
Next week we'll dive into my t-shirt addiction, but only if you promise not to call me a hoarder.