When you're into geeky things and you spend time heading to conventions and whatnot people will often ask you if you cosplay. I don't. It's not because I don't find it intriguing. It's just that it takes so much time, money and not to mention creativity. Look at the couple we talked to this month and Kiki Kannon. All that hard work and effort just isn't my style; I'm a t-shirt and shorts kind of gal with the occasional floral dress. Plus, I can't sew an outfit. I can attach fabric to tote bags. So I settle for Disneybounding to dress like my favorite characters. While you may know who we are right off the bat when we're in our Disney best, it's not cosplay. It's more fashion based than costume.
Cosplaying is a huge undertaking and when you decide to portray video game characters and such, you are heavily engulfed in the whole look from top to bottom. You don't leave any stone unturned. Every detail must be perfect. When you Disneybound, it's more about creating a modern day look based on said character. Unless it's Dapper Day, in which case you get retro with it.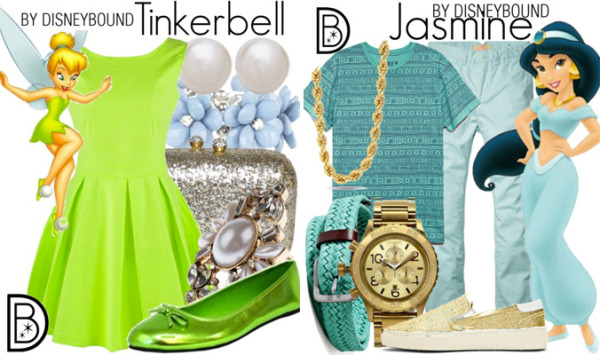 When I was first introduced to Disneybounding I was immediately interested. Just like any warm blooded child, Disney took up a huge chunk of my childhood and, while I'm not as heavily in love with it as some, I do care about it all the same. Sorry, but I cannot afford an annual pass, don't know extensive trivia about movies that date back to my mom's childhood, or collect the pins — but I have my favorite movies, characters, and lines that I hold dearly. So when I saw this concept of dressing up like Disney characters without going full blown cosplay, I was intrigued.
Leslie Kay is the mastermind of this movement that has not only taken over the realms of Tumblr, but the actual Magic Kingdom. See the recent DVD release of Sleeping Beauty? Some come with a bonus DVD that's all about Disneybounding. It's a legit thing and much like Disney itself, it's here to stay for a long time. This is mostly because Disney movies will never stop being made. The looks are as endless as the place they originate from.
So anyways, yes — Disneybounding isn't cosplaying because it's all about the fashion and less about imitating a character to a T. For example, someone cosplaying Ariel from The Little Mermaid would get a red wig, a fin, and purple shells for their top. Disneybounders would simple drape themselves with a lilac purple top, green bottoms, and shell accessories — of course, that's just one way to do Ariel justice.



I personally haven't done an Ariel just yet. What looks do I have lining my closet, though? Pongo from 101 Dalmatians, Donald Duck's nephew Louie, Dumbo and his mother, Snow White, Finding Nemo's Dory (my favorite one to do), and Hades from Hercules.  I'd have more but darn clothes and them costing money. All of those are simply put together by regular pieces of clothing from here and there. Now, if I were to cosplay any of those guys and gals, so much more assembly would be required. I'd be in a fish costume for Dory instead of a blue and black dress with splashes of yellow.
In the end, while Disneybounding and cosplaying vary in nature, both are fun to do. However, those that Bound shouldn't think they're going to any extremes like those serious cosplayers because that's a whole other level when it comes to dressing like characters.
---
Next week we wrap this up with the top 10 characters to cosplay as, of course!