It was a couple of years ago that I first saw firsthand the insanity of Disney pin trading. We were in line at Jimmy Kimmel for an outdoor concert and there were countless people waiting in a parking lot. They didn't look like your typical Paramore fans so we inquired why they had tents and whatnot — a pin was being released in the morning. I thought it was crazy but to each their own.
So when I was racking my brain trying to figure out who to talk to for this feature I couldn't believe I didn't immediately think of someone into this cult like lifestyle. Knowing that my pal Justin was into it, I asked him and he was quick to point me in the direction of Mel and Chris. They're a couple with grown up jobs and they do other things with their lives, but it's safe to say that Disney and the pin trading makes up a huge part of their essence.
They met at a Christmas party and since then have been going strong and collecting their pins. Mel's a Minnie gal who collects her favorite Disney gal and Frozen's Olaf, among others, while Chris is all about the robots and Chernabogs. Chris got into it a little after Mel, but his collection has some 15,000 pieces. That's just as impressive as the amount of times they've gone to the happiest place on earth. I tried to figure out the math and just decided to say "a butt load of times". They're both annual pass holders who spend just about every weekend there and, yes, they're among the insane that spend the night for pins.
So that's enough of my rambling — let's get to the Disney couple who puts pins first!
Kendra: Did the pins bring you together?
Chris: Not so much bring us together as solidify. It was and is something we can do together.
Mel: Yes, when I was still living in NorCal, we talked everyday and sometimes it was heavily about pins because it was something we could still be involved in together.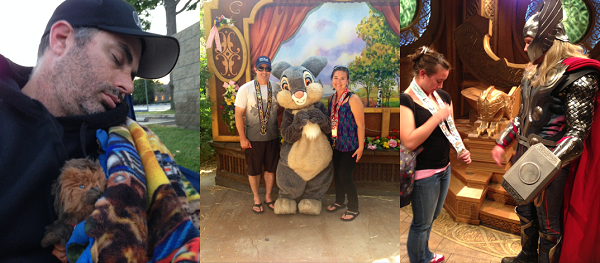 Kendra: When did this all start? How did you get into pin trading?
Mel: I started a couple of years ago when my friend had an annual pass and she was doing it with her boyfriend. My first time pin trading was actually at Disneyland Paris. I hadn't taken a trip to Disneyland since I learned about pin trading and was itching to do it and I was visiting my best friend who was studying abroad so I brought pins with me for is to trade. It was around Christmas in 2009. When I became a cast member in 2010 I learned a lot more about pins and traded daily as part of my job.
Chris: We were on our first Disney vacation, a Disney cruise going to Alaska. On the life vest drill, I saw another guest behind me wearing a lanyard with a bowling pin. Bowling is one of my other hobbies and I was excited and asked how I could get that pin. Melysa explained to me how it works and where the pins were from. Having other collecting hobbies, I got immediately excited and spent over $1200 in the next week [on the cruise] on pins. After that I got an annual pass the next week, and a month after that purchased Disney vacation club. I got those so that I could get the pins.
Kendra: I guess more importantly, why did you get into trading?
Chris: I felt it was a good way for us to do things together.
Mel: I have always been a Disney fanatic and pin trading seemed like another way to add to my overall Disney collection. And Chris has gotten me really involved in the trading aspect.
Kendra: Which is your favorite pin and why? Maybe you have 2-3?
Chris: My villainous voyage Chernabog with the hinged wing.
Mel: My Sleeping Beauty Minnie, and Olaf riding Astor orbiter.
Kendra: What's the appeal of pin trading and what's the rush you get when engaging in it?
Chris: Seeing new cool different artwork, getting pins that only a couple hundred exist on the world. I love low limited edition. I'm also a super completist.
Mel: I think for me it's my love of Disney and the characters. Like I said, I have always collected Minnie in some form. So I love seeing her different looks: expressions, outfits. My most recent love is her dressed as other Disney characters. She is the ultimate Disney leading lady. There's also the thrill of closing a deal with another trader. A trade is only going to happen if both people are getting things they want. So it's exciting when someone wants something I have and they have setting cool I want.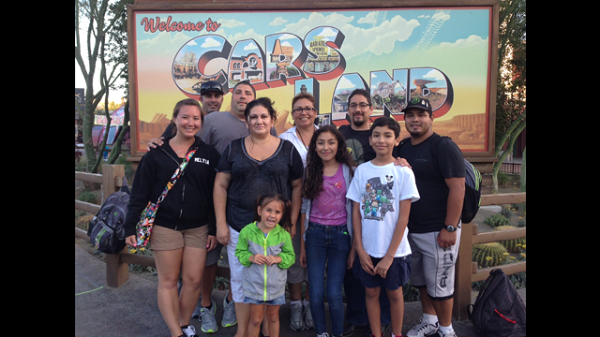 Kendra: Are there cliques in this fandom?
Chris: Yea, absolutely. Of course there are. There are cliques of elitists, completists, like-minded collections, and age group cliques.
Mel: Absolutely. Just like anywhere else, people's different personalities draw groups together and form friendships. Our group has developed into a group of friends that do a lot of stuff other than pin trading, and we are a clique in pin trading because we have certain people that we like and dislike trading with; people that we will choose to help out and people we ignore — a lot of it is based on previous interactions.
Kendra: How do you keep your pins displayed?
Mel: When we go to events or the park, we have lanyards that we wear a piece of a collection displayed on.
Chris: A lot of them we don't. A lot of them are in storage. Some of our favorites we wear on lanyard at events or at the park. Some pins are status symbols that we wear to show off.
Kendra: Do you think you'll ever reach the point where you stop and say, okay, that's enough?
Chris: No. never.
Mel: If I had to sell my collection for the money I would definitely be discouraged, and I'm sure I would be out of pin trading for a while for financial reasons.