Recently, Gilmore Girls got added to Netflix and those who spent years at the turn of the millennium engulfed in the drama that found its way into Stars Hollow rejoiced. One of those people was Leslie Simon. I know what you're thinking — did we travel back to September to talk TV? No, I just think that knowing Leslie's a huge fan of the WB classic is an important factoid. Other than obsessing over the lives of Rory and Lorelai, our insider this month is a writer who has covered everything from various music scenes to the vast arrays of geekdom. In one of those books you can find my name. I'm pretty sure you can guess which one.
That's not the only reason I wanted to focus on Leslie this month. Hers was the first name I'd written down when I planned this series out last fall. Well, her name was right in between Ann M. Martin and Judy Blume. So not bad company, right? But even though I had her name written down for months, I was intimidated to hit send on the email. She might be a gal who spends her free time worshiping Tina Fey and making vision boards, but I'm forever intimidated by her talent and aura.
Luckily she's as down to earth as any Gilmore fanatic and was totally down to take some time to exchange words with me, so let's get to it. Below you'll uncover Leslie's proudest moment, advice on both sides of the reader/author spectrum, and more.
Kendra: Were you the kid too excited for writing assignments when growing up?
Leslie Simon: I'm not sure if I was the girl leaning over the front of my desk, waiting for the teacher to tell us what 5-paragraph essay we'd be writing that week, but I definitely got butterflies any/every time I got an assignment that required me to use my creativity and imagination. When I was a wee tyke, I remember making my own books. I can't remember exactly what they were about, but I know I used excess wallpaper to make the covers and I was instantly smitten by the feeling I got when I could hold the book in my lil' hands. Knowing that some weird ideas from my noggin could be turned into a real artifact was a huge thrill for me — one that I experience to this day.
Kendra: What is the first thing you remember being proud of writing?
Leslie: Aside from the wallpaper books I wrote when I was probably eight, I think my next moment of literary pride came when I was going through the college application process. I was totally tapped with coming up with a unique personal statement that would've made any kind of impact on the faceless readers sifting through my file. So, instead of going with the herd, I decided to go off-book and write a Seuss-esque poem about how badly I wanted to attend [insert university name here.] I rarely toot my own horn — mostly because I played the flute so I have terrible embrasure — but I think the academic ode really made me stand out from the crowd.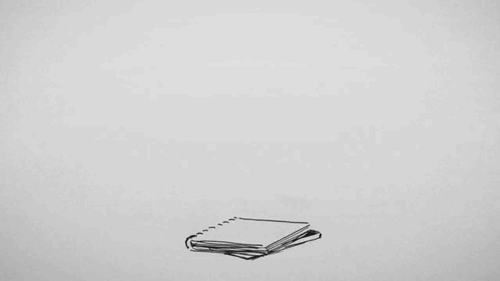 Kendra: Are you your own worst critic?
Leslie: Oh, definitely. I think that goes along with the territory. I can't tell you how many times I've written something, stepped away for a couple hours — or days — then reread the section and thought, "Wow, this is almost halfway good. Wait… Did I really write this? Because I have zero memory of writing this? Maybe someone broke into my apartment, snuck onto my laptop and penned this entire passage for me? That's the only logical explanation." Sounds crazy, but that internal conversation makes way more sense in my head than to be innately proud of something I've written.
However, I know it's the opposite for other writers; some think they've reinvented the editorial wheel every time they put virtual pen to paper. I hate to say it, but most people I've met who walk the Earth with inflated literary egos rarely possess the actual talent to back up said bloated self-esteem. It's kind of like that saying.
Kendra: Now you be the judge, what so-called classic book do you think is overrated?
Leslie: While I've blocked out most of the storyline, I used to get a lovely combination of migraines, seizures, and night sweats after I was forced to read Beowulf in college. [Shudders.]
Kendra: Flipping the script, what book do you wish you penned?
Leslie: I'm going to say I'm With The Band by Pamela Des Barres because I think she's lived one of the most interesting lives on record and if I wrote her memoir that means I would've been forced to experience a life of glorious rock 'n' roll debauchery. It's one of those things that sound amazing in concept, but probably terrible in practice — if not only for the increased chances of acquiring crabs.

Kendra: You've tackled the music scene, the many realms of geekery, so what's next for you? I saw you were dabbling in a YA class? (I'm an Instacreeper.)
Leslie: Instacreepers are always welcome! Yes, I did take a YA fiction course at UCLA last summer, which definitely kicked my butt into gear. For eight years, I've been carrying around this idea for a novel and the class finally gave me the accountability to start it. I'm 37 pages in and, while it's been hard to keep up momentum with all the freelance work I've been doing lately, I'm determined to get to 50 pages before I leave Los Angeles to visit my family for Thanksgiving. At this pace, I'll probably be finished by the time David Fincher releases The Girl Who Played With Fire.
Kendra: Being that you're well versed with music as much as you are writing and whatnot, are you more quick to recognize a lyric or a line from a book?
Leslie: I constantly hear songs running through my head all day, so it's easier for me to remember a lyric than a line. The only book passage I remember by heart is from On The Road. It's the semi-famous quote about "the mad ones." I memorized it in college and, along with my social security number, the only thing I've fully retained since then.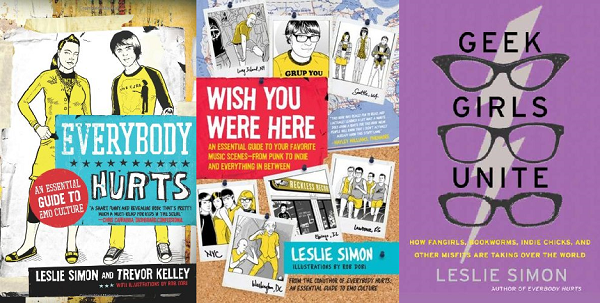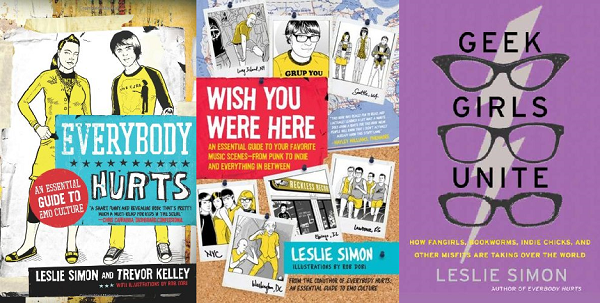 Kendra: Can you share some advice you got about being an author that just plain sucked?
Leslie: When I was pitching the idea for my first book, which turned into Everybody Hurts: An Essential Guide To Emo Culture, I sat down with the man who would eventually become my first agent and he told me the idea was great… But I might want to bring in a co-author so I wasn't missing that "male voice." I ended up asking my friend Trevor Kelley to write the book with me, and it was one of the best experiences of my life.
At the time, I was too blinded by the possibility of being published to acknowledge the agent's comment as completely offensive and unfounded. The kicker is, I don't think anyone who's read the book would be able to point out which of us wrote what. And, frankly, if Trevor and I didn't assign ourselves specific sections, we couldn't even differentiate our voices. Thinking back on the comment today, it really burns my toast, but it makes for a good anecdote and caveat to any gal who thinks her words aren't worth as much as her male counterpart.

Kendra: Now can you give some better advice to those aspiring to do what you do?
Leslie: One of my favorite college professors dispenses this gem, which never goes out of style: "It's better to write when you don't feel like writing than not to write when you don't feel like writing." It's a simple idea, but that doesn't make it any less true or powerful.
Kendra: What is the coolest thing your career has allowed you to do?
Leslie: How about D.) All of the above. When I was younger, I never saw my current life looking like how it does today. I never imagined I'd be able to say I've been to North Dakota or was once stalked by Courtney Love. I would've laughed if you told me HarperCollins would publish three of my books or I'd take a sitcom-writing course from the screenwriter of Troop Beverly Hills. I would've checked your vitals if you said I'd be living in Los Angeles and have an autographed picture of Ice-T and Coco on my wall.
My career has allowed me to do so many cool things, I can hardly keep track. By no means am I saying my life is as glamorous as Kylie Jenner's Instagram or anything, but I have it pretty good. As one of my yoga teachers once said during Shavasana, "Thank you for everything. I have no complaints whatsoever."
Kendra: Lastly, what's the most rewarding thing about your work?
Leslie: It might be cheesier than a bowl of Easy Mac, the most rewarding thing is the opportunity to meet and connect with people like you.