Every October most of us think about that one night (or a few if you're social and invited to parties) we're going to dress up and go out. Well, that's not really the case for people who cosplay. For them Halloween is likely just another day because they dedicate way more time to adorning themselves as their favorite characters.
Whether it's anime, superheroes, TV favorites, or ones they love from the big screen, there is a vast array of characters to choose from when it comes to cosplaying, and I think that's part of the fun — that and being able to take on the look of someone or thing you admire. That's why I had to give this area an entire month. Within the confines of October we'll talk to a cosplaying couple, one of the pros, explain the difference between cosplay and Disneybounding, and count down the best characters to dress as.
Cosplay Facts & Stats
Nobuyuki Takahashi came up with the term "cosplay" while at the 1984 World Science Fiction Convention in LA.
One of the best places on the interwebs for this lifestyle is right here.
When you dress up as a character of the opposite sex it's called "crossplay."
Want to head to the world's largest event for cosplay? Well, get your tickets for Comic Market in Japan.
Remember to treat women who cosplay with respect. Don't think their outfits are an invitation to touch.
Fan Focus: A Couple of Characters
Jason and Celeste, the lovely couple who run this site, know a whole lot of people thanks to their years doing this and heading to conventions and being huge nerds. So because I have the social circle the size of an ant, I had to outsource to them to find anyone that was super into cosplaying. Of course they knew someone. Well, they knew some people and put me in touch with another pair. Louis and Jen Johnson are a couple who not only share working in IT but also love cosplay. Both can recall loving Halloween and dressing up when they were kids — Louis with his homemade Ghostbusters garb, proton pack included, and Jen wearing out her elastic band masks way before the 31st. Today it's like they couldn't imagine their lives without being in some sort of costume.
Of course they have their favorites, like Louis and his N7 Armor (keep reading why that answer probably just made Jen love him even more) and she, well, she loves them all but if you forced her to choose she'd go with her Fallout Vault Dweller. Of course they've mastered a lot of their looks over the years but there are still a couple they wish they could do but just can't. For Louis it's a Spartan from 300 and John Crichton from the "John Quixote" episode of Farscape. For Jen it's that blasted hair of Lara Croft's from the Dead Zone that's keeping her from doing that one. So now that we know all that what's there left to say? Well, a whole lot more, so keep on getting to know this cosplaying couple.
Kendra: What got you started into more than just dressing up but actually cosplaying?
Louis: My first cosplaying experience was brought on by visits to anime conventions. I started tagging along with my best friend to events like Otakon, Animaziment, and Katsucon back around 2000 (I AM SO OLD). After I while, I met many people who are my dear friends to this day, and in retrospect the time I spent at those cons really brought my out of my self-imposed shell.
Now, while I was never super into anime, outside of watching the occasional series, I did love video games and they remain a large part of that culture. After many con visits and seeing the amazing getups people put together, I decided it was time for me to try.
One year I put together a Seifer Almasy costume (the jackass from Final Fantasy 8). I commissioned the coat, hunted for the accessories, bleached my hair blonde, and overall spent way too much money. While I was quite self-conscious at first walking around the show floor, after a while I felt very accepted and quite surprised that people actually wanted to take pictures with me. It was a good, good feeling.
Jen: I started going to SDCC in 2003 because I heard it had every toy imaginable and I was really into toy collecting. When I got there and I saw regular people in costumes, I was like "What is this? This is a real thing?!" but it still took me a few years to move out of geek shirts and into costuming.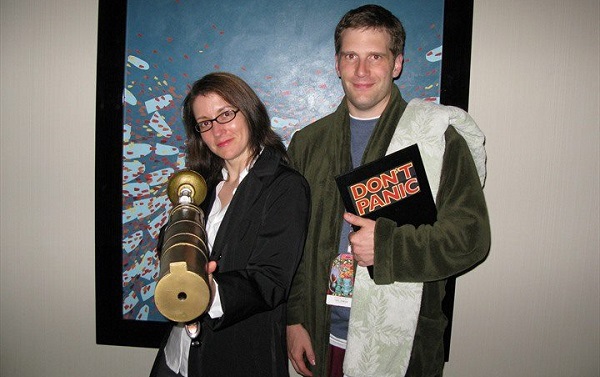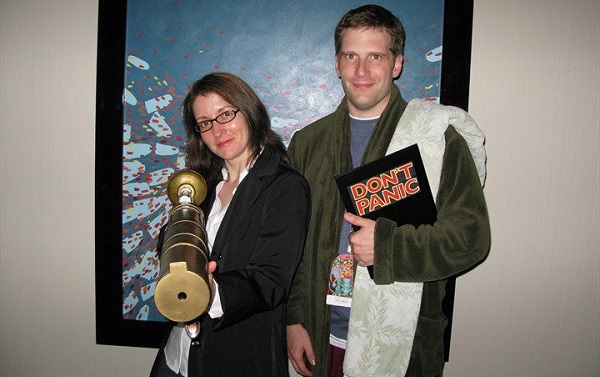 Kendra: Is this something that brought you two together or was it a happy coincidence that you were both into cosplaying?
Louis: Yes, definitely. I'd say I really started cosplaying regularly in 2005 with my second visit to Dragon Con. My anime friends prompted me to go the year before, and I was instantly hooked. And if they hadn't I wouldn't have bought cheap Duty Blues on eBay at the height of BSG, met some soon-to-be lifelong friends, been a part of the formation of the Colonial Fleet, and met my wife several Dragon Cons later.
Jen: Well, we are together because of the Colonial Fleet BSG costuming group. So, I think I can say it definitely brought us together.
Kendra: Who does it more out of the two of you?
Louis: Jen is far more invested in the research and planning portion of costuming. I, in my nature, tend to throw things together at the last minute, which usually means throwing money at problems. I don't have the capacity to perform the detailed level of Sherlocking she does, so that's one awesome thing I love about her.
It's not to say I'm not picky though when it comes to putting a costume together. I'm a bit of a perfectionist, and want to be as screen-accurate as possible. That tends to limit the number of costumes I'll do in a year. Jen however runs the gamut on everything, but tends to always have more outfits as she's an excellent purveyor of the casual costume.
Jen: Me. I'm always planning. Always. Not everything that I plan and research comes to fruition but I definitely love that whole process. (Hello secret boards on Pinterest!) I would say I'm also more hands-on than Louis. It can be a mental hurdle to actually try a new technique or new material. Like the little engine that could trying to get up the mountain — I think I can, I think I can… and then I do; sometimes with yelling and tears. I think Louis is still working towards building confidence in trying out new things. Also, he likes to wait until the last minute to plan for anything.
Kendra: What's your favorite outfit of one another's?
Louis: Her Alice Abernathy Resident Evil costume. It may be the most expensive one she's ever done, but she looks freaking amazing it in. She actually completed it before the RE: Afterlife was released, so she was literally one of the first people out there to wear that outfit. And to note, the first year she wore it was actually the same Dragon Con where I proposed to her. But that decision was made well before I got to see her dressed as an incredibly sexy badass.
Jen: There's a couple. Simon from Misfits because it was such a fun group, and he lurked and played Simon so well in pictures. The other would be Arthur Dent, because I'm a huge Hitchhiker's Guide fan. I got to carry my big POV gun, and people got that I was Trillian because I was with Arthur. Unfortunately I can't say N7 armor is my favorite, because I made it for him and it caused me physical and emotional pain.
Kendra: What's the most you're willing to admit you've spent to perfect a look?
Louis: For a single look, I probably spent about $700 total on my first major costume for Dragon Con, which was John Crichton from Farscape. Alas, I no longer have it, because it was made for a Louis that was 100 pounds heavier, but I'm planning to get another together for next year's Dragon Con. That, and an Arrow costume, and my Star-Lord, and maybe Destiny armor. So yeah, I can foresee myself breaking that record in the future.
Jen: I admit nothing, because Louis is reading this but on that note, I would LOVE to have something made by God Save The Queen someday. Her pieces are beautiful.
Kendra: Are there cliques in the cosplay world that we may not be aware of?
Louis: While I wouldn't call it a clique, there is this really cool sub-culture of fellow geeks who are into fitness. It goes against stereotypes, and Dragon Con over the years seems to always been a powerful motivator for myself and my friends to stay healthy (and to fit into our costumes).
Jen: I'm sure there are but for most part I find people open and wanting to share their passion for costuming/cosplay and/or the characters.
Kendra: Will there ever be a time in your life where you hang it up and say it's not for you anymore?
Louis: Nah, not really. It's a positive thing in both our lives, and unless that changes we're still going to be spending a better part of every year planning, preparing and getting excited for the new costumes we put together and, most importantly, the friends we get to see.
Jen: When it stops be fun. I'm a little older than your average costumer but it still brings a smile to my face. Costuming helped motivate me to start a healthy and active life style, has helped me develop new skills and given me confidence in myself. Why would I stop doing something that does all that?
Kendra: Lastly, what's the most rewarding part of cosplaying for you?
Louis: That moment where I trudge back up to my hotel room, sweaty and tired, start to peel off whatever I'm wearing and feel cool air finally touch my skin. I'll usually sit for a moment and reflect, satisfied that what I accomplished came together, and that I managed to make a few people smile.
Jen: Easiest question to answer — the friends I make.
Cosplay Icon: Jessica Nigri
It's crazy to be like, "Hey, what's your job?" and have that person reply with cosplaying. Right? Well for Jessica Nigri that's the reality. She's one of the most famous in the game and when you see her pictures you can understand why. It's not your regular 9 to 5 and that's something you definitely have to give her props for. She took her love of dressing up and made it a career. She's not just a cosplayer though; she's a model and spokesperson as well. So she's a little more well-rounded and kudos to her for it.
---
Next week we'll dive into the professional part of this world with Kiki Kannon.