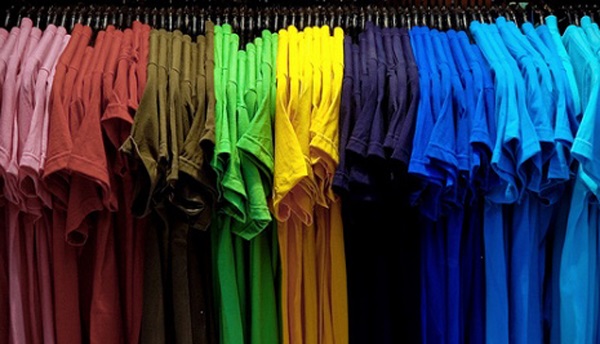 It's totally normal for someone to sit up at 2am to count how many t-shirts they have, right? High off of pita chips and water, that's exactly what I set out to do 10 minutes before I sat down to write this. The total will come later, but first let me give you a little history lesson when it comes to my tee obsession. After that we'll talk about my favorite ones, my pet peeves with others, and why one should never turn their back on the classic wear. I also must note that those are not my tees above — my iPod failed to take a good shot of mine.
Looking at me now, you would never have guessed I was a very adorable child who adored dresses and bows in her hair. Why I needed to dress like every day was picture day in kindergarten is beyond me, and I have since taken up dresses and bows again, but the amount of feminine garb in my closet fails in comparison to my tees. Anyways, around the middle of elementary school I adopted a sense of (no) style that involved bicycle shorts and oversized Winnie the Pooh and Looney Tunes shirts. Then, although junior high was all about uniforms, you could find me in graphic tees on the weekend from the likes of We're Entertainment (RIP store that supplied my South Park addiction). Once high school hit I wasn't far from anything that referenced pop culture from Hot Topic. As I grew, my tee taste did as well. Today I like my shirts from one-a-day sites like Shirt Punch, as well as Threadless and thrift stores.
By now you're probably wondering how many shirts I have. Well, in my apartment there are 111, and your guess is as good as mine as to how many reside in the shed at my mom's house. If it wasn't a spider's safe haven, I would've retrieved those years ago. I'm sure my faded Invader Zim gems would like to be reunited with me even though they aren't my favorites. That title is shared by a shirt that represents my hometown, and two that showcase the '90s all too well.


Not everything about t-shirts is perfect though. You have to deal with those annoying pit stains, and people may judge you for not being mature — really, how is a shirt childish? I guess the ones that glorify farts, but come on. Those aren't my personal pet peeves with tees though. I actually cannot stand when people are t-shirt "enthusiasts" but really only have JC Penney rocker tees — oh you know the ones. They feature bands like The Beatles and Led Zeppelin and are created for those who have likely never heard of either. I'm not sure why these kinds of shirts make me cringe, but they do. Also, don't say you're a t-addict and then wear the same one all the time. Your "collection" is bad, and you should feel bad.
As for that whole "tees are childish" thing, that's just not true. T-shirts are the best way to showcase your personality through clothes. How many people have you met because they did indeed like your JC Penney rocker tee? I may hate those, but even the worst kind of shirts can lead you to your new best friend. They shouldn't be dismissed and only worn on laundry day; they should be embraced and celebrated as the icebreakers of the fashion world.
Pooh and Bugs introduced me to them, and Hot Topic cradled me through my teen years, but it's now the Internet's job to make sure this gal continues buying shirts that make her the happiest girl on the block. They have their downfalls (but what doesn't?), and they may seem immature to some, but to me they are the most comforting things on Earth — alongside food and TV, of course.
---
Next week we countdown another top ten — can you guess what this one will be?