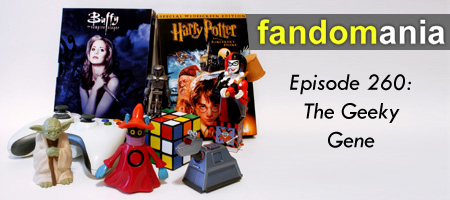 This week we talk about Comic-Con and Dragon Con, the Steam summer sale, The Last of Us, The Walking Dead: 400 Days, Orphan Black, and more!
[audio:http://traffic.libsyn.com/fandomania/Episode_0260_-_The_Geeky_Gene.mp3]
00:00:29 – Episode Opening
00:03:57 – We talk about this year's San Diego Comic-Con and look forward to Dragon Con.
00:12:15 – Assassin's Creed has a new assassin debuting in comics.
00:18:47 – Tomb Raider is getting a comic book sequel.
00:20:04 – Trading cards are Steam's most deviously brilliant creation.
00:30:07 – We're both playing The Last of Us.
00:37:01 – Celeste played The Walking Dead: 400 Days.
00:41:29 – We've been catching up on Orphan Black.
00:53:11 – Episode Closing