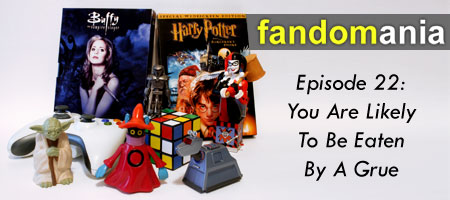 [audio:http://media.libsyn.com/media/fandomania/Episode_0022_-_You_Are_Likely_To_Be_Eaten_By_A_Grue.mp3]
On this week's episode:
Celeste and I give a status update on our move.
We discuss our Christmas loot, and Celeste talks about her new iPod Touch in detail.
We announce a new contest to give away two copies of the Eureka CD soundtrack.
I geek out a little about watching Netflix via my XBox 360.
We talk about the 2008 Doctor Who Christmas special, "The Next Doctor."
Celeste and I look back on 2008 and discuss our "best of" lists in movies, TV, and video games.
You can write to us at podcast@fandomania.com. The intro music for this episode comes from The Crowd, via the Podsafe Music Network.