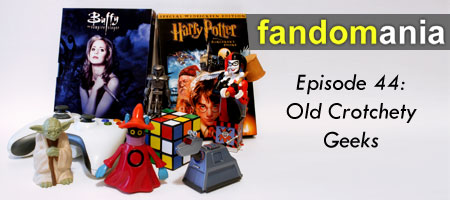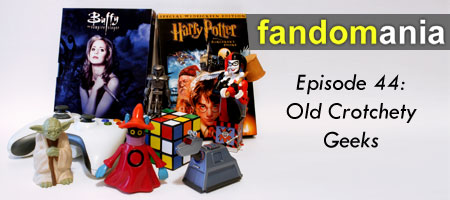 [audio:http://media.libsyn.com/media/fandomania/Episode_0044_-_Old_Crotchety_Geeks.mp3]
In this week's episode:
00:00:16 – Episode Intro
00:01:00 – We do an impromptu plug for Pizza Fusion.
00:02:40 – I'm spending the weekend and week catching up on work while we both do some wedding planning.
00:03:44 – My birthday's coming up!
00:05:11 – Celeste finally gets around to reading The Hitchhiker's Guide to the Galaxy.
00:07:30 – We talk briefly about the upcoming Dragon*con and meeting celebrities.
TV Talk:
00:09:52 – Celeste links me to an article in Wired in which J. J. Abrams echoes our hatred of spoilers.
00:11:44 – We go on a momentary Doctor Who tangent.
00:22:50 – We discuss (with spoilers) the only new TV we watched this week: the Reaper series finale.
00:34:10 – Celeste and I talk about the upcoming TV shows that will be starting soon.
Games Talk:
00:36:48 – We've gotten a couple of new board games this week: Memoir 44 and BattleLore.
00:38:15 – I'm still chugging along at World of Warcraft.
00:38:47 – Celeste is replaying Hitman: Blood Money.
00:41:20 – I finally got around to playing the Saints Row 2: Ultor Exposed DLC.
00:46:00 – Episode Closing
You can e-mail us at podcast@fandomania.com with listener mail.
board games
,
doctor who
,
hitchhiker's guide
,
hitman
,
Podcast
,
reaper
,
saints row
,
spoilers
,
TV
,
video games
,
world of warcraft