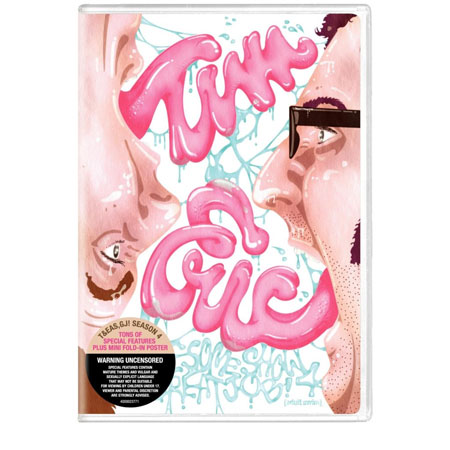 DVD: Tim and Eric Awesome Show, Great Job! Season 4
Release Date: September 14, 2010
I'm not sure how it came to pass that I never saw or even heard about Tim and Eric Awesome Show, Great Job! until this review DVD arrived from [adult swim], but after giving the disc a watch I feel like I've been missing out on some essential comedy. This DVD collects the entire fourth season and adds in enough extras to keep you in a state between confusion and hilarity for quite a while.
The Show
Fans of Tim and Eric already know what to expect and probably have memorized every episode in this collection. For any newcomers to the party, however, here's what you can expect: Each episode has a central plot that puts Tim (Heidecker) and Eric (Wareheim) in continually bizarre and funny situations. There's no real continuity beyond the fact that some of the cast stays the same throughout the season. The cast that doesn't stay the same rotates through an awesome set of celebrities who appear in mini-sketches inserted between scenes from the main plot. The humor ranges from the truly weird to the unsettling to genre parodies to basic potty laughs.
The Episodes
This fourth season collects all ten episodes on one DVD. Each episode bears a brief title ("Hair," "Tennis," "Snow," etc.) that succinctly describes an element of the central story. This collection begins with a fictionalized account of Tim and Eric's original founding of their website and then runs through increasingly strange adventures. John C. Reilly, Tommy Wiseau, and Alan Thicke are a few of the famous faces that make appearances. My personal favorite is Zach Galifianakis as an unhinged acting coach for children. The sketches move quickly, and you'll likely find yourself accidentally marathoning the whole season in one sitting, blowing through each 11-minute episode in succession.
Special Features
The Season 4 DVD is packed with special features. Most of them are self-explanatory, but a few of the obscurely named features bear watching without any preamble or expectation. The full rundown of specials includes:
Deleted Scenes
Extended Scenes
Bloopers
Restaurant Fart
Cast of Tennis
Road Trip Dummy
Pusswhip Banggang "Brownie Mountain" (Live)
Awesomecon 2009
Zillionaire
Karaoke
Conclusion
Anybody who already is a fan of the show probably grabbed this one on preorder. If you've never seen Tim and Eric, it's a surprisingly random and funny show that's worth checking out. Not all of the jokes hit, and there are a few too many intentionally awkwardly long camera holds, but the jokes that do land are hilarious, making the whole experience worthwhile.