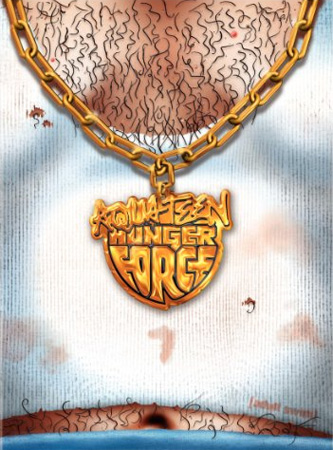 DVD: Aqua Teen Hunger Force Vol. 7
Release Date: June 1, 2010
On June 1st, [adult swim] released the Aqua Teen Hunger Force Vol. 7 DVD set, a collection of episodes of Aqua Teen Hunger Force, a late-night, adult-themed cartoon series that revolves around the misadventures of a superficial, materialistic, selfish talking milkshake named Master Shake (Dana Snyder), a flying, laser-beam-shooting container of French fries called Frylock (Carey Means), and a talking meatball appropriately named Meatwad (Dave Willis). These three anthropomorphic food items compose the "Aqua Teen Hunger Force," a group of some sort that is never fully explained to viewers and which appears to involve doing little more than dicking around the suburbs of New Jersey and antagonizing the overweight, greasy next-door neighbor, Carl (also Dave Willis).
Unlike previous ATHF DVD sets, which generally include at least thirteen episodes of the series, ATHF Vol. 7 contains only eleven episodes, all of which appear on a single dual-layer disc that also houses all of the collection's extras and special features. The eleven episodes featured in ATHF Vol. 7 originally aired on [adult swim] on the Cartoon Network between April 2009 and February 2010 and span portions of ATHF's sixth and seventh seasons.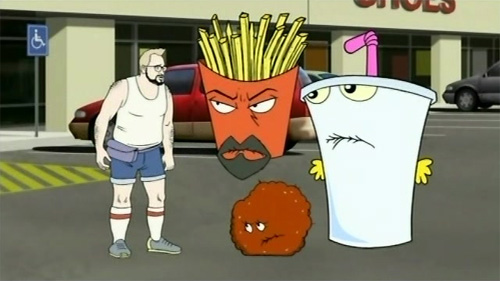 For those of us accustomed to run-of-the-mill DVD collections that span a single season of a show and feature deleted scenes, bloopers, or various other special features, it may be surprising that ATHF Vol. 7 is composed of only six of the ten episodes from ATHF season 6 and five of the twelve episodes that have aired during season 7, but as long-time fans of the series know, splitting seasons into different DVD collections is nothing new for Aqua Teen Hunger Force. Considering this and taking the minimalistic nature of the collection into consideration-specifically the Digi-Pak packaging, cardboard shell, and the fact that the entirety of ATHF Vol. 7 is crammed onto a single dual-layer disc, it would appear that ATHF Vol. 7 is aimed not at the casual Aqua Teen Hunger Force viewer, but at die-hard fans of the show looking to expand their DVD collection or interested in the special features.
The episodes included in Aqua Teen Hunger Force Vol. 7 are:
"Creature from Plaque Lagoon" – Dr. Wong Burger's "toothful" revenge.
"Time Machine" – Roaches from the future… or are they?!
"2-and-a-Half Star Wars Out of 5" – Drewbacca annoys Frylock.
"Fry Legs" – Frylock goes insane with lust.
"Der Inflatable Fuhrer" – Frylock works for Hitler to make quick cash.
"Last Last One Forever and Ever" – Live-action episode.
"Rabbot Redux" – Rehashing is good for a giggle.
"Rubberman" – A condom monster manipulates Meatwad.
"Multiple Meat" – Frylock slices and dices Meatwad.
"Monster" – Meatwad gets tormented in this exorcist parody.
"Eggball" – Shake vs. death Isla.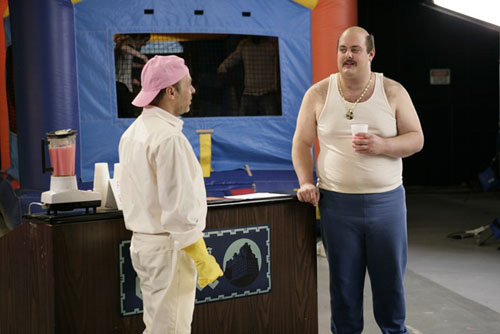 Of particular note is the inclusion of the season 6 finale, "Last Last One Forever and Ever" which is a one-of-a-kind ATHF episode that features a live-action interpretation of the show sandwiched between traditional animation segments. Those who frequently watch [adult swim] will remember all of the promotion surrounding the nationwide casting call for a "real life Carl" sponsored by [adult swim] and Burger King back in 2008, and the winner of the contest, Dave Long, Jr. from Ebensburg, PA, was cast to play the Aqua Teens' neighbor in this episode. The production of "Last Last One Forever and Ever" facilitated what are the only noteworthy extra features from ATHF Vol. 7, a behind-the-scenes look at the episode's creation called "Live Action Behind the Scenes: The Making of 12 Minutes of Television That Changed Television for 12 Minutes," and a segment on contest winner Dave Long, Jr. titled "Live Action Carl: The Dave Long Story: Shave Your Head, Grow a Mustache and Gain 80lbs for a Shot at Fame."
The other special features on the disc include "Rubberman Behind the Scenes: Your Mom and Uncle Sing About Condoms," "Dumb Down Your Smart Phone," and "Terror Phone II: The Legend of Rakenstein," all of which will be mildly entertaining for Aqua Teen Hunger Force fanatics but are generally not worth the time for the casual viewer.
Given that ATHF has been on the air for ten years, it makes sense that a collection like this would be aimed at the show's existing audience, and I would suggest that those unfamiliar with the series start somewhere closer to the beginning to get a feel for the bizarre, disjointed nature of the show and the type of humor the series employs. Although many claim that ATHF has run its course and is no longer funny, those still amused by the series will find a lot to enjoy in ATHF: Vol. 7.
Rating: 3 / 5 Stars