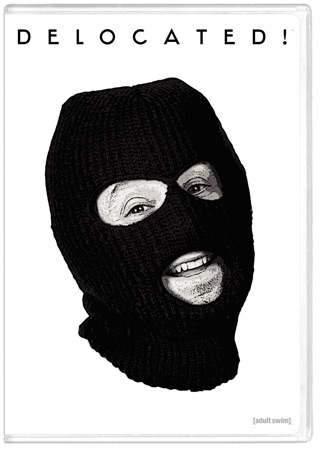 Comedy Central's [adult swim] block is the home of all things absurd, and it unleashed another of its creations upon the DVD consuming public last week with the arrival of Delocated! Seasons 1 & 2.
Delocated!, created by its star Jon Glaser, debuted on Comedy Central in 2009 after a successful pilot in 2008. The show's first season opens with a family having entered the Witness Protection Program after the dad testified against the Russian mob. The first bits of craziness drop in when we learn that the entire family, as part of their protection agreement, must wear black ski masks at all times. Additionally, all three family members have had devices surgically implanted in their throats to disguise their voices. Renamed as "Jon," "Susan," and "David," the family is just starting to settle into their new lives when Jon lands them a reality show.
The family picks up and moves to New York City, where they, along with their bodyguard Mike, will be featured in a new series. As soon as they arrive in their new apartment, the deal starts to go sour and Susan takes David and leaves Jon. The absurdity only ratchets upward from there as we learn that a Russian hitman / stand-up comedian is hot on their trail, and he somehow has landed a spot on the reality circuit as well. These first two seasons of the show follow the misadventures, conflicts, and betrayals of the family hiding in plain sight, as well as the shenanigans of the mobsters out to get them and the incompetence of their protectors and the TV crew.
The first disc of this new two DVD set includes the entirety of season 1 and half of season 2, while the second disc includes the remainder of season 2 and a bunch of bonus material. The first season of Delocated! ran for six episodes, each clocking in around eleven minutes long. The second season doubled both the number of episodes and the length of each, bringing the overall number of episodes in the DVD set to eighteen. As with most [adult swim] releases, Delocated! has a lot of content in its features:
Audio commentary on two episodes, "Pilot" and "Mole"
Flip Books – Photoshoots from two episodes are remixed, flipbook style.
Deleted Scenes – A collection of removed scenes from throughout the series. The scenes are mostly finished, aside from the lack of modified voices.
Outtakes – Bloopers and general goofing off
Demo – The original demo that was used to sell the show to [adult swim]
Season 3 of Delocated! premieres this month, and it's a great time to get caught up on the show.