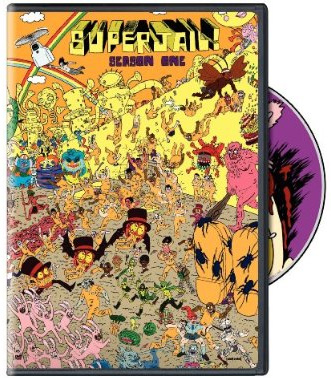 DVD: Superjail!: Season One
Release Date: February 23, 2010
As television critic Robert Lloyd pointed out a little over a year ago in an article for the Los Angeles Times, generally speaking, there exist three distinct categories of animated television shows: those created specifically for children (Dora the Explorer and The Fairly Oddparents, for example), those that are not geared directly at children but may be acceptable for consumption by minors (The Simpsons and even South Park), and those that are in no way, shape or form appropriate for kids to watch (Drawn Together, Beavis and Butthead, etc.).
Superjail is an animated series that falls into the last of these categories — as Lloyd commented, the series should be withheld from children as proactively as "blowtorches, Scotch and Hustler." Of course, the fact that Superjail airs during the Cartoon Network's nighttime programming block known as [adult swim] alongside series like The Venture Bros. and Metalocalypse is further testament to its purely adult nature.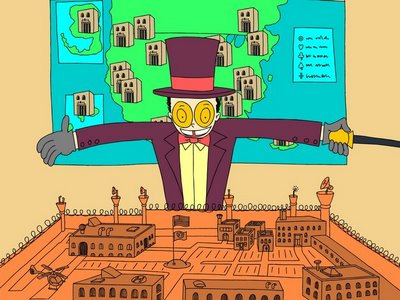 The premise of the series is a simple one: the world's worst villains are captured by a robot enforcer and deposited in a huge island prison run by a character called the Warden (voiced by David Wain), his assistant, Jared (Teddy Cohn), a steroid-jacked guard named Alice (Christy Karacas), and a recovering alcoholic who is plagued by talking alcohol bottles. Added to this zany cast of misfits are a couple characters known only as "The Twins" (both voiced by Richard Mathar). These two individuals have the magical ability to teleport from place to place — which makes it difficult to determine whether they're supposed to be inmates or staff of the Superjail prison, not that it makes much difference either way.
Given its place among the [adult swim] lineup, Superjail probably shares a large portion of its fan base with shows like Metalocalypse and The Drinky Crow Show. Between the almost constant violence — including various forms of mutilation, decapitation, and evisceration — Satanic imagery, and interesting visual style (created using Flash animation), Superjail certain does, as Robert Lloyd suggests, utilize all of the tools available to an animated series in order to "realize the impossible." Unfortunately, these antics will be only mildly entertaining for some viewers, and the novelty will likely wear off for a large portion of those who remain.
Personally, I prefer animated TV shows like The Venture Bros., Family Guy, Drawn Together, and South Park to the more extreme, offensive, and avant garde animated series like The Drinky Crow Show, Xavier: Renegade Angel, and Superjail, but for those of you who enjoy an alternative visual style, excessively gory action and storylines that unravel without firm resolution or direction, Superjail is sure to become a late-night-viewing staple, especially now that Season One is available on DVD.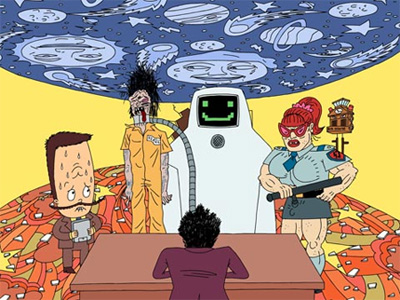 If Superjail sounds appealing to you, then be sure to head over to our contest post where you can be one of three lucky individuals to win a copy of the season one DVD courtesy of [adult swim].
The Superjail!: Season One DVD set, distributed by Warner Home Video, contains one disc and has a runtime of 111 minutes. In addition to ten fifteen-minute episodes, the Superjail!: Season One DVD set also includes the series's pilot episode, titled "Bunny Love." The episode depicts the incarceration of a new Superjail! prisoner who goes by the name "Jacknife" after he is released from the Rockland County Maximum Security Facility and immediately proceeds to steal a car and murder its driver. Upon discovering the man's frightened daughter in the back seat, Jacknife drives her to the local pet store to get her a bunny, at which point the enforcer robot captures Jacknife, leaving the little girl crying alone on the sidewalk. Jacknife's arrival at the prison prompts the Warden to buy bunny costumes for all of the inmates and the episode follows the antics of the prisoners and prison staff after they receive their costumes.
The Superjail!: Season One DVD set also includes a music video for the show's theme song, "Comin' Home," by Cheeseburger, and a feature on Animatics.
Rating: 3.5 / 5 Stars