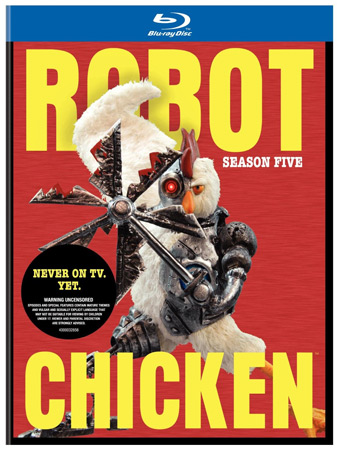 It's hard to imagine a job more excellent than the one Seth Green, Breckin Meyer, and company have built for themselves and their friends. Looking in from the outside, a day on the set of Robot Chicken seems like it might start with a session of goofing off with your buddies and coming up with ridiculous situations involving geekery and pop culture. You'd then get shockingly top tier acting talent to drop by to hang out with you and record the lines you'd just come up with. Following that, you'd go into a sound stage to play with toys and make them act out the silly scenes you and your amigos came up with earlier in the day. And then? Profit. Surely the workday at Robot Chicken couldn't be that infuriatingly fun, could it? If the new Robot Chicken Season 5 Blu-ray release is any indication, then yes, Virginia, working for Robot Chicken really is that awesome.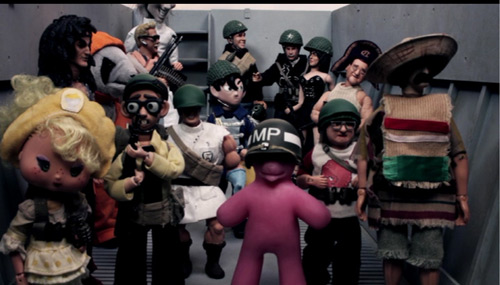 It's the fifth round of episodes for Adult Swim's hit animated series, and the humor still hasn't gotten old, though it definitely has gotten raunchier. This season takes a darker turn that past installments, and starting with its very first segment no toy is safe from bloody massacre. There's also significantly more swearing in this season, and a lot more of the humor is of the potty variety. Robot Chicken always has maintained a vigilant pose on the edge of the gutter, but it dips its mechanized beak into the lower humor a bit more frequently this time around.
The show's premise is a simple one borne out of pretty much every kid's childhood imaginings. Toys come to life to perform quick vignettes that range from disturbing to hilarious with much crossover along the way. Most of the clips attack some facet of pop culture in clever and usually highly inappropriate ways, resulting in unforgettable comedy. In one of the bonus featurettes on the Blu-ray, Juno screenwriter Diablo Cody calls Robot Chicken a look into the pop culture junk drawer, an entirely apt representation of the show.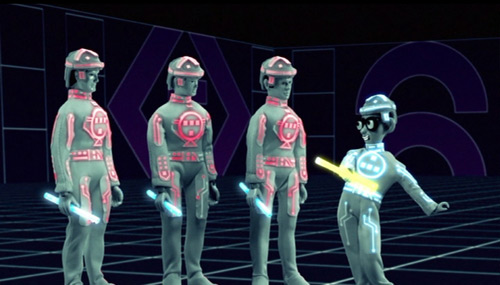 Season five drops twenty new episodes, all ramping up to the series' hundredth episode, "Fight Club Paradise." All twenty are included on the new Blu-ray, and they feature some fantastic clips that are destined to be classics in a series that already has spawned countless moments of hilarity. As the show ages, the animation continually becomes more impressive. The Robot Chicken crew uses classic stop motion to produce their segments, and they are at the top of their game with this assortment of episodes. It looks so good, in fact, that I've missed a few jokes here and there because I was distracted by the overall awesomeness of particular shots.
In addition to the full season's worth of episodes, the Robot Chicken Season 5 Blu-ray also packs in a staggering amount of special features. Many Blu-rays come with humdrum bonuses that serve as little more than bullet points for the back of the packaging. Not so with Robot Chicken. This one has so many great additional segments that you'll spend at least as much time poring through the golden nuggets in the nested special features menu as you spend watching the actual episodes themselves.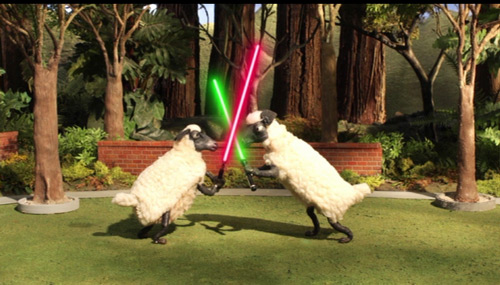 Among the seven featurettes included are a fun behind the scenes visit to A Day in the Life of Robot Chicken, some time in the studio with a bunch of the voice actors, and even a strange and brief chat with Captain Tightpants himself, Nathan Fillion, about his conspiracy theory concerning the production of the show. You'll find a bunch of fully produced deleted scenes as well, including an especially disturbing look at what Modern Warfare 3 might have been. My personal favorite in the deleted segments is Final Destination: Riverdale, in which the Archie gang avoids a deadly trip to Paris, only to be picked off one by one when the Grim Reaper comes to collect its unpaid balance.
As if that were not enough, the disc loads in 52 deleted animatics, 21 aired promos, 7 alternate audio segments (featuring the likes of Donald Faison, Katee Sackhoff, Seth Green, Breckin Meyer, Josh Groban, and Patrick Stump), and much more. Additionally, every one of the regular episodes comes with an optional audio commentary from the folks behind the clips. This really is a treasure trove for fans of the series, and it gives a lot of actual insight into what happens during the production of the show. And aside from the nitty gritty production stuff, it's just a great opportunity to see a bunch of famous folks having fun being goofy, dirty, and nerdy with each other. Everybody from Jon Hamm to Kevin Bacon to Michelle Trachtenberg to Mila Kunis makes an appearance, and it's hard not to love a show that clearly has so much love and passion going into it.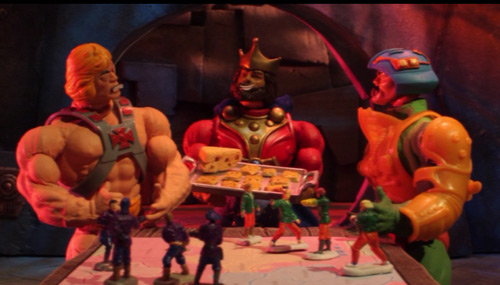 The Robot Chicken Season 5 Blu-ray released on October 25, 2011, and is just waiting at the store for you to get your hands on it. Can you hear it bok-bok-ing your name?