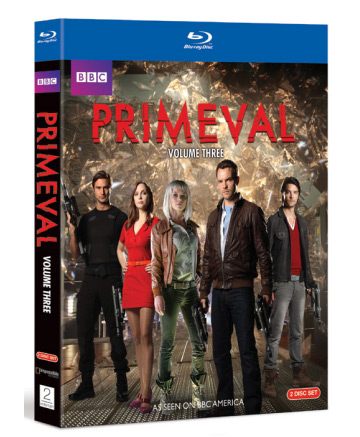 Dinosaurs are such dynamic and fearsome creatures that it seems like it would be hard to go wrong by injecting them into pretty much anything. They're ferocious, terrifying, and, most stunningly, were real inhabitants of this planet. It's a wonder and a shame, then, that so many TV shows and movies get it wrong when they try to go the prehistoric route. Thankfully, Primeval falls on the good side of that spectrum, consistently delivering all the excitement and suspense our ancient reptilian buddies deserve. Primeval Volume 3 arrived on Blu-ray this month, marking the first time the series has seen a HD home video release.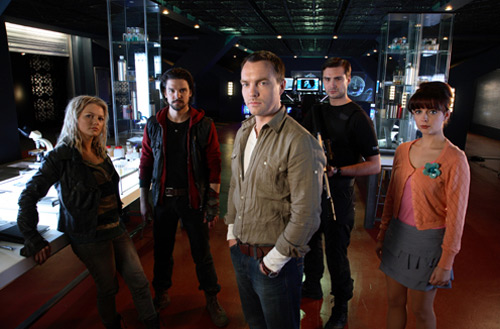 This new box set's naming is a little deceptive, as this third volume actually includes the fourth and fifth seasons of the TV series. Volumes one and two, currently available only on DVD, collect seasons one through three, leading up to the show's cancelation at the end of season three due to budgetary issues. Popular demand resurrected the series, prompting two more seasons, both of which aired in 2011. Primeval's return signals a new direction for the series and is a decent jumping on point for new viewers, though it certainly continues some of the plot threads that were left dangling at the end of season three.
There is a one year jump between seasons three and four, and the producers bridged that gap with a series of five webisodes, all of which are included in this new volume three set. When the show came back in early 2011, it was with a new cast facing new threats. Some of the previous characters do show up before long, but it's clear that this is a new Primeval, complete with a new ARC team. Fans of other British sci-fi shows like Doctor Who and Torchwood won't have a hard time getting into this one, though the Primeval baddies all are decidedly terrestrial in nature.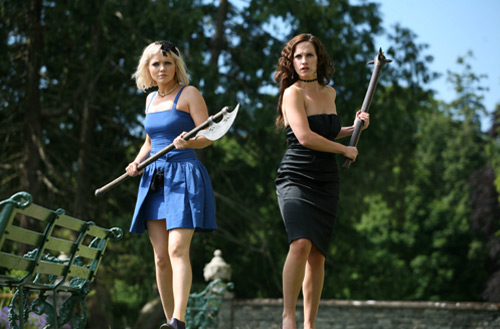 Perhaps the best thing about Primeval is its willingness to dive head-first into what the viewers really want to see. Terra Nova has been awfully coy with its deliveries, wrapping its dino encounters in sappy family moments. No such coddling from Primeval. The beasts look and sound awesome, especially considering the limited money available to a TV show rallying from financial cancelation, and the action scenes trump anything Terra Nova has offered in the prehistoric monster department. This is monster fighting adventure that is not to be missed.
Primeval season four ran for seven episodes, and season five ran for six. All thirteen episodes are assembled in the volume three set, spread across four Blu-ray discs. In addition to the two full seasons of episodes, the box set also delivers the full set of webisode prequels for the fourth season, as well as a documentary about the making of the new Primeval. Called New Dawn, the documentary is split into two parts and overall runs just under forty minutes long. There's insight from the cast and crew, along with making-of details about the two newest seasons.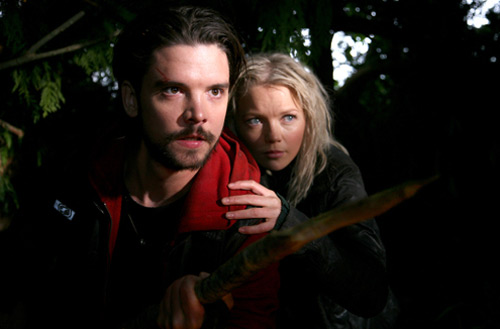 Fans of Primeval will be glad to dive back into the story they nearly lost at the end of the third season, and new viewers also will get a lot of enjoyment out of this newest release. If you're into British sci-fi and dinosaurs, you can't go wrong with Primeval.