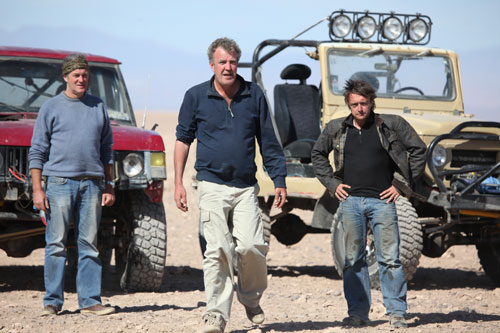 For nearly a decade, Top Gear has been spotlighting motor vehicles with its own British brand of humor, adventure, and snark. After 13 highly successful seasons shot in standard definition, Top Gear's first two HD seasons are finally on Blu-ray with this week's releases of Top Gear 14 and Top Gear 15.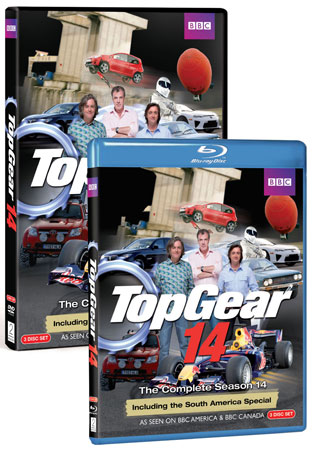 The fourteenth season collects all six regular episodes from the 2009-2010 season across three discs, plus the mid-season Bolivia special. Segments in this set include spotlights on some seriously awesome cars, from the Lamborghini Gallardo Spyder to the Aston DBS Volante, as well as the search for the perfect road in Romania, and the traditional "Star in the Reasonably Priced Car" feature. Among the famous folks dropping in for appearances are Eric Bana, Guy Ritchie, Chris Evans, and Michael Sheen. In addition to the antics and machinery of the episodes themselves, there are some great extras loaded onto the discs, chief among them being Top Gear's South America Special. The team heads for the Bolivian rain forest, from which they attempt to drive to Chile's Pacific coast. Other features on the season 14 set include:
Director's Cut of the Polar Special
Audio Commentary for the South American Special
Behind the Scenes of the Celebrity Lap
Electric Wind Tunnel
James's Jumpers
James on Caravans
Lancia Breakdown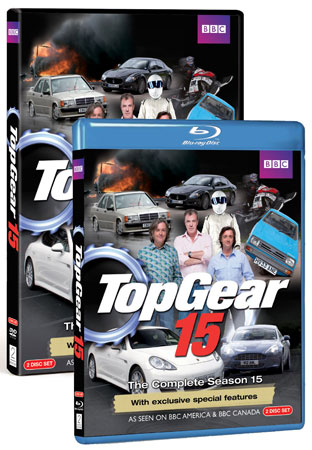 Top Gear's fifteenth season brings celebrities like Rupert Grint, Tom Cruise, Cameron Diaz, Andy Garcia, and Jeff Goldblum into the mix for six more episodes of automotive action. The season opens with James May testing the Toyota Hilux Invincible on an active volcano in Iceland while Jeremy Clarkson investigates three wheeled cars. Other highlights of the season include the team driving a wedding party in supercars and a project that has all three of the guys building their own motorhomes. Slightly leaner than the season 14 collection, Top Gear 15 spans two Blu-ray discs and also packs in the following special features:
James May's Journey
"Celebs in a Reasonably Priced Car" Behind the Scenes
Outtakes and Extended Scenes
As a TV show about technology and pushing the limits, it's about time that Top Gear made the leap to high definition. The results are great in these two Blu-ray releases that provide hours of ingenuity, criticism, and laughs.