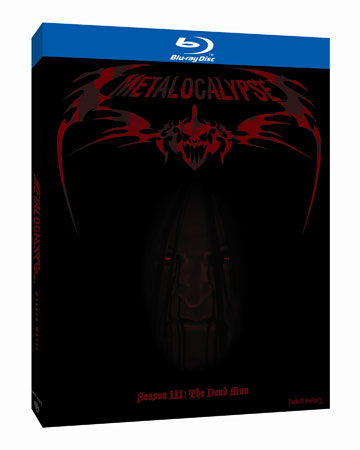 Blu-ray: Metalocalypse Season 3: The Dead Man
Release Date: November 9, 2010
Metalocalypse has been melting faces via [adult swim] since 2006 with the adventures of the half-American, half-Norwegian metal band Dethklok. Now that the third season of the hit animated series has arrived on Blu-ray, I've taken a look at what's housed inside the package. Here's what you can expect from Metalocalypse Season 3: The Dead Man on Blu-ray.
I have to caution you up-front that, despite logical assumptions, the Blu-ray case is not in fact metal. Rather, it's plastic inside a cardboard slipcase. The disc itself also is not, surprisingly, metal, but seems to be made of the same plastic material as other Blu-ray discs. Despite the lack of metal in the packaging, the contents themselves are undeniably 100% metal.
All ten episodes from season three of Metalocalypse are included here, all crystal clear in HD presentations. The series picks up after the attack on the death metal band's home fortress at the end of the previous season and follows them through encounters with clowns, the economy, and their own tribute band. In addition to the episodes themselves, the season 3 collection also includes the big assortment of extras we've come to expect from [adult swim]. The bonus features on both the DVD and Blu-ray collections are:
Facebones Background Art Tour
Skwisgaar and Nathan Ordering at the Drive Thru
Mordhaus Renovation Extended Scene
Extended Furniture Shopping Scene
Klokateer Recruitment Videos
Murderface Calls an Escort
Pickles Drunk at the Amusement Park
Toki in Charge of Snacks Extended Scene
Two Swedish Dads Extended Scene
The Blu-ray also includes a couple of extras not available on the DVD:
Nathan Explosion Reading Othello
5 Live Music Videos
True Klokateers won't want to miss this release. Between the awesome collection of episodes and the extensive special features, fans of the series should add this season to their collections. The added features on the Blu-ray are great bonuses that make it worth picking up above the DVD version.