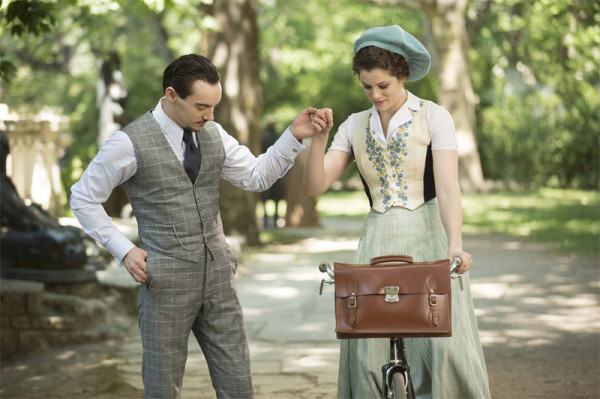 The winter break is over and Dracula is back. We begin this episode with Dracula actually doing some work in his factory. He can't creep and brood all the time. He is getting ready to test his great energy machine.
Note: This recap may contain spoilers!
Van Helsing takes this time to nag Dracula about his current diet. Dracula's machine, unlike Van Helsing's advice, actually works. He tells his workers to go have a good time on him. Afterwards, Harker bemoans his mistakes about the General Shaw affair. Harker, who gets smarter with every episode, figures out it was Dracula. He accuses Dracula to his face. After trying to play it off, Dracula admits to it. Dracula also states there is nothing he can do about it.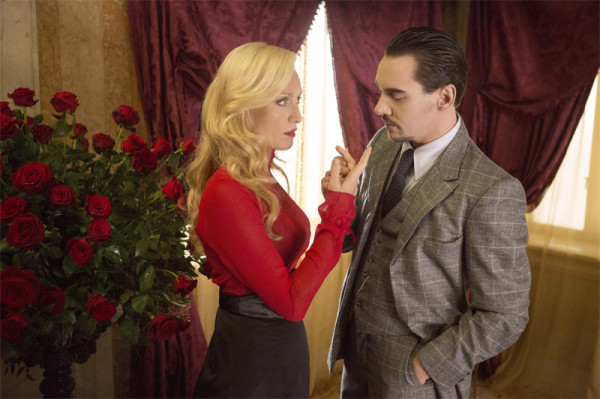 Dracula sends out Renfield to get the triptych mentioned in the previous episode. We are then treated to some Ilona flashbacks as Dracula is strapped to his sun machine. Van Helsing once again comments on Dracula's blood-free diet. Dracula argues that he feels reborn. I don't think this is going to end well. Powered up, Dracula takes the chance to stroll through the park and conveniently runs into Mina. The two promenade while she talks about her day helping out the mental hospital. Dracula suggests dancing could aid in the patients' recovery. Um, don't be so obvious. After some flirting that made me feel icky, they part ways. Dracula shows up at Lady Jayne's, who has just pricked her finger on a rose. He tells her the servants are having a good time in the pantry and then proceeds to suck on her finger. This seems to get her engines revving and the two recreate what is going on in the pantry. Afterwards, she tells Dracula that her husband (I didn't realize he was still alive) has fallen in love with another girl, which threatens Jayne's position. He tells Jayne to go after the girl. Dracula is great for advice.
Mina convinces her father to have a dance for the mentally ill. I wonder where she is going to get the money to fund it. At home, Dracula is suffering from blood withdrawal and fantasizes about making lunch out of the maid. He conquers his hunger enough to go out with Harker to drum up interest in his geomagnetic machine. At the auction house, Renfield outbids the ominous man in the corner. Dracula is still having his blood shakes when Mina walks in. Doesn't anybody knock on this show? She has come by to borrow Dracula's phonograph. She asks how she will ever repay him. He says he will think of something. At Lady Jayne's again, Lucy is unburdening her woes. Lady Jayne tells Lucy that Mina is a different breed of female than they. She slyly suggests revenge to poor Lucy. At Dracula's factory, he grumpily makes preparations for his light show.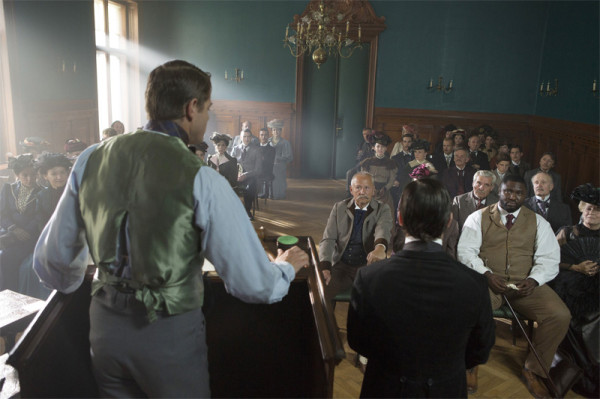 Lady Jayne takes on Lucy as an apprentice of sorts and teaches her how to steal another woman's man. Lucy seems an eager enough student. Renfield scares a maid as he tries to make sure no one has stolen the triptych. Mina prepares for the dance while Lucy decides to play naughty tailor for a very uncomfortable Harker. A shady cop hired by the Order mixes a suspicious substance into a milk cart. Death by milk, anyone? Dracula opens the box from Renfield and it turns out to be empty. The Order managed to pull a switch on poor Renfield. The Order also has Harker brought to their lair blindfolded. Mina and her father get ready for the dance, where Dracula provides an orchestra. He tries to score more points by asking a patient to dance. In the Dragon's den, Browning pitches the Order to Harker in a long-winded speech. At the hospital shindig Dracula thinks it's a good idea to dance alone in the halls with Mina. He almost takes a bite out of her while she thinks it's some sort of mating ritual. Good grief.
The poisoned milk succeeded in making the entire neighborhood sick. The shady cop busts into Dracula's machine demonstration and orders it shut down. Dracula, who finally shows up, is not happy about it. Van Helsing makes a hasty retreat from the action. Harker shows up at the hospital and apologizes to a dead-eyed Mina. Dracula makes a steak out of the shady cop and pays a visit to Van Helsing. He makes a threatening speech before he leaves Van Helsing alone. Everyone has their own vendetta and we have to wait until next time to see how it pans out.