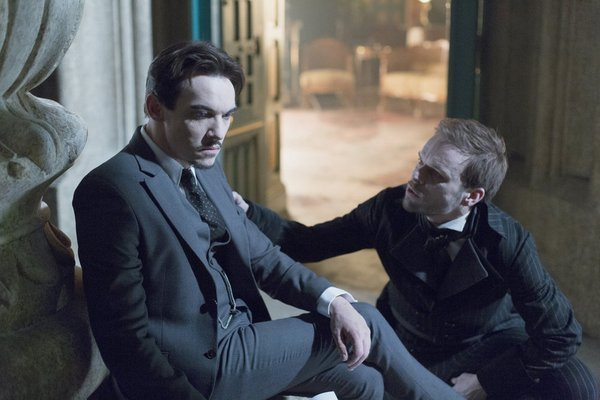 Episode four begins on the vampire express. I guess Lady Jayne wasn't able to find a taxi. Jayne and the vampires get into a tussle in which she is the victor — except for the one vampire that escapes.
Note: This recap may contain spoilers!
The escapee turns out to be a friend of Dracula's named Josef. While the the train action takes place, Dracula is sitting by the fire moping. Renfield wants to discuss the Jayne situation. Dracula says he wants to play the situation on by gaining her trust and then crushing her. Sounds like a good plan to me. Josef shows up and tells Dracula about his adventures in the chunnel. Dracula assures his friend he has the situation taken care of.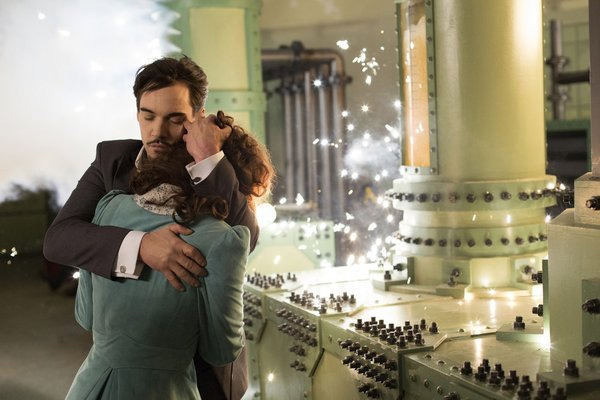 We get to see the last part of Daniel's funeral taking place. Daniel's father, Lord Davenport, can't believe that he actually killed himself. This depressing scene switches to Lucy planning Mina's engagement party. Mina and Jonathan are oblivious to the undercurrents of jealousy and plotting go on around them. Harker has to leave Mina and Lucy at Dracula's place. Dracula offers to show Mina and Lucy his light generating machine. Lucy declines the offer and leaves while Mina and Dracula go to watch the test. The machine proves it still has some kinks to work out and a container explodes. This gives Dracula the chance to shield Mina from debris and engage in some post rescue snuggling. Mina leaves feeling very weirded out by her encounter. Josef tells Dracula later he is sure Mina is the incarnation of Ilona and that Dracula must toss the blonde aside and take Mina for his own. Dracula says they need Jayne and to leave it alone. Mina goes to Harker's house to wait for him to get home. The two cuddle after he gets home and she tells Harker that Grayson's interest in them is weird. The girl is finally getting it! Harker shrugs it off and tells Mina not to worry and to leave all the party planning to Lucy. How nice of him.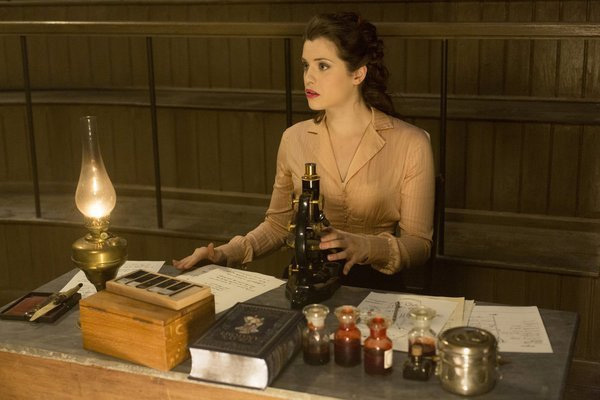 The next we see of Mina is her actually working in Van Helsing's lab. She complains that the work isn't more exciting. Van Helsing tells her to do what she is told. He goes to Dracula's place to test the serum. Dracula's sunscreen does work… but only in the spot it is injected. He says the serum needs a dispersing agent, a heartbeat, to spread the serum through the whole body. Dracula declares he will find some way to get his heart beating again. I wonder how he is going to get this to work. Mina decides to forgo work to snoop around Van Helsing's lab. She finds his samples he took from Dracula and decides to take a peek at them under the microscope. She tells Lucy the cells are still alive. Lucy snipes that Mina is acting just like a man and breaks down. Mina tries to comfort her. Lucy tells her nothing will be the same after she marries. Poor Mina doesn't know that the breakdown is about Lucy have to watch the woman she loves get married.
Dracula decides to set his Jayne plan in motion by asking her out and then standing her up. Apparently this is part of gaining her trust. Dracula has the weirdest definition of trust I've ever seen. Then he makes it up to her by taking her to see women's mud wrestling. Seeing two ladies beat each other into the mud makes Jayne amorous. Flowers and chocolates are not the way into Lady Jayne's heart. The Dragon club has a meeting to discuss investigating Grayson. Lord Davenport said he will take charge of it. Two generals show up and one ends up being strangled. It's not considered a productive meeting if no one dies at one. Daniel's father hires a lady to help him draw out Grayson. I also think he is wanting revenge against the order. At the newspaper office, Harker decides to do some digging on Grayson on his own. I would say this is not a good idea. At Dracula's house, things are in a mess. It seems his buddy Josef keeps feeding off the staff. It's so hard to find good help.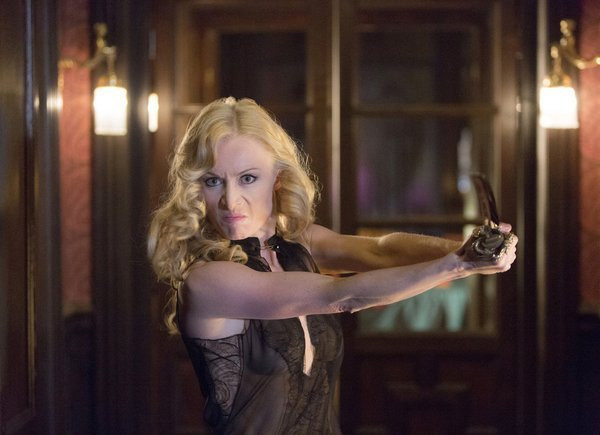 Jayne calls Dracula over to try to break things off. Dracula tells her she just has it bad for him and is afraid. He leaves when her new liaison shows up. Dracula goes home to ponder if his mojo is dying off. Josef tells him to get over her and to let him kill her. Dracula says goes ahead. Turns out this was all part of Dracula's plan as he swoops in to save Lady Jayne from Josef. Jayne doesn't need too much help as she chops Josef's head off. And what was the deal with her nightie? Did Victorian ladies even have underwear like that? Anyway, this near death experiences brings Dracula and Jayne closer together — in the bathtub.
The episodes ends with Harker meeting a hippy named Peter in horse yard. Peter gives him the address of a lady named Vera Markham. Jayne gives the ashes of Josef to Browning and says she is sure this the vampire menace. Poor Jayne. I still don't know if I am rooting for her or not. During the last few minutes, we see Renfield falling for a fake baby trick and getting kidnapped by Lord Davenport.