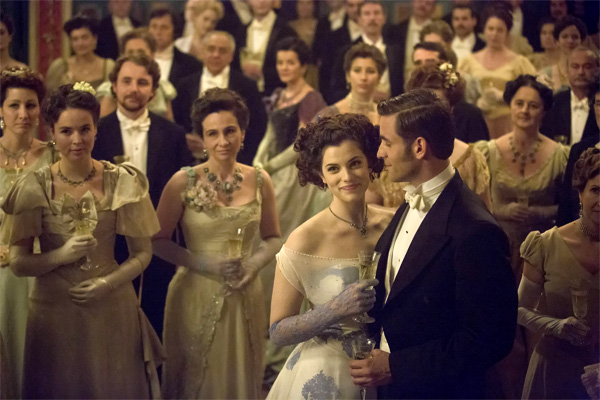 At the beginning of this episode, we are treated to Mina getting cold feet in her dreams. It seems that Dracula stalks her even there. Dracula tells her in the dream that getting married is a mistake. The two start a heavy make out session when she is ripped out of dreamland by Lucy. Lucy tells her to get up and get moving.
Note: This recap may contain spoilers!
Next we see Van Helsing and Dracula in his laboratory. They are getting to test the serum on a vampire Dracula is keeping locked up. I find this funny because Dracula gets mad when other people lock vampires up but it's okay if he does it. The scene switches to Renfield being tied up and in the company of the lady Lord Davenport hired. She appears to really love her job as a torturer. She sticks a pointy metal stick under Renfield's nails and demands to know who Grayson loves.
Harker is being a good little lackey and is investigating General Shaw. Vera Markham gives him plenty of dirt to take back to Dracula. Back at Dracula's mansion, Lucy is hard at work prepping for the party while Mina mopes around. She also tells Lucy about her dream from the night before. From the look on Lucy's face, she is hoping it was about her. Mina lies and says it was about Harker. Harker finally shows and wants to tell Dracula what he found. Dracula brushes him off and orders him to track down Renfield instead. Mina confronts Harker on his way out about the guest list. She isn't pleased with some of his omissions and calls him a snob. Dracula lurks in the background and seems pleased with the falling out with the two. Can't he just duel Harker instead of all this shadowy business?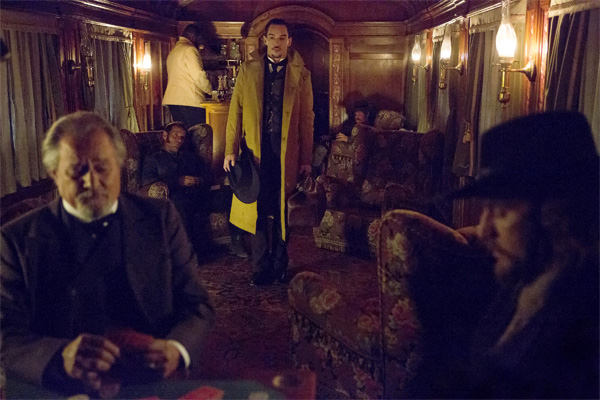 Renfield's torture continues with Madame de Sade. She makes rubbing salt into someone's wounds a very literal thing. Seriously, ouch. Renfield still doesn't crack. Harker finds a book dropped by Renfield or his kidnappers in front of the building where Renfield was taken. Dracula is looking forlorn while he takes a trip down memory lane to twelve years earlier. He is on a training meeting a rich businessman from whom Dracula wants to buy some mines. Dracula also meets Renfield, who warns him not to buy the mines. Back in the present, Harker reports to Dracula what he found. Then, in Van Helsing's lab, the doctor creates a defibrillator to start the heart of the captured vampire. 3000 volts does the trick and he starts the vampire's heart. He injects the serum. It works for about a minute.
The engagement party of year starts without its host. He is off saving Renfield. Lucy and Mina arrive at the party. Mina and Harker decide that now is a good time to make up. We flash back again to twelve years ago. The men on the train beat Renfield up and try to take out Dracula. Of course, this plan fails and Dracula ends up making mincemeat out of them. In the present, Dracula finds where his captors are holding Renfield. He swoops down from above and rips off a few limbs. The last shot we see of them is the torturer's screaming face. Back at the party, Lady Jayne arrives eager to see Dracula. He finally shows up and greets everyone. The Dragon Order forms a clique so they can plot more easily at a party. Dracula is led to the Order by Lady Jayne. By shaking hands, he figures out who took Renfield by scent.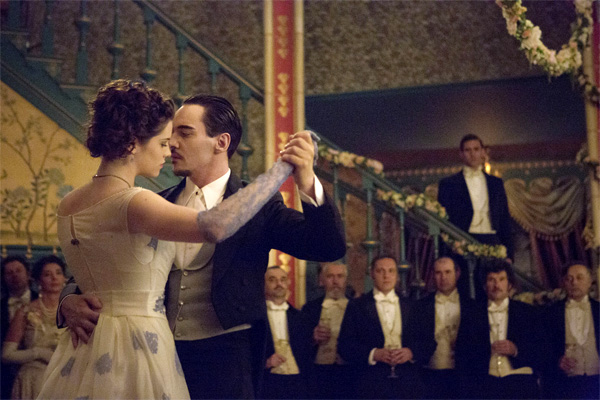 Mina's father gives a moving engagement speech. Dracula and Lucy sulk in the corners. I do feel bad for Lucy but not Dracula. Harker stands up and says a few words. Then as a thank you to Dracula for hosting the party, he offers Dracula the first dance with  Mina. Smart move, Harker. Dracula and Mina follow the drama cliché of having a steamy dance that reveals their secret longings for each other. Their friends and family glare and turn green from jealousy. Harker looks ready to have a fit. It's your fault, buddy. Dracula has a fantasy where he rips out Harker's throat. It is just Harker cutting in, realizing he should probably break the party of two up. Everyone goes outside to go get some air. The party ends with Jayne and Browning discussing who the real vampire threat is. Lucy arrives back at her home, sobbing. I do really feel bad for her. She is in the most difficult position to tell her friend how she feels. The episode ends with Dracula playing nurse to Renfield. We learn about Renfield's history in another flashback. He was a lawyer before he got into some trouble. Dracula offers Renfield a job with him. Thus, the power team was formed.