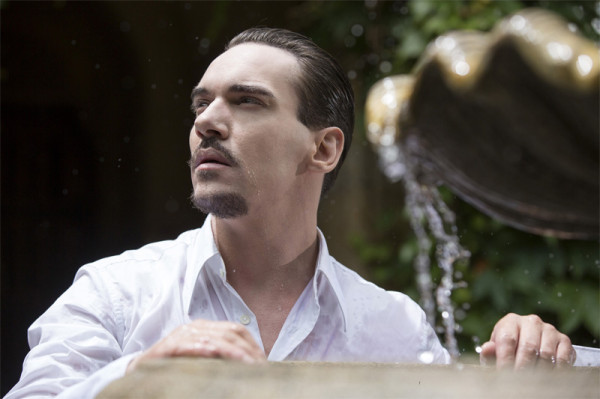 So much happened during this episode so this recap may be a little long! We begin with Dracula fantasizing about walking around in the sun. The scene switches to a Dragon pow wow on the street. Browning points out that Grayson never appears at daylight functions. Maybe he likes to sleep in. Jayne defends Grayson, saying he couldn't be the vampire. Browning plots to reveal Grayson's nature.
Note: This recap may contain spoilers!
Dracula takes Jayne out to dinner and abandons her when he sees Mina. He is such a great date. Lucy comments that Dracula is always around and excuses herself. Jayne, who is not happy to be left hanging, talks to Lucy. Jayne says she knows about Lucy's feelings for Mina and invites her over for tea. Meanwhile, at the three's a crowd table, Dracula makes a poetic speech comparing Harker and Mina to the King and Queen of Hearts. Just duel already or something.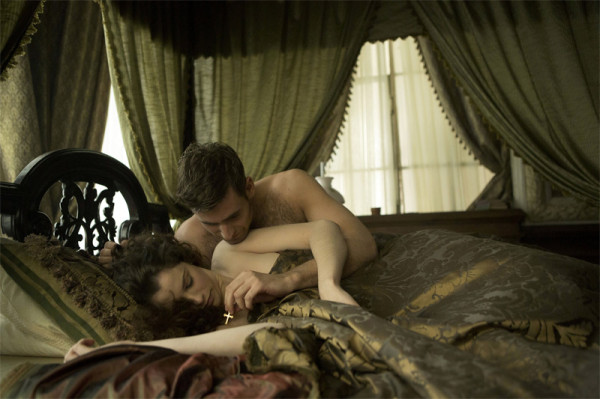 Mina suggests getting drunk after Dracula walks off. I think she might have a problem. Harker agrees and the two are later seen frolicking in the rain. They make it home in one piece. Mina begins to strip and goes all the way with Harker. Harker and Mina break social convention and decide to get consummation out of the way. I guess there are worse ways to fight off the cold. They wake up the next morning snuggled in bed. Harker suggests they elope. I think he was motivated by the fact that it would probably be a bad idea to have Dracula there. Mina says what they did makes their vows no less sacred. He agrees to the church wedding. Harker shows up to work late. Dracula chastises him and then asks him to find information on nickel steel alloy. Harker tells him that another American owns the company that makes it and loves to play cards. Renfield shows up with news about a 15th-century Romanian triptych for sale. Dracula seems very excited about it. I am guessing it has his face on it. He isn't the only one hunting for it. Browning is after it, too.
Dracula wins the nickel steel alloy during a card game. When he gets home, Renfield informs him that the board meeting has been changed to noon. Dracula says screw them and begins to storm off. Renfield informs him that if he doesn't go he will lose control of all he has gained. Meanwhile, Mina uses her time at the lab wisely researching the blood she found. She reanimates some dead cheek cells. She tries to reanimate a rat but shoves it a drawer before seeing if it worked. Lucy and Jayne have tea. Jayne tells Lucy it's completely natural to feel love towards a woman and it's all part of the maturation process. She said that she had plenty of female lovers before she was with a man. She says all this while she is fondling Lucy. The woman never stops. She tells Lucy to confess her feelings to Mina. At Dracula's place, he and Van Helsing are discussing the serum machine. Dracula tells him wants the serum test tomorrow, on himself. Van Helsing looks doubtful but goes along with it. Dracula gets mad at Harker for publishing about Shaw, the corrupt general. He storms off smiling. All part of his plan, it seems. Browning gets info on Vera Markham. The man standing next to his carriage reading a paper was the least subtle thing I have ever seen.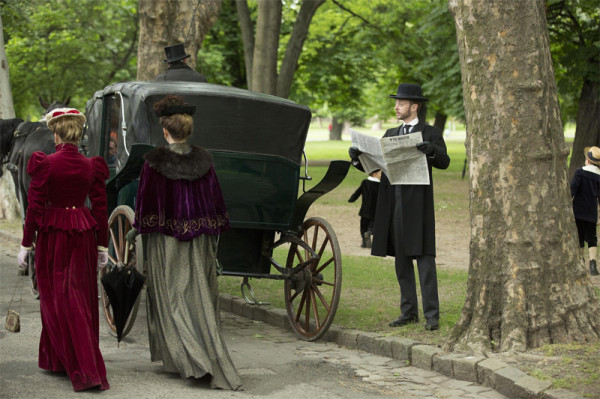 Mina is trying to return the blood she found back into Van Helsing's cabinet. He catches her and fires on the spot. She reveals what she knows about the blood. He invites her in and makes up some crock about it being a parasite. He does all this while sneaking behind her with a hammer. Mina tells him about her mother's death and he stops right before he smashes her brains in. She tells him she wants to cure death. At least she saved her skin, this time. Browning and Jayne are having a meeting carriage-side. Surely there is a better place to meet. Browning tells Jayne that if Grayson is a vampire she will be in serious trouble.
Mina and Harker decide it's a good time for a carousel ride. They run into Davenport there. Davenport takes Harker aside and tells him he knows about the news article. He hands Harker a theater ticket to A Doll's House. Harker attends and finds out that Vera Markham is an actress, not a bookkeeper. Mina and Lucy begin their night looking at wedding gowns. Lucy notices more of Mina's apathy. Mina tells her she thinks Van Helsing is deceiving her. Lucy decides now is a good time to make her move. She kisses Mina and tells her she loves her. Mina is shocked and horrified. She accuses Lucy of their whole friendship being a fake. I felt really bad for Lucy. She laid so much on the line. Mina orders Lucy out. I really don't get why everyone is hot for Mina.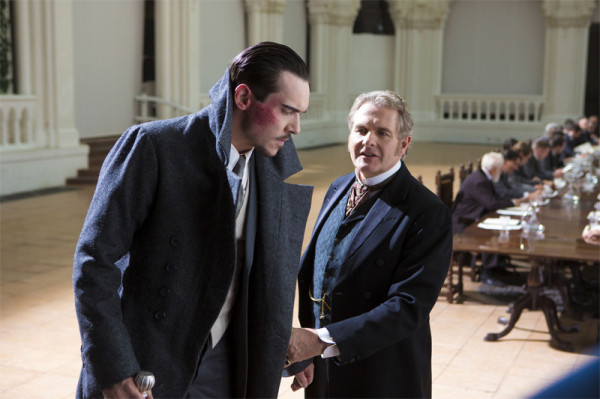 Dracula changes into a loincloth for his machine test. He is strapped down and shocked with enough electricity to power a few houses. Then he is injected with the serum. Does it work? The board meeting begins. Dracula is late but he shows up. After a while the serum begins to wear off but Dracula is able to throw off Browning. We see Dracula screaming in pain in his carriage. He shows up at the theater for dinner. Vera Markham tells him she did what he asked. Poor Harker just keeps getting thrown under the bus. Dracula decided Vera Markham is a great entrée and feeds on her. The show returns January 3rd along with my recaps!