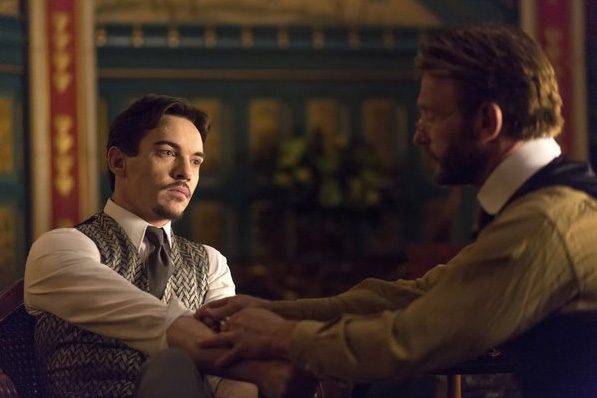 The second episode of NBC's Dracula begins with Dracula strolling the streets looking for some takeout. He spies two potential girls who would make a great midnight snack.
Note: This recap may contain spoilers!
Then, we suddenly get a flashback to Dracula's awakening. Van Helsing and Dracula get into a tussle after Dracula gets revived. This ends with Dracula getting a cross jammed through his foot under an open ceiling. Van Helsing gets down to business. He wants to team up with Dracula to take down the Order of the Dragon. He needs a cohort to seek his revenge. It's either partner up or meet the sun in a blaze of glory. Dracula decides to take the offer. He has his complexion to think of.
We flash forward back to 1896 where we see Van Helsing drawing Dracula's blood. Vlad the Impaler has a problem with needles. He seems to consider impalement a far lesser form of torture. Dracula's reaction was pretty funny. It was nice to know that Dracula fears something. Dracula is enduring Van Helsing's needles for the sake of creating a serum that can enable him to walk in the sunlight. It will be interesting to see if the serum does get made and how this partnership ends. I am just happy that he can't walk in the sunlight! This show is keeping the old myths alive in a world where vampires sparkle in the sun.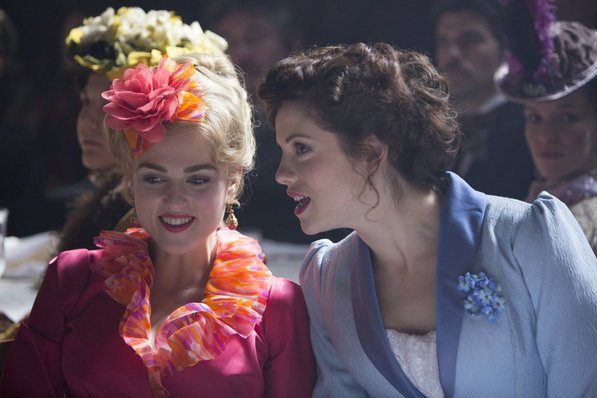 We cut to Lucy and the gang watching a fencing match. Lucy is decked out in an outfit that would be right at home in the Capitol of The Hunger Games. It would be very Effie Trinket approved. She ties ribbons around her champion whispering naughty promises if he wins. Mina joins and the fencing match starts. We see Jayne and her vampire hunter leader watching. Jayne declares that she has the skills to kill the vampire menace herself. Meanwhile, Lucy's Westenra's champion loses miserably to another young dandy. Lord Laurent, a Dragon himself, appears to be pleased with the handsome man's victory.
Jonathan Harker is busy at work when Renfield appears to take him to a meeting with Dracula. Hey D, some people do have to work for a living. Dracula takes Harker to a big fancy house that was formerly owned by the man who had his throat torn out the previous episode. Dracula offers Harker the house and a job with him. He wants Harker to be his informant — I mean, help with public relations. Harker, who is a smart man, has misgivings about the offer. He knows there is something shady about it. But, a little kissy face with Mina changes his mind. Dracula finally seizes his chance to cozy up with Mina on the day of her medical exam by offering her a ride in his carriage. He gives her a pep talk and lets her out at the medical school. He also hides in the shadows while she takes her test. There must be better ways to court a lady. Nobody likes a creeper.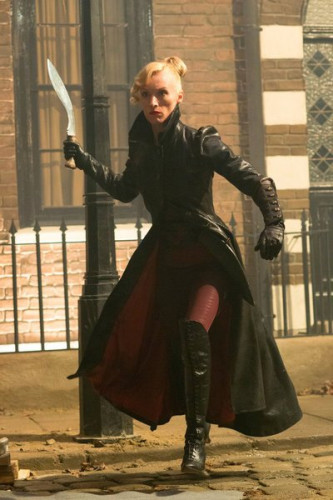 Mina gets mad at Harker for making sexist comments. He wants Mina to be a proper English wife and give up her medicine nonsense. Mina storms off, leaving Jonathan in the streets alone. While this is taking place Dracula is canoodling with Jayne and her low bodice over dinner. After a magic trick things escalate to the bedroom. In truly bad form, Dracula imagines it is Mina he is in bed with. It's pretty tacky if you ask me. Dracula later heads to a Victorian version of a gay dance club to see Lord Laurent, who is at a table with the studly fencer from earlier. Dracula takes this time to lay a kiss on the swordsman and blackmail Lord Laurent at the same time. It's all in a night's work for Dracula.
The episode ends with Dracula finally getting a meal on two legs. During his feasting on the coatroom girl Lady Jayne approaches with really loud heeled boots. I should think vampire hunters would use stealth. The undead having very good hearing. Dracula escapes behind a wall. Lady Jayne surveys the scene and promptly decapitates the girl. Episode 2 was full of twists and very entertaining.