Some parents probably have fears and a bit of hesitancy in regards to the idea of their child being in the closet.
That is, unless their child is hiding in a closet… coming up with a comedy bit.
Although he sometimes felt reluctant to join in, actor Dillon Casey and his brothers, Conor and Lyndon, would have a nightly "Comedy Hour" game. One brother would have to go into the closet and come out to perform a comedy bit. The first to laugh would be the next contestant. Dillon, though pouty at times, was confident of one thing when it came time to play. He was good at it.
Years later the trio entered the Toronto 24 Hour Film Challenge. They may have fought the entire production but in the end their piece won. Over time the three collaborated on multiple shorts which can be found at www.CaseyBrothers.ca – including "Captain Coulier (Space Explorer)" which made it to Sundance and won the LA Comedy Shorts in 2009.
Better known for being on TV and stuff (Casey currently plays a Navy Seal on the CW's Nikita, was on that Vampire Diaries show, and is probably most memorable for an episode of Torchwood: Miracle Day where he made it with John Barrowman's Jack Harkness) and the fact that girls swoon daily over his good looks via Twitter, his strongest quality by far is his amazing sense of humor. After his hit tv series MVP (which aired on CBC in Canada) was canceled, Casey moved to LA and began to produce a web series — Living in LA with Dillon Casey.
A satirical and painfully real look at the life of a struggling actor in the big city, the series consists of 5 to 10 minute episodes — each showcasing Casey's ability to act like a complete ass. And yes, that's a good thing.
The inspiration came from the raw truth of Hollywood. It was 120 degrees outside and Casey couldn't afford to put on the air conditioning — even though it didn't work anyway. He was lonely. He had no work lined up. He remembered a conversation he had with a friend back home who told him, "Man, it's so cool that you're out there. Home sucks. So boring. It must be glamorous and awesome out there."
Reality began to seep in and instead of getting down about the situation, he started to see the humor in it. And he decided to make a show about it.
Opening with a compelling credits sequence that rivals Family Matters, our first look into Dillon Casey's LA consists of studying acting, phantom phone ringing, some coke and, ultimately, suicidal tendencies. Needless to say the humor is probably lost on a great many. Episode 1, which is titled '"Fun in the Sun", actually currently holds a rating of 82% Funny on www.FunnyOrDie.com. So the man has that going for him… which is nice.
Every time something unsavory happened in his life, Casey knew he had another episode. The worry of negative response to his antics didn't faze him. Making the show was therapeutic. Eventually he included his brothers (their car was towed in a zone that was marked AFTER the tow) and his friend Jamie Spilchuk.
No doubt that the greatest part of Living in LA with Dillon Casey, which currently has 9 episodes, is the man behind it. Growing up loving movies like Vacation, it's no wonder that comedy would become a great talent of his. However, what some people may not know is he actually is also incredibly intelligent. Graduating from McGill University with a Bachelor's degree in Environmental Science, Casey moved back to Toronto to get his Master's degree. Of course, he had always loved acting, secretly pursuing it in high school and on the side, but he never thought it would be his actual job. After graduating from University of Toronto, he decided to take the chance. And it has worked thus far.
His answer is consistent when asked what he'd be doing if he wasn't acting. If you can imagine yourself doing anything else, then do it. As Living in LA shows, the Hollywood that we imagine and see on TV is not the real one. It's tough getting work, and when not working, Casey feels impatient.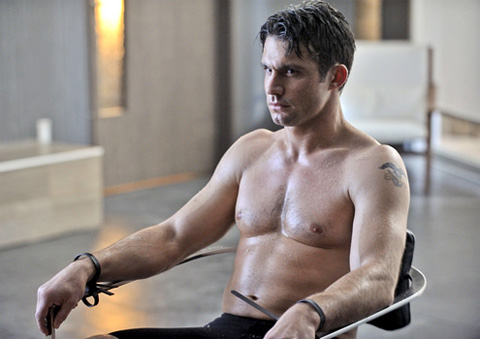 While he is dedicated to his job, Casey doesn't forget to be real. There is a fine line between not getting sucked into the fake celebrity scene and not losing a sense of self. Dillon Casey is the most genuine individual I've met in a long time. He's not afraid to be himself. Just because he can make cheap jokes doesn't mean he's not a good actor.
Yes, you can laugh at his web series or swoon over his shirtless Nikita scenes (I've actually never watched the show) but if you want to see a sick range of character, watch Fred Andrew's Creature. If I had to review the movie itself, I'd give it an A for effort alone. I've seen a lot of crappy movies, but Creature has a plot, a set, effect and great acting. Casey starts off comedic and runs through serious until he hits sadistic. That range of character is rarely displayed by actors these days — and never in one film alone. Yet, Dillon Casey can pull it off and it's an awesome spectacle.
Not bad for a kid in a closet.
The 3rd Annual Streamy Awards is currently accepting entries in over 30 categories.
Living in LA with Dillon Casey is worthy of a Streamy. Please head over to the Streamys site and nominate Dillon Casey for as many categories as you please — but mainly Best Comedy Series.