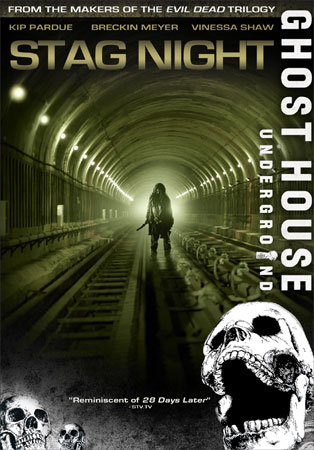 Shot in 2007, the indie horror film Stag Night is finally getting a proper release through Ghost House Underground. The DVD and Blu-ray release on February 15, and I had a chance to check out the DVD version early.
The Movie
Stag Night's DVD cover touts it as "Reminiscent of 28 Days Later." I'm not sure who drew that comparison, but it's probably not anyone who has ever seen 28 Days Later. That's not to discredit Stag Night, though. I just don't understand the connection that's been drawn between the movies. Instead of telling the story of a zombie virus outbreak that brings society to its knees, Stag Night focuses on a group of four guys out on the town in New York City prior to Mike's (ER's Kip Pardue) impending nuptials. Along with Mike are his brother Tony (Breckin Meyer) and friends Carl (Scott Adkins) and Joe (Karl Geary). Tony is the bad boy of the bunch and gets the whole group thrown out of a strip club. As they make their way to another club via subway they spot two of the dancers from the previous club on their train. Carl and Tony decide to chat up Michele (Sarah Barrand) and Brita (House's Vinessa Shaw) to varying degrees of success. That is to say, Carl and Michele soon are inappropriately horizontal in a subway tunnel shortly after Brita sprays Tony in the face with her mace.
The mace incident fumigates the whole train car, forcing all six people to mistakenly disembark at an old and abandoned subway stop while their train makes a brief stop. By the time they realize their mistake, the train has left again, stranding them on a subway platform that would be the perfect set for a Prodigy video shot in Silent Hill. With all the exits to the street locked and no cell phone reception, the only option is to hoof it down the subway tunnel to the next open station. Of course, that's when Carl and Michele make the rookie mistake of deciding to stay on the abandoned platform from hell so that they can have sex while the rest of the group goes for help. That's two horror movie cardinal rules broken at once. Want to guess their fates?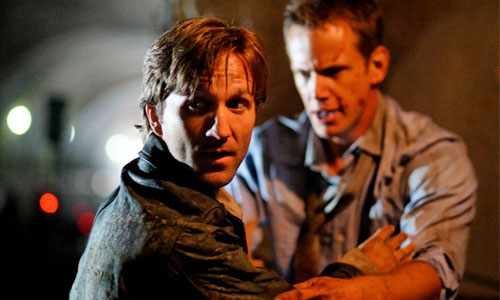 It's not long before the group realizes there's something sinister lurking in the subway, and it comes in the form of a pack of subterranean and possibly cannibalistic madmen, all of whom are the spitting images of Rob Zombie at his dirtiest and craziest. The momentum picks up at that point as the movie becomes a frantic chase through dark and grimy tunnels with our ill-fated heroes trying to escape certainly horrible fates at the hands and blades of the subhumans. You'll get your fill of dismemberments, blood, and gore, but there's also a fair amount of suspense and shock to keep things moving.
Stag Night is the directorial debut of Peter A. Dowling, who previously wrote the 2005 Jodie Foster thriller Flightplan. Stag Night doesn't pack in a lot of originality or surprises, but it demonstrates a firm grasp on the indie horror genre and does what it does very well. The chases are gripping, the fight scenes are exciting, and you'll probably wince more than once at some of the masterfully-shot atrocities. Some of the plot elements could have used some more development, and I'd like to have seen more details about where the subway people came from, but it still is a fun descent into the grimy potential underbelly of New York.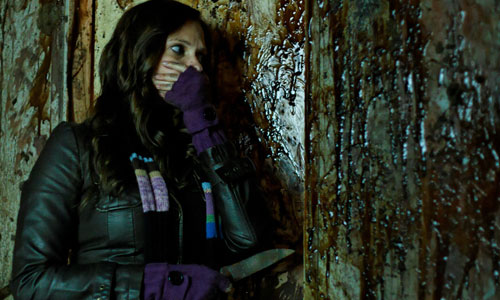 The DVD
The only extras on the DVD are a trailer gallery and a making-of featurette that runs around half an hour in length. It might be a strange thing to bring up, but I do really like the packaging for these low budget Ghost House Underground DVDs. The DVD itself has an artistic photo cover with the standard movie credits and title (along with that questionable 28 Days Later comparison), and it's encased in a clear plastic slipcover that has the Ghost House Underground logo and some skulls on it. That slipcover is a simple addition, but I dig it.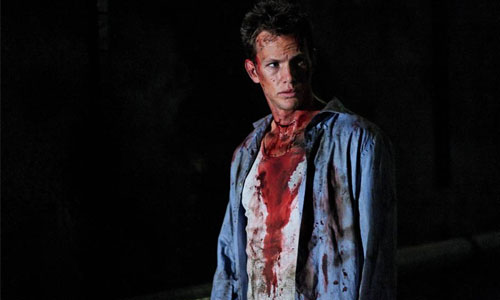 Conclusion
Stag Night isn't going to revolutionize anything about moviemaking or the horror genre, but it's still a good, solid horror flick. Given its low budget and straight-to-DVD nature, it even features some high quality production values, as well as a few recognizable actors. I appreciate its lack of reliance on the supernatural, as real (though likely far fetched) and possible scenarios tend to spook me a lot more than ghosts and ghouls do. In the end, Stag Night delivers on its promise of being a suspenseful movie about scary hobos with knives chasing attractive people through dark places.