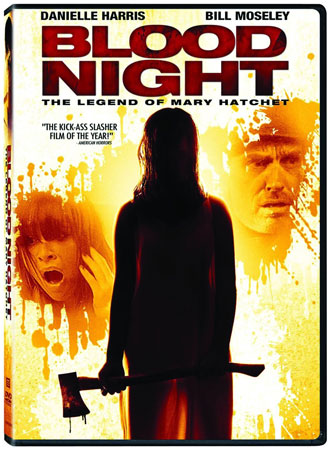 As legend has it, a young Long Island girl roamed through her house one fateful night, axe in hand, and slaughtered her family before she also died in a similarly bloody manner. The house was so steeped in evil by that point that it sank into the earth until only a chimney protruded from the ground. Director Frank Sabatella cites that urban legend as the inspiration for his 2008 horror film, Blood Night: The Legend of Mary Hatchet.
While the movie does use the tale as a starting point, it takes quite a few liberties along the way. The film opens in 1978 with Mary Mattock at home with her parents. The kid clearly looks disturbed from the get-go, so it's less than surprising when, just a few minutes into the flick, she takes a pair of scissors to her mom's head and then goes after her dad with a hatchet. The police take her away, and she is locked up in an institution. It turns out that young Mary had just gotten her first period and experienced some sort of menstrual psychosis that translated into homicidal rage. I don't make this stuff up; I just review it.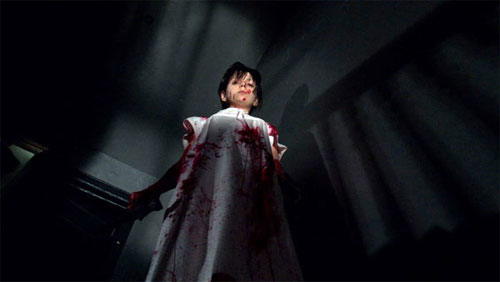 Jump eleven years ahead to 1989, and Mary is still incarcerated, stark naked in her cell. Presumably there's a shortage of hospital gowns in this place. A beefy guard shambles into her room, has his way with an already traumatized Mary, and leaves her tragically pregnant. This really is pretty terrible stuff, and it only gets worse when Mary later goes into a distressed labor and loses the baby. After being returned to her room and essentially abandoned there, her previous psychosis resurfaces, resulting in a swathe of butchery that will become the stuff of local folklore.
Skipping farther ahead to the present day, Mary Mattock has been popularly renamed Mary Hatchet, and her final infamous night at the institution is known as Blood Night. The night has inspired an annual macabre holiday that seems like a far freakier version of Halloween, on which high school kids decorate their parties with red paint-stained tampons and pelt eggs at pedestrians from their cars. On this particular Blood Night, one group of kids decides it would be great fun to take a ouija board to the local cemetery. That's always a good idea, especially in a horror movie, and doubly especially in a horror movie on the anniversary of a bunch of people dying horribly.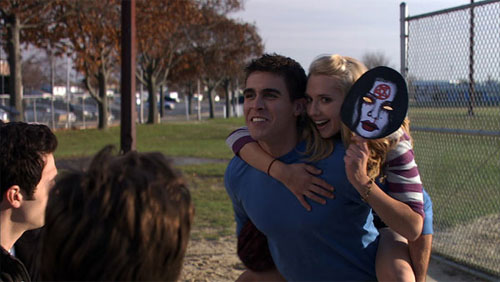 As you can guess, all kinds of mayhem follows. The holy trinity of slasher flicks – ridiculous gore, copious nudity, and endless bad decision making – runs rampant from the beginning of the movie to its increasingly bloody end. Danielle Harris (Halloween and Hatchet II) and Bill Moseley (Repo!, The Devil's Rejects, and Texas Chainsaw Massacre 2) are the most recognizable horror icons in the cast, with Nate Dushku (yes, he's Eliza's older brother) and Samantha Facchi filling out two of the other lead roles. Although it's produced by an independent filmmaker, Blood Night really looks like it could have been a big studio release. The movie is shot in high definition, and the framing and overall direction elevate the movie out of the low budget appearance into which most indie horror films fall.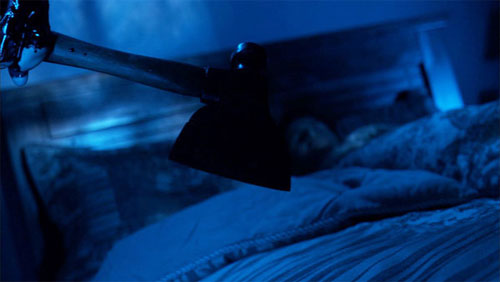 Lionsgate is bringing the movie to DVD this week in a new edition with several special features, including:
The Making of Blood Night: The Legend of Mary Hatchet – a lengthy featurette with commentary from the cast and crew both on the production of the movie and on the local legends and ghost stories surrounding Mary Hatchet and the ghostly locations where they shot.
Interviews – a series of interviews running between 2 and 9 minutes each and featuring director Frank Sabatella and cast members Bill Moseley, Danielle Harris, Nate Dushku, Billy Magnussen, and Alissa Dean.
Outtakes – around 6 minutes of bloopers and outtakes from the movie's production.
Blood Night has the feel of a classic slasher film with the production values of a modern horror production. The pacing is a little off at times, and a few scenes and sequences feel a bit too long, but overall the movie succeeds at what it's trying to do. It's 85 minutes of gratuity, written and produced for horror fans by horror fans.