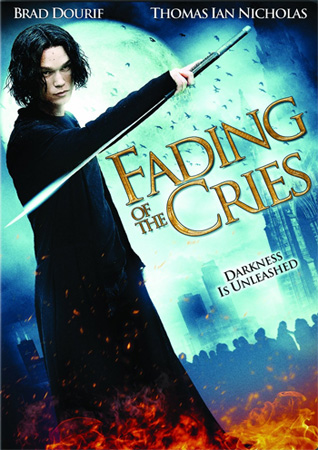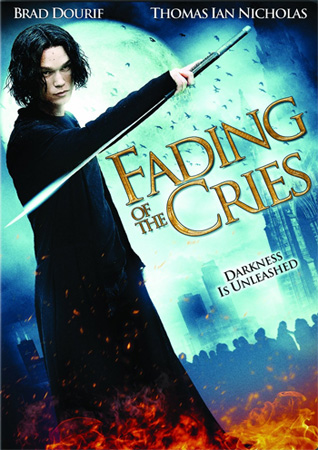 DVD: Fading of the Cries
Starring: Brad Dourif, Thomas Ian Nicholas, Hallee Hirsch
Studio: Lionsgate
Rating: R
Release Date: November 15, 2011
There are so many adjectives I could use to describe Fadiing of the Cries. Confusing. Dreadful. Painful. Horrendous. Terrible. Atrocious. But I will stick to bad. It's a classic and best sums up the overall feel of Fading of the Cries. Bad.
Fading of the Cries stars Brad Dourif (Lord of the Rings, Dune, Mississippi Burning), Thomas Ian Nicholas (American Pie franchise), and Hallee Hirsch (You've Got Mail). I just want to point out, these are the names listed as starring in the film on the dvd cover. Thomas Ian Nicholas does not get much screen time, and while I suppose his character is considered a pivotal part of the storyline, Mackenzie Rosman (7th Heaven) and Jordan Matthews log in much more screen time. Honestly, I would have listed Mackenzie Rosman on the cover, just to pull in the crowd that wants to see what little Ruthie Camden from 7th Heaven is up to now. And why does Jordan Matthews get the cover shot for the dvd, but doesn't even get his name listed on the front? Whatever. I am not in marketing. I can only assume they know what they are doing.
The movie opens up on Michael (Thomas Ian Nicholas), a distraught widower, as he pulls up in to the overwhelming large house he just purchased. (The Duggar family would consider it a bit too large for even their needs.) The dramatic internal monologue explaining what brought him to this point urges me to turn off the movie. Then I remember, I have a review to write. Michael is sad. His wife and child were killed by a drunk driver. He's moved closer to his sister. Apparently the only place available was a mansion, which on his salary as a novelist, he can easily afford.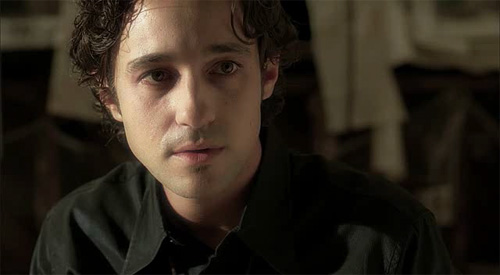 Next, we meet Sarah, digging around in what looks to be an office of some sort. What is she looking for? Booze! Because she is a teenager and teenagers are rebellious and going to do what they want. To drive this point home, enter her mother, who she refuses to call anything but Maggie. Because she is a teenager and rebellious and is going to do what she wants! Maggie/Mom gives Sarah a stern talking to for digging around Uncle Michael's old things. (Connection to the opening scene made now, thanks.) But Sarah doesn't care, Maggie/Mom doesn't understand how much Sarah misses Uncle Michael. To prove it, she is going to put on a creepy old necklace that Uncle Michael gave her. Because she is a teenager and rebellious and does what she wants!
Hey guys, it's Mackenzie Rosman! Little Ruthie Camden is playing the part of Teenaged and Rebellious Sarah's befuddled younger sister. Sarah blows her off — remember, Sarah is a teenager and rebellious and does what she wants. Instead of hanging out with her little sister, she is going to go drink ill gotten booze with her BFF, another teenager who is rebellious and does what she wants too.
Now, I know this is a bad movie. It is trying so hard to fit into that genre of bad SyFy made for television movies. I know this, and Fading of the Cries knows this too. But generally, by this point of a SyFy quality bad movie, there is some explanation as to why Sarah is so pissed off Maggie/Mom. Did Maggie/Mom cheat on her dad? Uproot Sarah from all her other teenaged and rebellious friends? Make meatloaf when it was taco night? Yeah, I watched the entire film, including all the way through the end credits. There is never any explanation as to why Sarah is so angry with Maggie/Mom.
But there is more to the plot than Sarah's need to be a teenager and rebellious and do what she wants. While out being a teenager, rebellious and doing what she wants with her BFF, a horde of undead swarm upon them, taking down the BFF and setting their sights on Sarah. She looks terrified enough to want her Maggie when The Crow — I mean, Jacob —swoops in, taking down any undead that dares look at Sarah the wrong way. (Impressive on their end, considering their eyes consists of two gaping, bottomless, black pits.)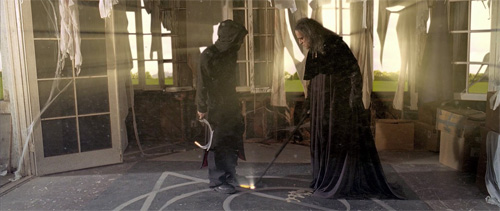 There is some running. Some more running. Some CGI that would have been impressive in 1991. Seriously, so much CGI. It reminds me of that booth at the fair where you can make a music video in front of a green screen for twenty bucks.
Then there was Brad Dourif as Wormtongue. Wait, I mean Mathias. All I know is I weep for his career. But I can only imagine how excited casting was to get him in the film. Here's hoping he just wanted to add an extension onto his house, and that is the reason he participated in this wreck.
Anyway, Mathias wants his rune back. You know, the creepy old necklace Uncle Michael left Sarah? Maybe it's because Jacob is dreamy in an angst filled, '90s teenager kind of way, and Mathias is creepy and old, but for whatever reason, it takes Sarah all of ten seconds to trust Jacob, but when Mathias asks pretty please for his rune back she questions who he is and why he wants the rune back. Moral of the story? Old guys are creepy, young hot teenage guys are trustworthy and only have your best interests at heart.
Time for a flashback. Yes, that is right, the scenes involving Uncle Michael are from the past! Hey look, a toddler named Sarah, carried by Maggie/Mom with long hair. Truly this is the past and that is Sarah before she became teenaged and rebellious. Uncle Michael looks mostly sad but enjoys inviting his sister and niece in for a visit. Also his hair is perfectly coiffed. These are important visual cues, for as we bounce between the undead invasion of the present and the flashbacks of Uncle Michael's descent down the rabbit hole in the past, it's hard to tell how far away from sanity he is unless you check out the status of his hairstyle.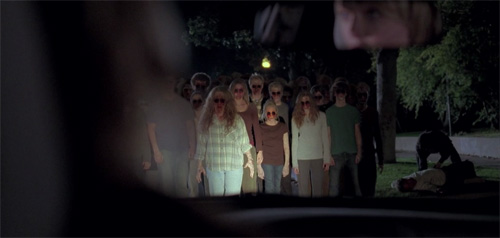 The movie spends its time bouncing from flashback to present in a manner that in theory should be cool. It's not. Uncle Michael keeps informing us about his novel and how he needs to work on it but can not, for the darkness of this random journal he found is taking up all of his time. All this does is remind me of how far behind I am on my own word count for my NaNoWriMo novel. Then I go to stop the movie and write, only to remember that I have to finish watching this disaster and write a review about it.
We learn how daytime affects the undead. We learn about Jacob's past. We see a lot of running, a lot more CGI, and yet more reasons to cry for Brad Dourif's career.
I can not in good consciousness recommend this movie for viewing. I only finished it because I had to write a review about it. I guess, you could consider this a fantasy zombie film. I suppose if you like any and all films involving some level of the undead, you could get through watching this. Fading of the Cries is just a bad movie. Painfully bad. No good can come out of watching this film. You won't laugh because it is so bad. You won't be scared. You won't be whisked away into the fantasy. Maybe if you are a graphic design student, doubting your CGI ability, you might want to watch this to feel better about your own skill.
I will recommend this film to anyone doubting their own skills at CGI. This will make you feel better. But for the rest of you, go elsewhere. Save your money.
Rating: 0.5 / 5 Stars