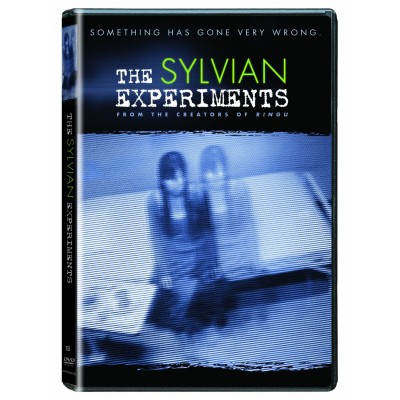 DVD: The Sylvian Experiments
Release Date: October 11, 2011
Director: Hiroshi Takahashi
Written By: Hiroshi Takahashi
Cast: Yôko Chôsokabe, Mina Fujii, Momoko Hatano
Rated: R
Whenever I think about watching an Asian horror film — particularly a Japanese one — I assume it features either a creepy girl with long hair or tons of gore. The Sylvian Experiments features neither of these, sort of. Yes, there's a creepy girl with long-ish hair, and there are a few scenes that involve exposed brains, but this is perhaps one of the most tame Japanese horror films I've seen. It's also one of the more boring ones I've watched in some time.
The "experiments" mentioned in the title reference the "Sylvian Fissure" located in the human brain. According to the movie, electrical stimulation of this area can cause hallucinations and out-of-body experiences (a quick trip to Wikipedia did not validate those claims). Etsuko and her husband, both neurosurgeons, find some underground footage of doctors experimenting with the Sylvian Fissure on live subjects. The results of the experiment intrigue her. She's not the only one mesmerized by what she sees; her daughters Miyuki and Kaori also view the footage and the memory of it haunts them for the rest of their lives.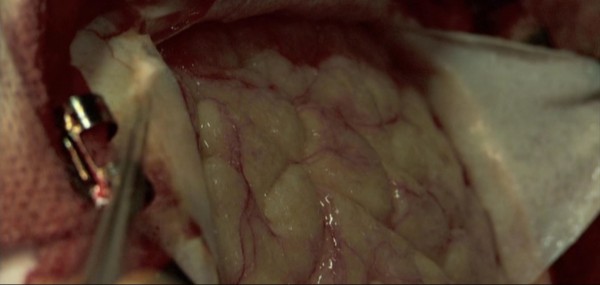 Flash-forward a good fifteen or so years. Miyuki wakes up in some dilapidated hospital where a nurse shows her a body lying in a casket. But it's not just any body, it's her body. She's convinced that, after joining some kind of suicide group and killing herself, she's now in the afterlife. Her sister Kaori is now looking for her, along with a detective. Kaori's investigation eventually brings her to her mother, who still has more than a passing interest in the afterlife. It turns out, and stop me if you've seen this coming, that their mother is still experimenting on people, including Miyuki.
That revelation isn't meant to be a spoiler or anything in this review, as it's painfully obvious who the "villain" is once the movie starts. That's actually one of the problems with this movie: there are no surprises. It's a tad on the dull side. Director and screenwriter Hiroshi Takahashi tries to keep things interesting by throwing in flashbacks and playing with time by jumping between events at different points, but this only serves to convolute the story. And there are plenty of unanswered questions, as well.
Unfortunately, I can't delve into too much detail with this particular grievance as it would stray into spoiler territory. What I can say is that any movie that deals with the fantastic, whether it's science fiction or horror or fantasy or whatever, it will require a little bit of suspension of disbelief. However, that only works if you can explain enough of whatever is going on that the audience can start piecing things together for themselves. In The Sylvian Experiments, plenty of things are said but nothing is actually explained. What is that white light that these people see? What's that device that the doctor is sticking into people's brains? It looks like it's stabbing them, but I thought the Fissure was stimulated with electricity, not some sharp pokey thing! Who are the doctor's assistants? Did that guy just explode into a pile of… stuff on the floor? Why did he explode into a pile of stuff? What the hell is going on here?!
These wouldn't be such a problem if the characters were believable. I didn't find a single character in this movie to be interesting. The mother/doctor has no problem experimenting on her own children, but she doesn't really seem evil, she's just really curious as to what this white light thing is and how to get to it. Sure, what she's doing is terrible, but I never hated her for it, and to me it makes her an ineffective villain. The "hero" of the movie appears to be Kaori, but she never really seems pro-active about doing anything. The events in the movie always seem to happen to her, and all she's doing is reacting to them. Kaori makes no real effort to stop her mother or save anyone.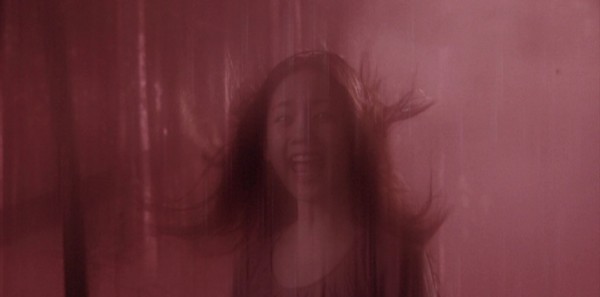 And to top it all off, I experienced absolutely zero scares throughout my viewing. I'm all for a horror film to go the psychological route and try to make me fear my own thoughts, but the plot was so messy that I was just more confused and annoyed than anything else. Thank goodness the movie's not very long (about an hour and a half).
The movie's presentation on DVD is about as good as the movie itself (below-average at best). What's there to watch aside from the movie? Unless you like trailers, nothing! You get previews for other Lionsgate films and that's it, not even motion menus. On the technical side, you get a 5.1 Japanese language track and English and Spanish subtitles. Occasionally, the film's soundtrack will throw something into the rear surround channels, but this will hardly give your home theatre a workout. The movie is presented in widescreen with a transfer that's sufficient for this kind of movie.
So there you have it. A subpar DVD for a subpar movie. Fans of Japanese horror cinema might find some value to this flick, but for anyone looking for a good scare, or at the very least an entertaining movie, they will probably end up disappointed.
Rating: 2 / 5 Stars