It was freshman year of high school and my best friend introduced me to a show on a channel my family couldn't afford. From that point on I'd head to her house on Friday nights to take in a show that at times got a little ridiculous, but at the same time was as sincere as a birthday card from your grandmother. Degrassi has been one of the constants in my pop culture centric life alongside Backstreet Boys and Drop Dead Fred. Yes, I'm aware that I've long since grown out of the core demographic but almost 15 years later I'm still watching, crying, and loving every second. Now all that is about to come to an end as Degrassi takes its final bow on TeenNick.
When you've watched a show this long, people often wonder well — why and how? Why don't you have a life and how can you continue to love each new set of characters? Here are the answers. I do have a life, while it's not as exciting as some people my age as I'm not traveling, having kids, or a career for that matter — I do have a life I'm okay with. Then there's the fact that back in the day when the likes of the OG cast grew up and fans were given a new class, I was hesitant. How could anyone outdo Craig being bipolar, Emma's eating disorder or, of course, J.T. being stabbed to death? Here's the thing, this show is written wonderfully and even when you think you can't fall for a new kid, you do. Just the other day I was in tears when Claire found out that she had lost her baby. Note that I hated that girl when she first started to be a main focus, but now my heart hurts for her and I have to sit and realize that she's just a character and the baby was just a storyline.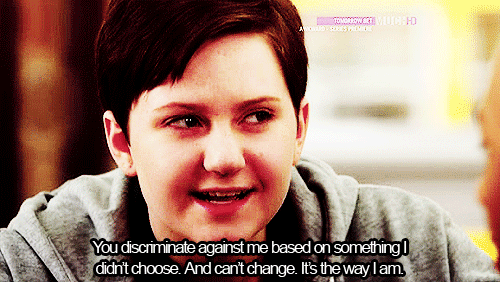 The characters are amazing, but it's their stories that continued to keep me tuning in. As they have boldly stated from the start, they go there, and that they did for fourteen seasons. When you yourself grew up with shows like Boy Meets World and Saved by the Bell and the most insane plots were a death in the family and some caffeine pills, Degrassi was a shock. Here you had abortions, suicide, rape, and so much more circling the lives of teenagers. In the beginning you can't deny the way they tackled school shootings was one of the greatest things on TV. They didn't shy away from the reality that things like that happen and they don't always end with everyone making it to safety. In more recent years, I have to say they did a fine job adding a transgender character into the mix. While they killed Adam off in a ridiculous way to warn about the dangers of texting and driving, it was groundbreaking they had a character like that in the first place.
Also, let's also note Degrassi didn't just toss in gay kids — they took the time to make them well-rounded individuals and highlighted what it's really like to grow up LGBTQ. One downfall is they tackled race once in a great while, but never hit the mark to me — maybe when it heads to Netflix.
Like I said before, growing up I loved Boy Meets World and Saved by the Bell and those will always be two of my favorite shows to watch in syndication, but when it comes to teen shows that actually, well, went there, they don't quite compare to Degrassi. Every season, every cast, every stroyline only made that show stronger and it's sad to see it part ways from TeenNick. So farewell old friend, you will be missed — but never forgotten.