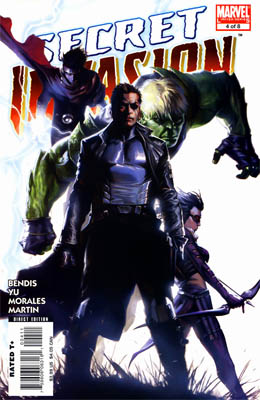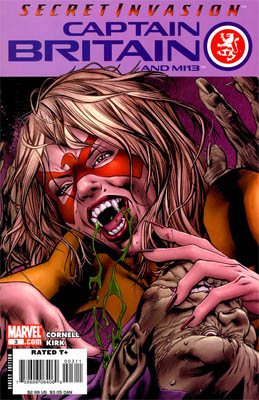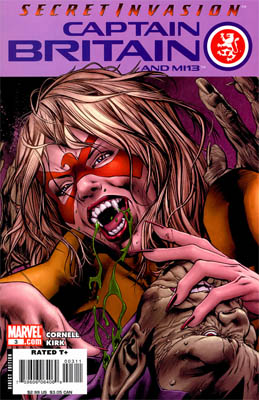 The newest installments in Marvel's current big crossover are Secret Invasion #4 and Captain Britain & MI13 #3. Unlike last week, we actually got some plot movement this time. Here's a look at what happened in the storyline.
Reed Richards
Reed has been missing since being ambushed by the Skrull Henry Pym at the end of Secret Invasion #1. Now we get the confirmation that he is not dead but is in fact a prisoner being studied and tortured aboard a Skrull vessel in space.
Nick Fury and Ms. Marvel
Fury has arrived in New York with his newly trained commandos, and they're able to beat down a wave of Skrull invaders in Manhattan before teleporting away. Ms. Marvel is in Manhattan fighting the Skrulls when Fury arrives. She tries to talk to him, but he trusts no one and believes her to be a Skrull. Before departing, he blasts her with a giant gun and leaves her to be ravaged by the remaining Skrulls.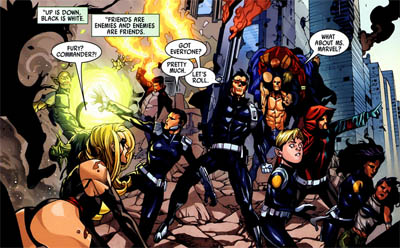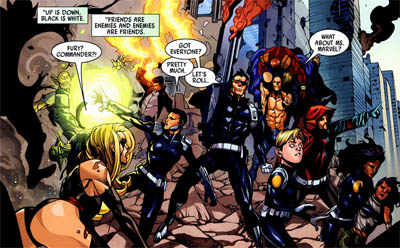 Phoenix and Beast
Two more of the heroes from the downed spaceship are outed as Skrulls in the jungle of the Savage Land. The ship versions of Jean Grey and Beast, thinking they are the real versions, attempt to talk to Black Widow. She has adopted a "shoot first" policy and blasts both of them. They fall dead, quickly shifting back to their true Skrull forms.
Iron Man, Wolverine, and Black Widow
Black Widow finds Tony Stark while the Skrull queen, masquerading as Jessica Drew, is messing with his head. The fake Spider-Woman escapes, but Natasha is able to help Tony and works to convince him that he's not really a Skrull. Wolverine arrives and, after being shot by Black Widow to prove that he's not a Skrull, joins them to head back to New York to find out what's going on.


Agent Brand
Brand, floating in space after the SWORD base was destroyed in the initial wave of Skrulls, is able to save herself by stowing away on a passing Skrull ship. Once inside, she accesses the Skrull computers and is able to see everything that is happening on Earth, and she also sees Reed Richards being held by the Skrulls. Two Skrull agents soon discover her presence.
The Hood
In Brooklyn, the new criminal ringleader known as The Hood has gathered his band of supervillains to survey the carnage being caused by the aliens. Deciding that "no more Earth is bad for business," he rallies his thugs and villains to the human cause, and they prepare to join the planet's defense.
Big Guns
At the end of Secret Invasion #4, the Skrulls still are marauding Manhattan. A bolt of lightning stops them in their tracks, and the issue concludes with Thor and the new Captain America arriving on the scene.
England
The Skrull army that sacked the Siege Perilous has claimed all of Earth's most significant magical relics for themselves, and they launch an attack directly onto London. Seeing the city in peril, Pete Wisdom releases the wizard Merlin from his prison. Merlin uses his magic to resurrect the recently killed Captain Britain, who promptly draws the sword from the stone and meets the Skrull leader head-on.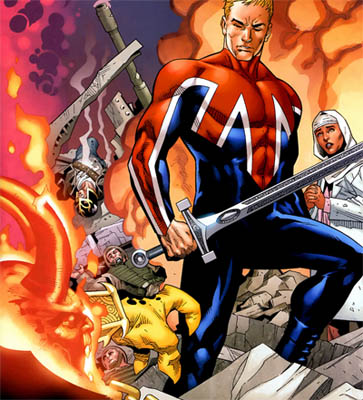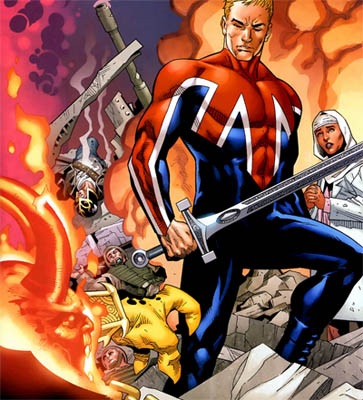 Thoughts
At this point, I think it's a safe bet that all the heroes on the crashed Skrull ship are in fact Skrulls, but I think it's likely that they have been programmed to believe they are the real heroes, as Captain Marvel was. This means the Mockingbird that Hawkeye has found also likely is unknowingly an alien agent, which could lead to some drama for him.
The battle in Manhattan and the encounter in the Savage Land have been going on literally for months now, and it's starting to feel like the initial brisk pace of Secret Invasion has faltered. Side stories like the one in Captain Britain & MI13 are moving along engagingly, but the main series is lagging a bit. The next main issue of Secret Invasion should have Iron Man, Thor, and the new Captain America all back in Manhattan and fighting the Skrulls in a faux-classic Avengers reunion. If they can't move things along, no one can.
It's likely that Agent Brand will be able to fight her way free from the Skrulls. Armed with all the behind the scenes knowledge she's gained from the Skrull computers, including the location and status of Reed Richards, she'll be an asset to Earth and needs to get herself back to Manhattan posthaste.
The next installments in the Secret Invasion story are Incredible Hercules #119, Mighty Avengers #16, and X-Factor #33, all releasing on Wednesday.