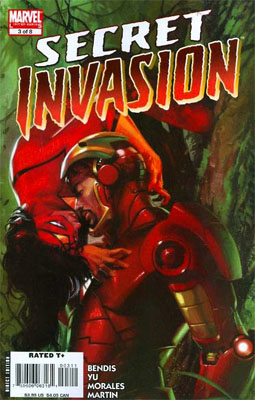 The third issue of Marvel's big Secret Invasion crossover book has hit, and there are even more deaths, revelations, and big moments in store. Check out the review with spoilers after the jump.
Secret Invasion #3
Writer: Brian Michael Bendis
Artist: Leinil Francis Yu
What's Going On:
The Skrull invasion is in full force, and the Marvel Universe is in chaos. The SHIELD Helicarrier has landed in the Bermuda Triangle with Maria Hill and all her operatives aboard, and they're now under siege by Skrulls led by Jarvis. On Thunderbolts Mountain, Skrull-Captain Marvel is tearing the new team apart when he is approached by Norman Osborne for a sit-down. At Camp Hammond, the Initiative has been activated and is being sent to New York to fight the Skrulls. Meanwhile, already in New York, the Young Avengers are trying to save the city from the full-on invasion.
The real craziness is going on in the Savage Land, though, where Spider-Woman Jessica Drew-now known to us as the Skrull Empress-has a confrontation with Echo and then with Tony Stark, who has been working on his damaged armor since the conflict of the past two issues.
Lessons Learned Here:

Half-Skrull just doesn't cut it in the big invasion plan.
Skrull boot camp gives extensive lessons on the importance of neck-breaking.
A sweaty Tony Stark is a stupid Tony Stark.
Always count on an old man, a little kid, and five random superheroes to do what two highly trained Initiative sponsored teams can't.
How It Ends:
After seemingly breaking Echo's neck, Skrull-Spider-Woman tells Tony Stark that he is in fact a Skrull sleeper agent and that the Civil War, his rise to power in SHIELD, and everything else he's been involved with for the past several years has been orchestrated by his Skrully influence.
Back in New York, the Skrull army devastates the Young Avengers and the Initiative. We see Vision blown apart and a number of other team members gravely wounded and possibly killed. Just as the Skrull victory seems certain, the cavalry arrives in the form of Nick Fury and his newly assembled commandos.
Thoughts:
I had hoped from the beginning that the Secret Invasion story would be largely self contained in the main series, with the tie-ins providing ancillary information that would not be entirely essential to the big picture. As it turns out, it looks like you really will need to read or at least be familiar with what's going on in all the tie-ins in order to fully enjoy and understand the main Secret Invasion series.
If you haven't been keeping up with New Avengers, you'll have no idea where the Spider-Woman-is-a-Skrull thing came from. And if you're not up on your Mighty Avengers, Nick Fury popping up will be even more of a double you tee eff. It's a little disappointing that these big events can't be a little more self contained while they're running, but I guess the scope of the Skrull invasion is so great that it requires a little extra-curricular material to fill it all out.
I'm a little confused by the Captain Marvel scene. At the end of the Captain Marvel mini-series, we saw that this Captain Marvel is in fact a Skrull whose programming went wonky. Instead of reverting back to his Skrull self and destroying humanity, he's vowed to subvert his fellow Skrulls and live as the real Captain Marvel would have. Here, though, we see him destroying the Thunderbolts in true Skrully fashion. Is there a lapse in editorial here, or perhaps does Captain Marvel sense a Skrull in the ranks of the Thunderbolts?
And there's no way I believe that Iron Man is a Skrull. It had been a lingering slight possibility prior to this issue, but having Spider-Woman / Skrull Empress spell it out for Tony is just a way of manipulating Earth's currently biggest superhero figurehead when he's in a moment of weakness and self doubt. Having Tony actually be a Skrull would nullify a lot of the emotional impact of the past several years of Avengers stories, so I call shenanigans. The big question is whether Tony himself will believe her and think he really is a Skrull. With the reintroduction of Nick Fury, who surely will be doing some SHIELD housecleaning, this could make for a very interesting development.