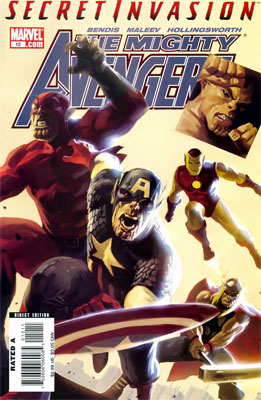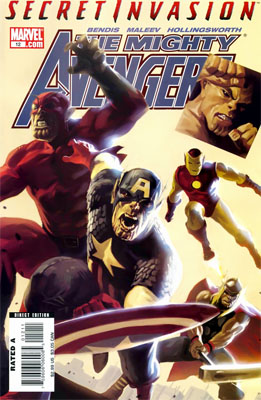 Secret Invasion is hitting full stride now, with multiple tie-ins releasing each week. This week saw the release of Mighty Avengers #12, as well as Ms. Marvel #26. I'll be reviewing both of them (as well as a few other un-Skrully titles that hit this week), but Mighty Avengers is up first with a story that is comprised entirely of a very welcome flashback and the return of a much missed Marvel character.
First, a little backstory. In 2004, Brian Michael Bendis (architect of all things Marvel this decade) wrote a miniseries called Secret War. In it, he revealed that in 2003 Nick Fury, then the head of SHIELD, learned about a plot by the then-Prime Minister of Latveria to terrorize the United States with a group of B-list supervillains. Denied support from the US administration, Fury took it upon himself to recruit Spider-Man, Captain America, Wolverine, Daredevil, Luke Cage, Black Widow, and SHIELD agent Daisy Johnson to covertly overthrow the Prime Minister's regime. Their coup failed, and Fury had the memory of the attempt wiped from the heroes' minds. That was fine until the events of Secret War, when Latveria launches retribution against the US, and the heroes realize Fury tweaked their minds. Shortly thereafter, Nick Fury goes into hiding and relinquishes his directorial position at SHIELD, which soon is picked up by Maria Hill. In the time since Fury went underground, we haven't known anything about what he's been up to, aside from occasional meetings with the odd character such as The Punisher.
Mighty Avengers #12 is all about filling in the blanks in Fury's time away from the limelight, and boy has he been up to a lot. The issue picks up Fury a month after his disappearance following Secret War. He's moved to Mexico and is living in disguise in a hotel, where the Contessa Valentina Allegra de Fontaine comes to see him. They discuss how SHIELD has changed since his departure, and they talk about living happily ever after incognito together. Very shortly thereafter, Fury learns that Allegra is not really Allegra, and he shoots her dead–only to watch her body transform into a Skrull corpse.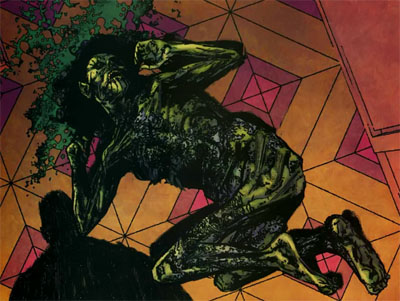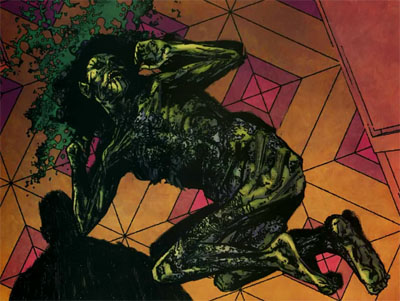 Two weeks later, Fury proves that he's still quite possibly the biggest badass in Marvel comics as he sneaks his way onto the SHIELD Helicarrier and taps into Maria Hill's files from her quarters, as Maria is asleep in her bed nearby. She awakens and catches Fury in the act, and he warns her vaguely about the impending invasion but also says that he will be keeping an eye on her to make sure she's not one of the aliens herself. Fury then leaps off the Helicarrier and literally disappears into the night.
Flash forward two months, and we find Fury in a clandestine meeting with Jessica Drew, aka Spider-Woman, atop a bridge. I liked this meeting, because it tied in tightly with the continuity from the Spider-Woman miniseries that showed her backstory as an agent of HYDRA and established her professional relationship with Nick Fury. Here Fury reveals that he's been watching Jessica for a month and believes she can be trusted. He tells her about the Skrulls and asks her to go back to SHIELD and to keep an eye on things from the inside. This is a significant reveal, because we now know that Spider-Woman has known about the Skrulls since long before the Elektra-as-Skrull reveal in New Avengers. Her stealing Elektra!Skrull's body and taking it to Tony Stark and SHIELD makes more sense now, in context.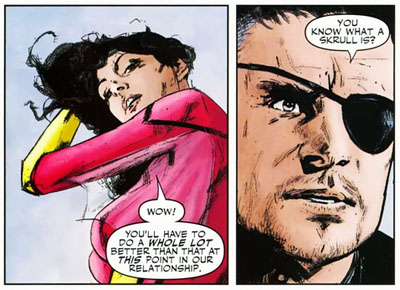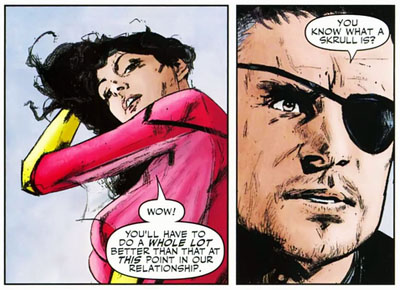 While Jessica is spying on the Avengers and SHIELD, we see what Fury is now up to. The issue closes with him hard at work, trying to figure out exactly who in the Marvel universe is now a Skrull. The final pages show him standing before a wall plastered with photos of many heroes and villains. We see blue circles around photos of Daredevil, Spider-Man, Namor, Lockjaw, and Stature. He's drawn red circles around pictures of Wolverine, Hulkling, Dr. Strange, and Sentry. Given that we already know via his origin story that Hulkling is half-Skrull, I'm tempted to think the red circles are for the people Fury believes to be Skrulls, and the blue circles are for the ones he thinks he can trust as non-Skrulls. Whatever the circles mean, Fury is clearly back in action and determined to get to the bottom of this Skrull business.