It was a huge week for Marvel's Secret Invasion storyline with no less than six tie-in comics released at the same time! Contributing to the crossover were New Avengers #43, Thunderbolts #122, Avengers: The Initiative #15, Secret Invasion: Skrulls!, She-Hulk #31, and New Warriors #14. With all those issues, the story had to have some huge developments, right? Well, not really. Here's a look at what happened, how and to whom this past week in Secret Invasion.
The Savage Land Heroes
Remember that Skrull ship that crashed into the Savage Land way back at the end of Secret Invasion #1, and remember how it was full of retro-costumed heroes all claiming to have been abducted by Skrulls and replaced on Earth? Yeah… all Skrulls. In this newest issue of New Avengers, the Captain America from the ship does battle with Ka-zar and his tribe. Finally felled by a blowdart, this Cap reverts to his true Skrull form, and we get a flashback to how he got to the ship. It turns out that all the "heroes" on the ship were Skrull impostors whose minds were wiped and implanted with the real heroes' memories. They were made to believe that they were all Skrull abductees, and they were placed on a Skrull ship. They fell right into the Skrull plans when they overpowered the Skrull pilots, crashing the ship into the Savage Land. Their convictions that they were not Skrulls sowed confusion among the real Earth heroes and drew them away from major cities as the armada launched the full invasion.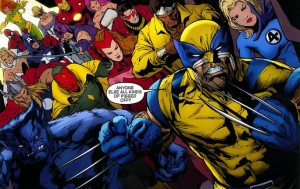 She-Hulk Vs. X-Factor Vs. The Talisman
Picking up right where last week's X-Factor left off (and with decidedly better art in She-Hulk), we see that Shulkie has done just what you'd expect: opted to beat the mutants senseless rather than pausing to tell them why she's after Longshot. We get a flashback that's actually pretty intriguing and shows us why Longshot is so important. It turns out, according to Jazinda, that the Longshot impostor is a Skrull called the Talisman. He is somehow psychically linked to all other Skrulls, and in advance of big battles or invasions, he goes to the site of the action to help raise morale. As losing the Talisman would be devastating to the Skrull troops, the Talisman always stays far away from the anticipated action. She-Hulk and Jaz now are trying to kill him to give Earth a leg up in stopping the invasion. At the end of the issue, Darwin touches Longshot, inadvertently morphing his own powers to reveal Longshot's true Skrull nature.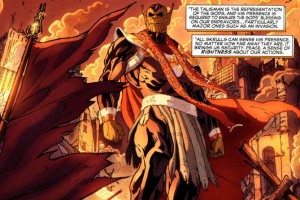 Thunderbolts
This issue of Thunderbolts jumps back to show us the events just prior to Captain Marvel assaulting Thunderbolts Mountain. The team has been thrown into confusion by the sudden appearance of the Swordsman's dead sister (who very obviously will end up being a Skrull infiltrator). Captain Marvel arrives and beats everyone down before being offered a drink and a conversation by Norman Osborn, who seems to have worked out that Mar-vell is an impostor.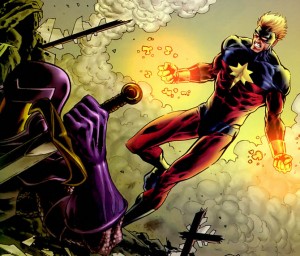 The New Warriors
This team doesn't get involved with much of the real Secret Invasion stuff. They witness the Skrull ships arriving on Earth and then spend the rest of the issue arguing about whether to fight the aliens and why Night Thrasher is keeping them in the dark about lots of things.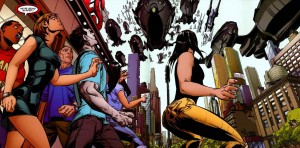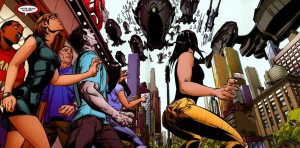 Crusader
After reversing the polarity on the new 3D Man's goggles to show humans as Skrulls and Skrulls as humans, Crusader–himself a Skrull–decides to side with the humans and joins the fight to defend New York. It takes a full issue to get to that, but there you go.
Thoughts
I liked the Talisman thing this week. It shows that the heroes who aren't involved in the Savage Land or in New York actually are going after some decent targets. Between She-Hulk pursuing the Talisman and Hercules trying to kill the Skrull gods, it'll be interesting to see whether any of their plans actually pay off in significant ways.
I'm getting a bit frustrated with the pace of Secret Invasion. It started with a bang, but nothing has really happened in quite a while, aside from flashback after flashback that tries to fill us in on what led up to the infiltrations and invasion. Time refuses to progress now past the initial battle in New York, and it often reverses itself to rehash things we've already seen (how many times have we seen Captain Marvel attack the Thunderbolts now? Three?). Things need to get moving.
Until this week, most or all of the tie-in issues have contributed in significant ways to the ongoing story. New Warriors barely passes for a tie-in, and the developments in Avengers: The Initiative are completely extraneous to the main plot. I'm seeing things sliding in the direction House of M and Civil War went, and I'm hoping it all gets roped in and back on track.
This week sees the additions of Black Panther #39, Ms Marvel #29, and Secret Invasion: Fantastic Four #3.