The whole Skrull invasion saga kicked off back in New Avengers when Echo killed Elektra, who turned out to be a Skrull. The newest week's worth of Secret Invasion releases finally shows us how and when Elektra was replaced, and we also get some more side-plot developments via Mighty Avengers #16, X-Factor #33, and Incredible Hercules #119. Here's a look at what happened in the saga this past week.
Elektra
Obviously the biggest aspect of the story addressed this week is the truth about Elektra Natchios. Mighty Avengers #16 opens with a scene from the start of the New Avengers series, where Electro is being hired to enact a massive supervillain breakout at the Raft prison. We see that his employer is in fact Elektra, already swapped out by the Skrulls. Electro doesn't seem to know he's being hired by aliens and promises to carry out the mission.
We then jump back several months to find the real Elektra in Osaka, Japan. She is attacked first by a super Skrull posing as Elektra herself (who then morphs into a Ghost Rider hybrid). After killing this Skrull imposter, Elektra faces two more Skrulls, this time replicating Daredevil and Wolverine. She dispatches both of them before the Skrull Pagon arrives and beats her apparently to death with his faux-Colossus arms. The last we see of the real Elektra, she's facedown in a pool of her own blood.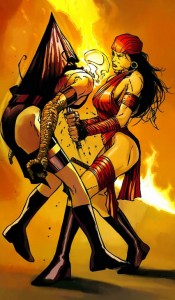 Pagon, posing as Elektra, then accepts a self sacrificial mission from the Skrull queen Veranke (who already has replaced Spider-Woman). Pagon will use Elektra's likeness to take over the Hand and eventually lure the Avengers into killing her, revealing Skrulls in their midst and sowing distrust among the superheroes.
The God Squad
Hercules and his God Squad continue their journey into the Dreamworld, where they plan to kill the Skrull gods that have inspired the Earth invasion. Last issue, we saw that the Skrulls had replaced the cyberdog Kirby with a Skrull agent. This time we go back and see that the change took place just after World War Hulk, when SWORD brought Amadeus Cho in to decontaminate him from extraterrestrial pathogens. The imposter is discovered and killed shortly into the issue, but not before the team's ship is destroyed, leaving them adrift in the Dreamworld. After battling monstrous deities, they finally reach their destination, the home of Kly'bn the Skrull god. Hercules arrives ready for battle, but Kly'bn is waiting for them.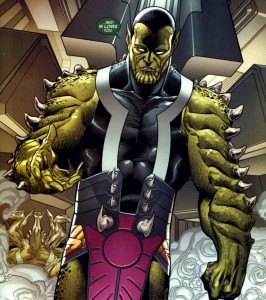 Longshot
X-Factor #33 reveals that the mutant Longshot has been replaced by a Skrull and has been hanging out with Darwin as he searches for Professor Xavier after the events of Messiah Complex. The X-Factor team has been hired by Darwin's father to find Darwin, and they reach him at the same time that She-Hulk's Skrull partner Mallory reaches Longshot and recognizes him as a Skrull. Thinking that Mallory is trying to hurt the mutant Longshot, X-Factor attacks her, which then brings the wrath of She-Hulk upon them.
Thoughts
As a longtime Elektra fan, I'm not exactly pleased by what appears to be Elektra's fate at the hands of the Skrulls. Being that it's a comic book, that her death is not actually confirmed, and that she's already died at least two or three times and been resurrected, though, I'm not overly worried. It is interesting that the Skrull who replaced her knew he was doing so as a suicide mission and fully intended to be discovered by the Avengers. I knew there was no way Echo (aka: Elektra-Lite) really could have skills to best Elektra, even in Skrull replacement form.
The X-Factor story doesn't seem to lend anything to the ongoing Secret Invasion saga. It feels like a tacked-on sidestory much like all the House of M tie-ins from a few years back. I love Peter David's writing, and I can't fault his script here, as he's likely just working with what he's given. The art from Larry Stroman is atrocious, though. The issue looks like some mixture of Sunday funnypapers and early 90's comics, which is a huge drop in quality from previous issues. Some of the panels don't even make contextual or physical sense, as we see Siryn's hair flying out dynamically as she sits behind a desk, and we see Madrox's "M" tattoo appear and disappear at random throughout the issue.
This week's Secret Invasion releases will include Avengers Initiative #15, New Avengers #43, New Warriors #14, She-Hulk #31, Skrulls One Shot, and Thunderbolts #122. Too much Invasion for one week!