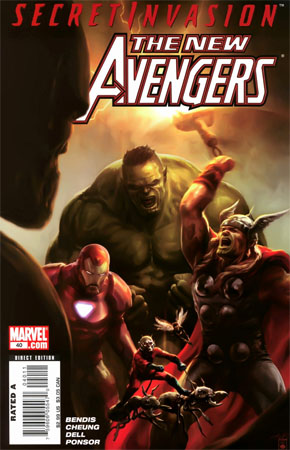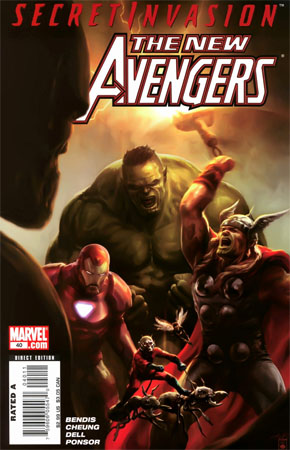 Marvel's Secret Invasion crossover continues to build this week, and New Avengers #40 introduces us to the face our the enemy, shows us exactly how the invasion came about, and even gives us a potentially huge reveal. Read on for the review, replete with spoilers.
Ever since Echo gutted Elektra and revealed her to be a Skrull, there's been an air of unease and malice about the Marvel Universe. How did the Skrulls get there? How long have they been among the heroes? And what do they want? Those questions, along with the much queried "Who do you trust?", have been on the table for a long time, and this issue gives us some cold and hard answers.
Told entirely from the Skrull viewpoint, New Avengers #40 begins shortly after the Kree-Skrull War and just after the events of the New Avengers: The Illuminati miniseries that had Marvel's ruling body going to the Skrull homeworld to put the fear of Earth into the Skrull race. That journey went awry when the Illuminati (Doctor Strange, Black Bolt, Professor X, Reed Richards, Namor, and Iron Man) were captured and tortured by the Skrulls. They eventually escaped, but we now learn that their escape was not before the Skrulls were able to take samples of all their DNA.
King Dorrek, the then-leader of the Skrulls, has a plan to use that DNA for some nefarious purpose, and he clashes with Princess Veranke who accuses him of ignoring a Skrull prophecy. Dorrek wins out and banishes Veranke and her followers, leaving a Skrull named Dro'ge to carry out Dorrek's plans. We soon see that those plans include infusing Reed Richards' DNA into a Skrull and brainwashing the Skrull into believing he is in fact a member of the Fantastic Four. Dorrek's experiments are cut short, however, when Galactus decimates the homeworld years later.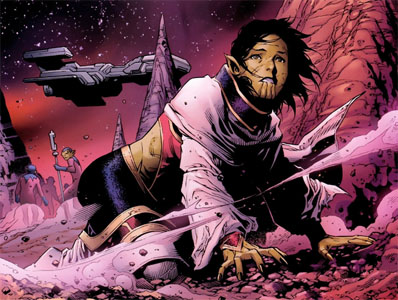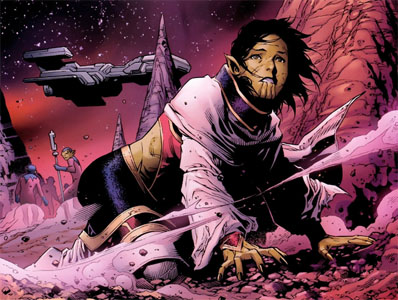 The Skrulls then turn to Veranke to be their new Queen. Her prophecy of the destruction of the homeworld has come to pass, and she promises them that the rest of the prophecy will come true as well. Earth is destined to be the new Skrull homeworld. Veranke picks up the DNA project and oversees the work Dro'ge has been doing. We get a look inside his laboratory, where we see vats with clones of all the members of the Illuminati in various stages of growth.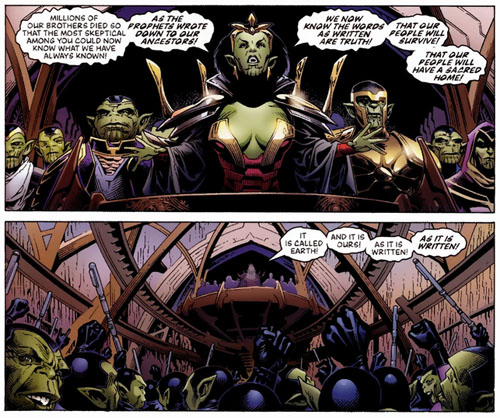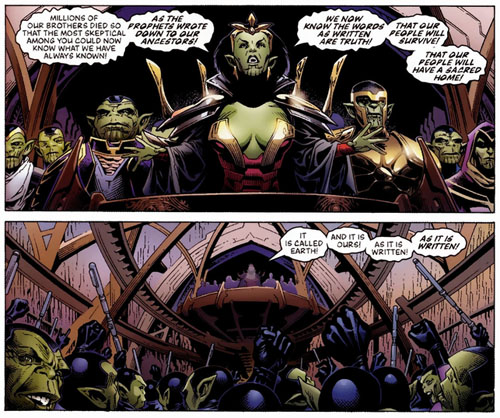 Dro'ge tells Veranke that his new techniques will give the Skrulls abilities that far surpass those of the Super Skrull that previously possessed the Fantastic Four's abilities. Now the Skrulls actually can possess the exact powers and abilities of any heroes or villains whose DNA they scavenge. Further, as long as the Skrull impostors maintain their disguises, they will be undetectable by mutants, science, magic, or any other Earthly means of detection.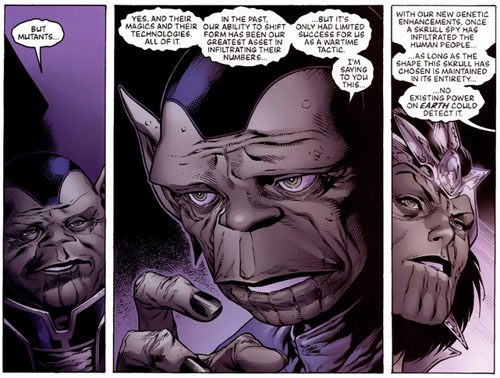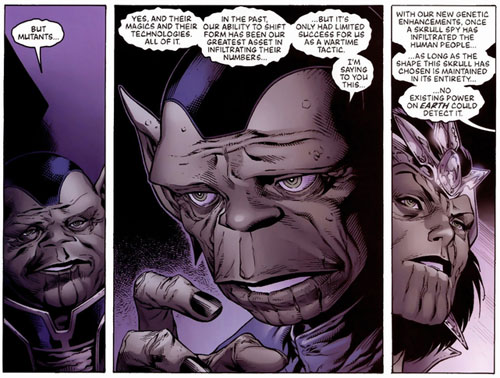 The ultimate goal is to create an army of super powered Skrulls to infiltrate and eventually take over the Earth to fulfill the prophecy of colonization. Dro'ge demonstrates the possibilities by introducing Veranke to Warrior Siri, who has been posing as Elektra on Earth. He says that Elektra was a prime candidate for replacing due to the fact that she was a well known person in the hero community, but her background was shrouded in secrecy. She also had died and been resurrected, which made her an even better candidate for replacing. This is the first time marker we've gotten for when Elektra was replaced. Based on Dro'ge's statements, as well as Siri's, we can assume that the Skrulls took Elektra sometime after her resurrection in Elektra #1 but before her work with SHIELD in Wolverine: Enemy of the State.

Veranke is so taken with the plan to invade that she insists that she be one of the agents to infiltrate and to replace a human. Dro'ge presents her with a list of heroes that are ripe for the picking. Most of the faces in Dro'ge's array are blurred and hard to see, but I definitely spotted Elektra, Black Bolt, Bucky, Sasquatch, Nightcrawler, Thing, Cyclops, and Hawkeye among the possibilities. Veranke says she wants to be in a position where she can do the most damage, and Dro'ge enhances the image to reveal… Jessica Drew, aka Spider-Woman!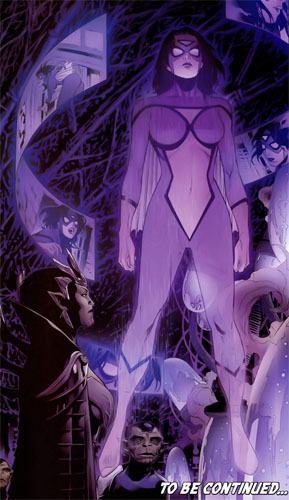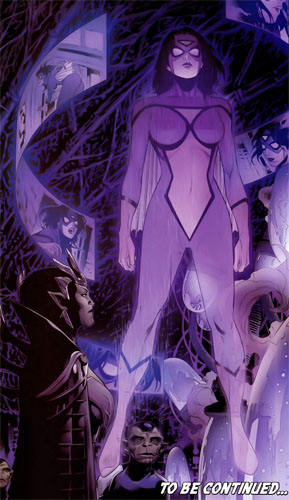 Whether Spider-Woman actually is a Skrull now most definitely is in question, but having her be an imposter would throw a huge wrench into the works. She's been on both Avengers teams, has been a double agent for HYDRA and SHIELD, and now is Nick Fury's only trusted confidant in his quest to uncover the Skrull conspiracy (as of Mighty Avengers #12 last week).
The story will continue with Mighty Avengers #13 and Secret Invasion #2, both releasing next week.