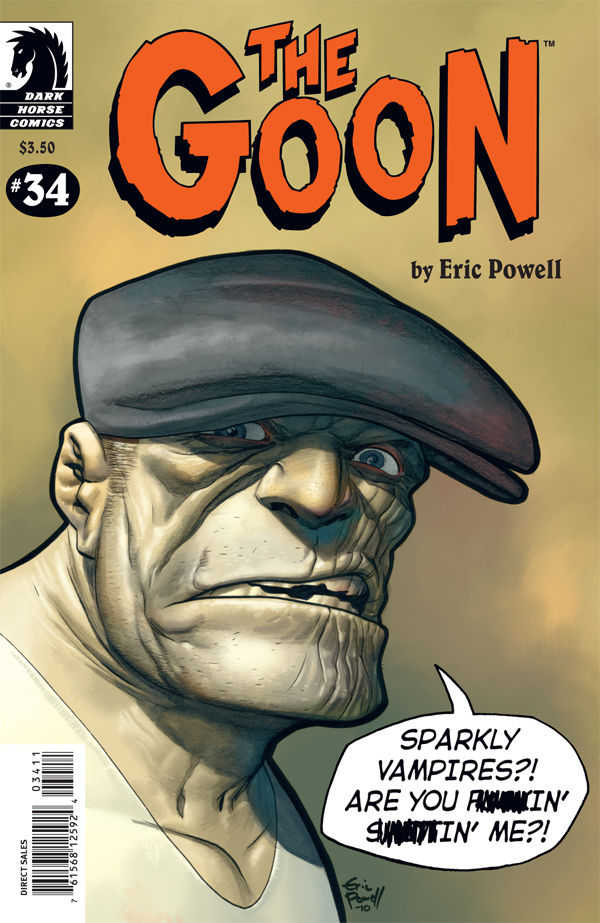 Issue: The Goon #34
Release Date: June 29, 2011
Writer: Eric Powell
Artist: Eric Powell
Colors: Dave Stewart
Publisher: Dark Horse Comics
I'm a little late in the game when it comes to The Goon. My previous experience with Eric Powell and his sensational character, The Goon, happened a couple of years ago at Dragon*Con. After receiving my badge for the weekend, I marveled at the art. The lines were clean, the colours a surreal sepia dream. I heard murmurs from other attendees involving the words "Powell" and "Goon". I had all intents to go meet the man behind the art of that year's badge, in Artist Alley. But every Dragon*Con veteran knows, Dragon*Con happens when you are busy making plans.
I was a little concerned about reviewing the #34 issue. Should I read issues #1 through #33? Would I be able to appreciate the storyline jumping into the series this far in or would it be the equivalent of watching the Harry Potter films having not read the books?
I decided to risk it and jump into issue #34 a complete virgin to the story so far.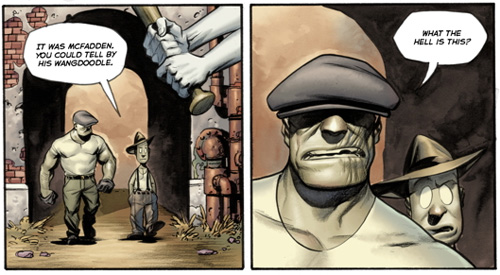 As soon as I saw the cover art, I knew this would be a good read. The Goon sneers at the reader while giving his two cents on what he thinks about the current trend of sparkling vampires. The issue immediately opens up with The Goon facing off against a pack of sparkly, beautiful vampires, fresh from a daytime game of baseball. The ensuing fight is hilarious and satisfying. It's a revenge fantasy for those forced to take their preteen sisters and mothers to the midnight releases of a certain unnamed book and film series.
But just as quickly as the fight begins, so too does it end. The Goon even takes a moment to explain to the reader why twenty-two pages of sparkling vampires getting a beat down won't happen. Because it's just too easy. And, apparently, The Goon has better things to do than tackle an easy fight.
This issue's story focuses on the arrival of a new ward to The McGreg Home for Illegitimate, Wayward, and Possibly Homicidal Youth. She's a relatively unassuming young girl, sporting blonde pigtails, a pink pleated skirt and sweater vest over a Peter Pan collared blouse. Of course, there is the matter of her arriving with two police escorts keeping her at bay with two-foot poles attached to a collar and handcuffs. But that doesn't seem to faze Old Lady McGreg or the wards of her home.
That is, until they wake up later that evening to find their new roommate standing at the edge of their bed watching and waiting as they sleep.
While that alone is rather creepy, things begin to take on a more serious nature that even the children of McGreg's Home for Illegitimate, Wayward, and Possibly Homicidal Youth can't seem to handle. Who are they going to call? The Goon of course.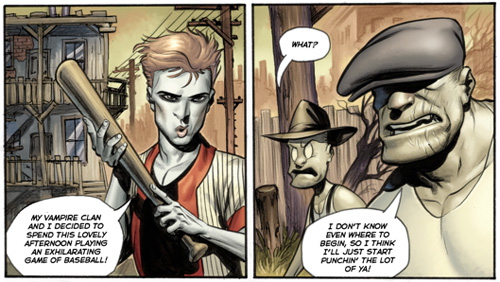 But when they find The Goon indisposed with a very important meeting (i.e., a football game), will the children be able to convince The Goon to help them? If so, how? And if not, how will they handle the terror in the pink sweater vest that awaits them back home?
This was a great story. I was entertained the entire time. Having not read any of the other issues of The Goon, I still found it easy enough to slip into his universe and make myself at home — so much so that I am now going to track down the first thirty-three issues at my friendly neighbourhood comic book store.
Powell's artwork and storytelling combine to create a surreal sepia-toned world that would make even the likes of Tim Burton scratch his head at the insanity. Powell's monsters cause one to draw back from the comic, as if there is a possibility of being ensnared in the talons of the beast. But that is the thing with Powell — if it isn't the monsters, it will be the peg-legged children, the tilt of The Goon's hat forever covering his eyes, or the perfect stained dress that Old Lady McGreg can't seem to wash that grabs hold, leaving its mark and creating a thirst for more.
If you are already a fan of The Goon, there is no point in my review. You know how wonderful this story is. You already have a subscription and have already read this issue. But for those of you to be as unfortunate as I to go this long without having read an issue, please, correct this mistake, especially if you are a fan of the slightly macabre, slight twisted, and other stories with a leaning towards dark comedy. You won't regret it.
Now… how much longer until issue #35 comes out?
Rating: 3.5 / 5 Stars