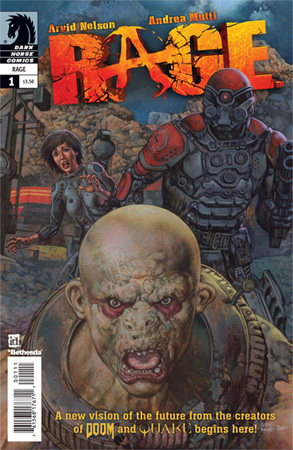 Title: Rage #1
Release Date: June 15, 2011
Script: Arvid Nelson
Pencils: Andrea Mutti
Inks: Pierluigi Baldassini
Colors: Michael Atiyeh
Lettering: Michael Heisler
Cover A: Glenn Fabry
Cover B: Stephen Martiniere
Publisher: Dark Horse Comics
In a post-apocalyptic world, bands of roving recreants wander the Earth and mutated humans threaten humanity, while a small group of cryogenically preserved military and scientific elite must find a way to not only survive, but bring back a semblance of civilization to an otherwise lost world. Does this sound familiar? Does it sound formulaic?
You're damn right it does, and that's exactly how we like it! Throw in a hot scientist in tight futuristic clothing (which this series does) and a militaristic hierarchy with nefarious plans that said hot scientist doesn't want to work for (which this series does), and you've got a comic book I'd pay good money to read.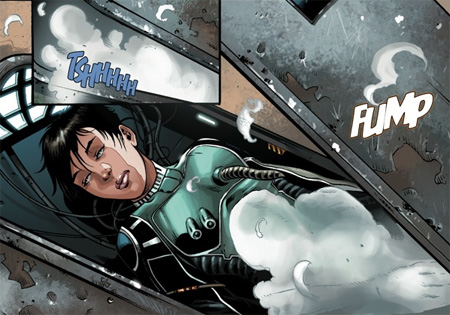 The basic story is that an asteroid named Apophis destroys the world in the year 2029. Cryogenic arks are created to preserve political and scientific elite. But 12 military officers decide they should be the ones to run the new world, and they take over the project.
This issue starts in 2095, when our heroine Dr. Cadence awakens from a cryogenic capsule and barely escapes the deprivations of a wild band of Mad Max-style savages. Fortunately, the military structure that awoke before her stages a rescue and brings Dr. Cadence back to their base. We learn that her family did not survive the preservation process (supposedly by accident, but we savvy readers are not so sure about that).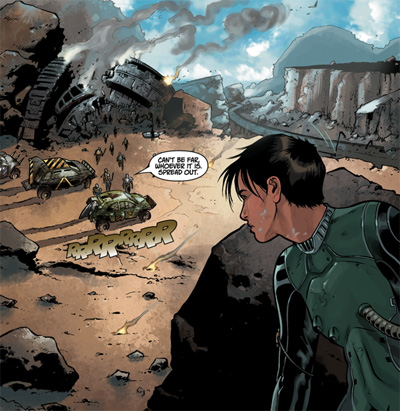 Dr. Cadence learns that a substance known as Feltrite has mutated many of the asteroid survivors, creating a race of monsters. Her job is to find a cure. Of course, her military handlers have other plans beyond a cure. The exact nature of those plans will have to wait for another issue.
This is a promising start to an interesting effort by Dark Horse. The art is solid and the script is tight. I look forward to the next issue.
Rating: 4.5 / 5